Demolition of 2 houses in Deir Dibwan/ Ramallah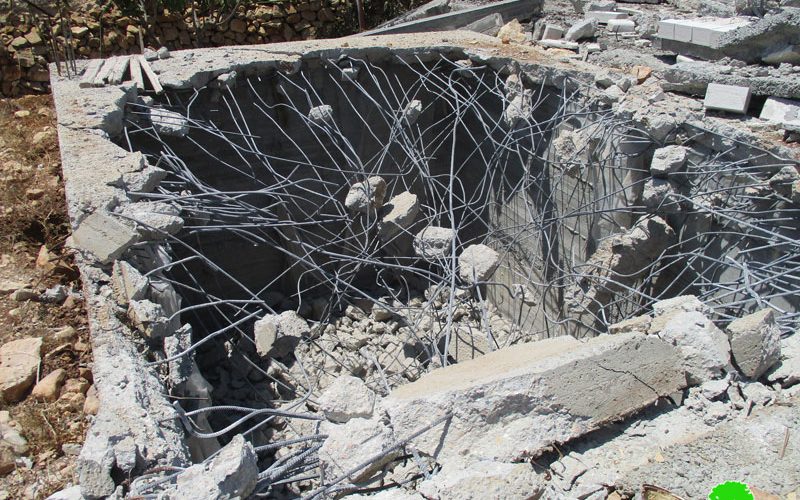 Violation: Leveling 2 houses to the ground
Location: Deir Dibwan Northeast Ramallah.
Date: August 14, 2018.
Perpetrators: The Israeli occupation construction and organizing committee
Victims: 2 Palestinian families
Description:
On Tuesday, August 14, Eyewitnesses informed LRC field researcher that they were shocked to see a large force of the Israeli occupation army riding two bulldozers accompanied by officers of the police and the Civil Administration showing up at the area and carried out demolishing two under construction residences on the pretext of unlicensed constructions in area classified C In Oslo conventions, It is important to point out that the occupation had demolished an agricultural barracks in the same area in 2013. LRC observer pointed out that the 2 houses lie about 800 meters east from bypass 60 and overview "Beit El" illegal settlement on Beitin and Al Bireh confiscated lands.
One of the affected villagers Ahmad Hamed (34 years) told LRC observer:
"In April 2017, my brother and I carried out building 2 houses each one is sided by a water cistern after getting permission from the Palestinian ministry of local government.
July of the same year we received a stop-work order from the so called Israeli Building and Construction committee, and immediately assigned a legal institution to prepare the necessary papers for the permission, but we received another stop-work order in 2017 and the result was leveling the 2 houses to the ground, which destroyed our dream of providing homes for our children. This is the only land we own for building and inherited from our father, our financial lost reached 57,000 $." This table provides information about the targeted structures:
Affected villager
Family members
Children under 18
Area of the building
Cistern's capacity
The targeted construction
Photo number
Ahmad Hamed
4
2
180
90
-Under construction home

-water cistern

1+2+3+4
Amjad Hamed
3
1
180
90
-Under construction home

-water cistern

5+6+7
total
7
3
360
180
Source: Field observation- Israeli violations monitoring system-LRC, August 2018.
Deir Dibwan close to the bypass road and surrounded of outposts, the town is a target of settlers' harassments, LRC team documented number of crimes against residents of Deir Dibwan residents in the recent years.
Legal commentary:
The constraining policy of the Israeli occupation in demolition Palestinian constructions can only be regarded as a violation of the rights of Palestinian citizens as ensured by international law and international conventions which is the right of an appropriate residence. According to the following articles:
Article 147 of Geneva fourth convention: extensive destruction and appropriation of property, not justified by military necessity and carried out unlawfully and wantonly. ( it is considered a serious violation of the convention)
Article 53 of Geneva fourth convention that forbids destroying properties : Any destruction by the Occupying Power of real or personal property belonging individually or collectively to private persons, or to the State, or to other public authorities, or to social or co-operative organizations, is prohibited, except where such destruction is rendered absolutely necessary by military operations.
Article 33 of Geneva fourth convention: No protected person may be punished for an offence he or she has not personally committed.
Article 32 of Hague convention 1907 part g: To destroy or seize the enemy's property, unless such destruction or seizure be imperatively demanded by the necessities of war.
Article 17 of Universal declaration of human rights 10 –Dec- 1948:  No one shall be arbitrarily deprived of his property.
 About Deir Dibwan[1]:
5 kilometer east Ramallah, Ramallah is surrounded by Ramon and Ein Yabrud (north), Beitin (west), Al-Nuwe'ma and Ein Dyuk Al-Fuqa (east) , Anatta, Mikhmas. Burqa from the south.
Deir Dibwan has a total population of 4169 people according to statistics conducted in 2017. It has a total area of 74,285 of which 1,789 dunums are a built-up area of the village.  The occupation devoured (4121) dunums for the following purposes:
1: settlements confiscated 1346 dunums:
| | | | |
| --- | --- | --- | --- |
| Settlement's name | Establishing year | Area of confiscated land | Number of settlers |
| Kokhav Yaacov | 1984 | 51.4 | 3,918 |
| Mitzpe Danny | unavailable | 87.7 | unavailable |
| Neve Erez | 1981 | 1.114 | 980 |
| Maale Mikhmas | unavailable | 62.7 | unavailable |
2: Bypass roads (458 and 457) devoured over (1,543) dunums.
3: Military camps devoured (1,232)dunums
According to Oslo conventions The areas are clarified in donums as following:
Area A (307) donums
AreaB (12,925) donums
Area C (61,052) donums .
[1] GIS-LRC