Stop-Work order of a residence and a water cistern in Jalbun town.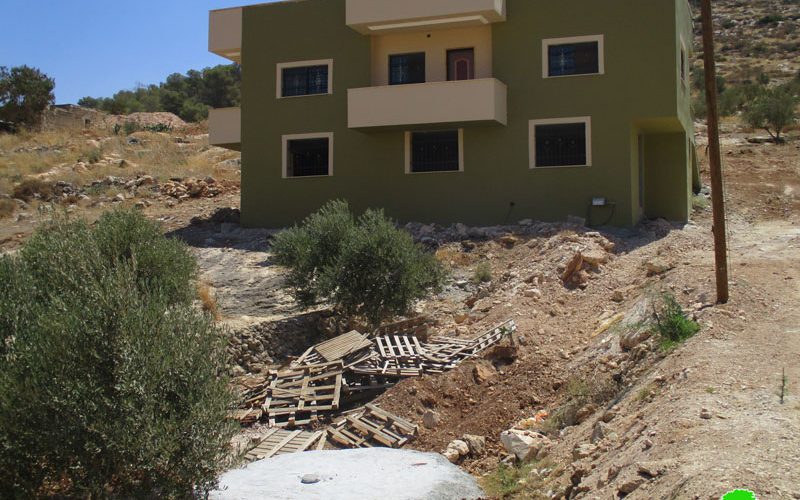 Violation: notifying 2 structures of stop work
Location: Jalbun town in Jenin.
Date: July 25, 2018
Perpetrators: the Planning Sub-Committee of the Israeli occupation
Victims: Villager Khalid Abu Ar-rub.
Details:
On July 25, 2018, the so called Planning and Construction Committee- Israel Civil Administration raided Jalbun village and served stop work orders to villager Khalesd Abu Ar-Rub on an under construction house and water cistern under the pretext of unlicensed construction within area classified C according to Oslo Accords.
 According to the military order, the owners were given until September 20, 2018  as a deadline to complete all licensing procedures. This comes in time with session of the Planning Committee in the so-called Beit El court to consider the legal status of the notified structures.
The following table shows information about the targeted structures:
Affected villager
Family members
Children under 18
The threatened construction
Area/ capacity
Order number
photo
Khaled Abu Ar-Rub
6
4
2 floors home
300 m2
206563
1 +3
Water cistern
60 m3
206564
2
Source : Field observation- Department of Monitoring Israeli Violations- Land Research Center-2018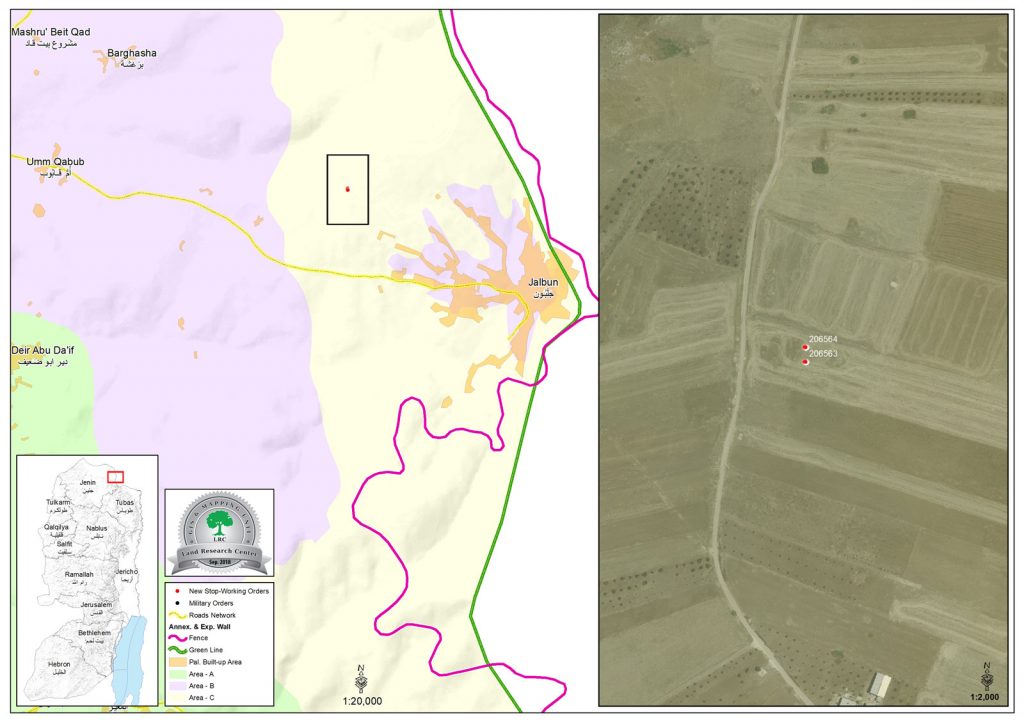 Affected villager Khalid Abu Ar-Rub told LRC observer:
"I own a piece of land in the northern side of Jelbun village, Last December I started constructing a house for my family (6 members) due to the lack of spaces in the built up area of the town, I had to build out of it in what the occupation considers area C, Last July I received a stop work order for my house and water cistern. I went to "Jerusalem Legal Aid and Human Rights Center" who now follow up the case in the Israeli court, and I am working on getting a permission. Destroying my house is a true disaster, I put all I had in building the house, If It was demolished my family will become homeless".
According to the reports, there are more than 9 threatened structures in Jalbun area since 2012.
About Jalbun:
12 kilometer north east of Jenin, Jalbun is surrounded by Al Mughayyir and Fuqua (north),  Al Mughayyir (south), Deir Abu Daef (west).
Jalbun has a population of 3400 people according to statistics conducted by the Palestinian Central Bureau of Statistics  in 2017. It has a total area of 9,308 of which 590 dunums are a built-up area of the village.
The Israeli occupation devoured more than 7850 dunums of the lands of the village for the colonies and the Apartheid Wall. It is worth knowing that colonies of Gilboa and King Joshua were built on the international truce line, i.e. on Jalbun lands occupied in the 1948 war.
Prepared by
 The Land Research Center
LRC