Sewage water from the settlement of "Kiryat Netafim" targets agricultural lands in Salfit
Violation: Overflow of sewage water from the settlement of Kiryat Netafim pollutes the Palestinian environment.
Location: Qarawat Bani Husan village, Salfit governorate.
Date of Violation: 12thof July, 2018
Perpetrator: settlers of Kiryat Netafim.
Victims: families living in Qarawat Bani Husan.
Description:
Colonists of "Kiryat Netafim" pumped large amounts of untreated wastewater towards agricultural fields of Qarawat Bani Husan village.
The real issue is that settlers collect wastewater in huge holes, naturally the water leaks towards nearby valleys, then towards bypass 505, which causes a great damage to Palestinian environment especially in surrounding agricultural fields.
As LRC previous reports prove, pumping sewage water towards Palestinian land didn't happen by chance; it reoccurred many times. Tawfiq Eid from the Palestinian coordination office said "We reached for the Israeli District Office of Coordination but no actions have been taken in this regard"
Photos 1-3: Sewage water pumped by "Kiryat Netafim" settlement.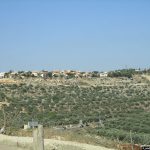 Photo 4: A view of "Kiryat Netafim" settlement.
Reportedly, pumping sewage water has negative impact on the economic and health status of the area. Such crime helps spreading diseases and causes the economic wheel to get badly struck. Crops and plants will go bad. Thus the source of income of many farmers will be cut off.
International human rights stated the rights of people to clean  and healthy environment.
The name of the colony is derived from al- Nowaitif ancient Roman well founded on the lands of Qarawet Bani Hassan town. The colony was built in the beginning of the eighties of the last century on the lands of Qarawet Bani Hassan and nearby Sarta.
Kiryat Nitafim is inhabited by 480 of radical religious settlers.
Concluded from field observation, the colony of Kiryat Netafim expanded in the recent few years to devour thousands of Palestinian agricultural dunums.
About  Qarawat Bani Hasan[1]
Founded to the northwest of Salfit governorate, the village is edged by Deir Istiya and Haris villages from the east, Surta village from the south, Bidyan village from the west and Wad Qana from the north.
Qarawat Bani Hasan populates 3752 people on 9443 dunums ( Palestinian Central Bureau of Statistics PCBS-2007)
After the occupation of the West Bank in 1967, the Israeli occupation established the colonies  of Barqan and Kiryat Netafim on confiscated lands from Qarawat Bani Hasan. The total of the confiscated lands at time was 341 dunums.
[1] GIS -LRC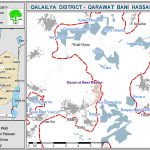 Prepared by
 The Land Research Center
LRC