"Leshem" is threatening Palestinian existence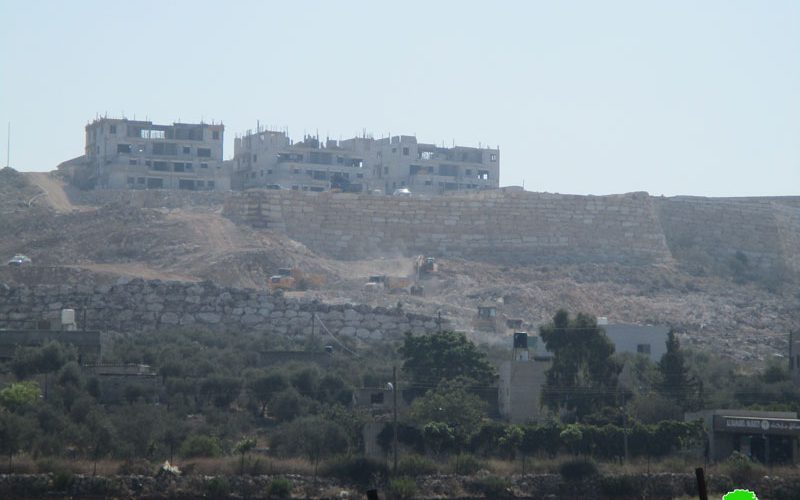 Violation: expanding "Leshem" settlement on the expanses of Palestinian lands.
Location: Deir Balut- Salfit governorate.
Date: July 16 -2018.
Perpetrator: "Leshem" settlers.
Victims: 17 Palestinian families.
Description:
In 2013 the Israeli occupation established "Leshem" settlement on the eastern valleys of Deir Ballut town, since that day, leshem had doubled 3 times.
It is reported that the occupation's machines are leveling and ravaging agricultural lands adjacent to the built up area of Deir Ballut settling to expand "Leshem" settlement.
Photos 1-3: Israeli machineries leveling Deir Ballut lands to expand Leshem illegal settlement
In the same context, The Israeli Supreme Court refused the petition of number of Palestinian land owners in Natural block 9 of Deir Ballut, The Israeli supreme court consider these lands as state's property and at the civil administration disposal. Consequently, some of the houses built in these lands are threatened of demolition.
Ahmad Abdullah (44 years) living close to "Leshem" settlement: "At the time "Leshem" settlement is expanding on Deir Ballut lands, 17 Palestinian families are now not allowed to build in their lands or even repairing their homes, in addition to that, The Israeli occupation forces served 11 halt of construction orders on homes and a mosque, which imposes a true threaten on Palestinian existence in the area"
Activist Dawoud Abdallah said that there is a colonial scheme to take over about 10,000 dunums of Bab Al-Marj and Deir Ballut agricultural lands.
Photos 4-5 : "Leshem" illegal settlement.
The Village of Deir Ballut:[1]
The village is located on the Green Line west of the Governorate of Salfit at a distance of 20 kilometers from the City of Salfit. The total area of the village is about 13,941 dunums of which 503 dunums are its built-up area. Its population is about 3873 in 2017 census, most of whom depend on agriculture as the main source of income.
The dependency of agriculture has risen sharply after the inception of the second Intifada due to the inability to access Israeli job market.
The main agricultural products of the village include garlic, okra, cucumbers, wheat and olives. The presence of a water spring in Wadi Al Ain in the southern parts of the village has helped the agricultural sector to prosper. A for the drinking water of the residents of the village, they rely on water cisterns as well as on the Israeli Water Company.
In terms of the main clans in the village, there are 9 of them including Tuffaha, Khair, Abdullah, Qasem, Qaroush, Mishel, Mustafa, Musa and Hadrous.
Land Research Center sees Israel continuous expansion on colonies in the West Bank and Jerusalem at the expense of Palestinian and lands a flagrant violation of Human Rights and all international laws and conventions, which prohibit disposition of public properties in occupied countries.
UN Resolutions
UN Security Council Resolution 242 of 1967: calls for
the Withdrawal of Israel armed forces from territories occupied in the recent conflict;
Termination of all claims or states of belligerency and respect for and acknowledgment of the sovereignty, territorial integrity and political independence of every State in the area and their right to live in peace within secure and recognized boundaries free from threats or acts of force." [4]
UN Security Council Resolution 449 of 1979: the Security Council determined:"that the policy and practices of Israel in establishing settlements in the Palestinian and other Arab territories occupied since 1967 have no legal validity and constitute a serious obstruction to achieving a comprehensive, just and lasting peace in the Middle East"
UN Security Council Resolution 452 of 1979: states that
"the policy of Israel in establishing settlements in the occupied Arab territories has no legal validity and constitutes a violation of the Fourth Geneva Convention relative to the Protection of Civilian Persons in Time of War of 12 August 1949" and "calls upon the Government and people of Israel to cease, on an urgent basis, the establishment, construction and planning of settlements in the Arab territories occupied since 1967, including Jerusalem."
[1] GIS- LRC
Prepared by
The Land Research Center
LRC