Destroying water pipes in Bardala  for the second time/ Tubas Governorate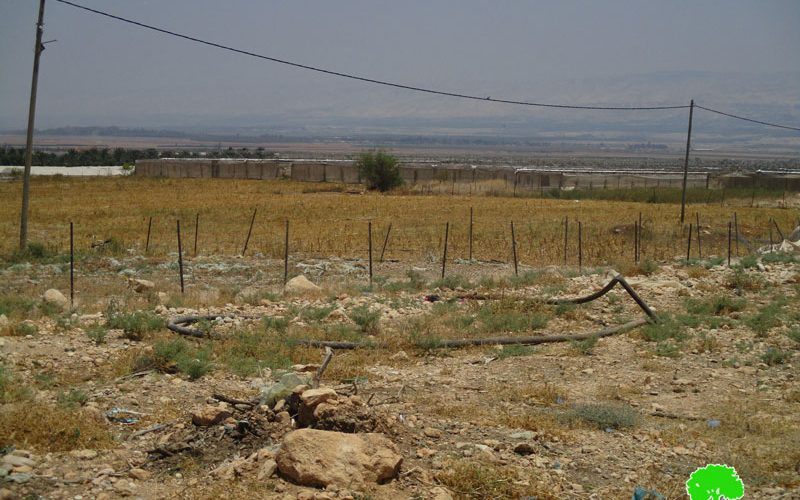 Violation: Destroying water pipes.
Location: Bardala village, northern Jordan Valley area.
Date: July-12- 2018
Perpetrator: The Israeli occupation army.
Victims: Farmers in Bardala village.
Description:
Thursday, July-12 – 2018, Number of members from the Israeli occupation army broke into Bardala town in the northern Jordan valley area for the second time, and targeted water holes used by Palestinian farmers to irrigate their farms on the pretext of creating them without receiving a proper license.
In this operation It is reported that 3 water holes provide water for 1000 dunums of green houses and cultivated lands were closed through filling them with dirt. Other than closing 2 water holes benefit 14 families in the town.
Moreover, the occupation had confiscated 220 meters of metal water pipes used to transfer water from the mentioned sources and taking them to an unknown place without delivering "Confiscation of goods" order.
Noteworthy that the occupation broke into the town for the first time in July 4 and closed 3 water holes and confiscating 150 meters of water pipes used to transfer water to 1000 dunums.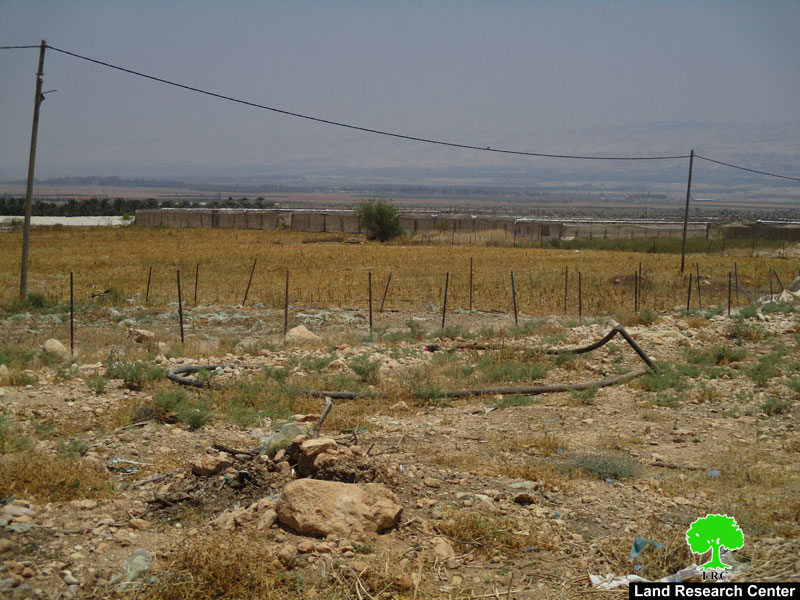 Photos 1+2+3 : Some of the targeted water sources
Derar Sawafta head of Bardala rural council told LRC observer:
"before 1975 there was an artesian well in Bardala town producing 240 m3 per hour, and used to irrigate most agricultural lands in the area, in 1975 , The Israeli company (Mekorot) dig out 2 wells close to the mentioned well , which caused the dryness of the Bardala artesian well and seriouslyharmed agriculture in the area. Later on, the Israeli civil administration started selling water to Palestinian farmers (240 cups per hour in 1.5 Israeli Agora) through The Israeli water company (Mekorot)" , then they reduced it to 120 cups per hour, this amount is not enough for the towns agricultural needs and caused the reduction of cultivated areas from 15000 dunums to 7000 dunums ,which lead farmers to dig out random holes to collect water but the occupation keep closing them.
Noteworthy that number of residents of Bardala increased to 1607 people in 2017, which means the increase of water needs, but the occupation reduce the permitted amount of water and obstructs any new initiations by the people of the town to fulfill their water needs. The real purpose behind the occupation's policies against people of Bardala is to evict its Palestinian residence to take over the land.
About Bardala 
The village is situated 25 km to the north of Tubas. It is surrounded by the Green Line (north), Raba (west), Ain al Baeda (east) and Tubas (south).
It has a population of 1607 people according to a 2017 census. It's total area is 18329 dunum, 404 of which is built-up area.
The Israeli occupation devoured 252 dunums of its land to open the  bypasses road #'90. It also confiscated 819 dunums to build the Separation Wall(8197 in length)  and isolated 2100 dunums of Bardala land as a result.
According to Oslo Accords, 90% of the village is area C, i.e. under Israeli authority while only 5% is area B.
Area B (910 dunum)
Area C (16845 dunum)