Judaizing The Salfit area of Wad Qana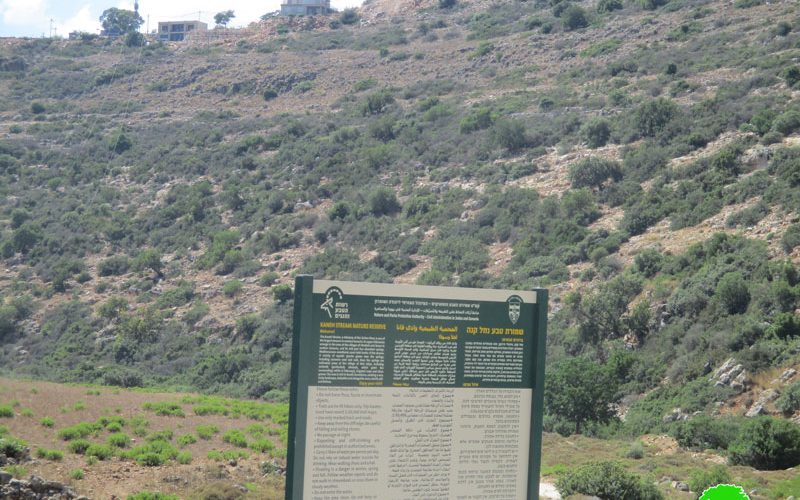 Violation: Judaization projects in Wad Qana area.
Location: Wad Qana – Deir Isteia/ North Salfit governorate.
Date: June 14 -2018.
Perpetrators: The Israeli occupation nature and Park authority.
Victims: People of Salfit.
Description:  The Israeli occupation nature and Park authority is implanting more Judaization activities in Wad Qana –Salfit.
Field observation shows that the so called nature and park authority have been putting signboards featuring The Israeli civil administration logo and fake historical descriptions in Wad Qana area.
It is also reported that during Eid Al-Fetr holidays the Israeli occupation put guiding signboards in touristic paths featuring the Israeli state's logo and fake cultural descriptions.
Activist Nathmi Salman said: "This policy is not new to the Israeli occupation; The Israeli occupation forces have been restricting Palestinian farmers' movement and halting any developmental or agricultural projects in the area under claims that it is a natural reserve"
Farmer Hassan Mansour (73 years) told LRC observer:
"The Israeli occupation have been prohibiting any Palestinian activities in the area, Farmers are not allowed to plant new trees , apply pesticides, or even building sieges around their lands to protect crops from wild boars"
 Pictures 1-2 : the Israeli nature and Park authority signboards.
Master colonial Plan for Nofim settlement:
In the same context, The Israeli occupation authorities have been adding new residential units to Nofim settlement in the "natural reserve of Wad Qana.
Pictures 3-6 : Expanding Nofim settlement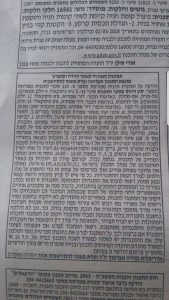 Photo 7 : The attachment of the new organizational plan.
Recently the Israeli occupation revealed an organizational plan to transform Wad Qana from a natural reserve to a build up area for Nofim settlement.
It should be marked that occupation has been conducting the double standards policy since it fought against the Palestinian presence in Wad Qana through damaging agricultural lands, cutting off trees, and confiscating agricultural equipment where it  notably encouraged colonial expansion and land grab. The area has become an aggrieved one since it is surrounded by 10 colonies from all directions controlling vast area of land.
About Wad Qana[1]:
It is located in the northwest part of Deir Istiya and surrounded by: Jinsafut, Kfar Laqif and Azzun from the east, Siniria and Kfar Thulth form the west, Qarawat Bani Hassan from the south, and Immatin and Deir Istiya from the east.  Most of Wadi Qana lands are owned by farmers from Deir Istiya. The valley overlooks "Yakir" colony  from the southern side and near to is "Nofim" colony. From the north side, there are three colonies surrounding the valley and they are: "Karni Shamron", "Jannat Shamron", and "Maa'ni Shamron".
Wadi Qana is relative to the village of Deir Istiya ( 34,129 dunums) and has a total land area of 10,000 dunums, of which 13 dunums are the built-up area  and 11 water springs. Worth mentioning, the place is planted with citrus, olives, and field crops.
The area is a natural slope that is located between two mountains and is famous for water abundance and soil fertility.
[1] GIS-LRC
Prepared by
 The Land Research Center
LRC