Israel's Occupation Forces halt rehabilitation works on agricultural land and road in 'Azzun-Qalqilya governorate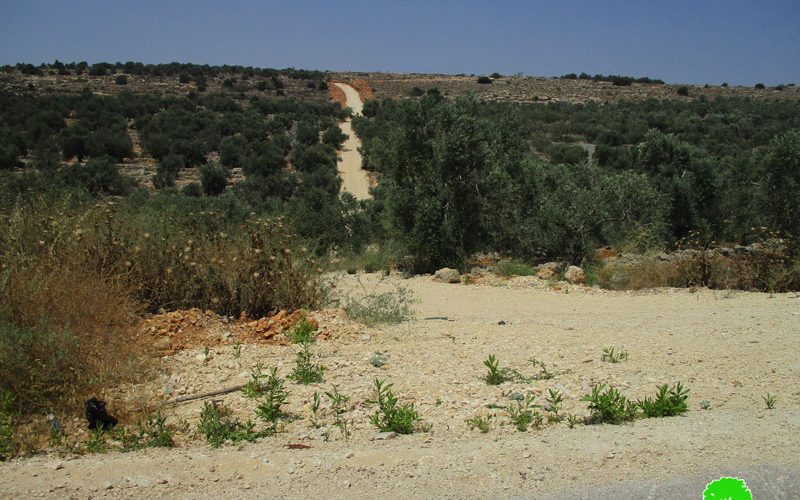 Violation: halting rehabilitation works an agricultural land and the leading road.
Location:  'Azzun village -Qalqilya governorate
Date:  May 27 / June 4 2018
Perpetrators: Israel's Occupation Forces
Victims:  farmers of 'Azzun village 
Details:
The Israeli occupation halt work on an agricultural road in Azzun village in May 27, few days after, The Israeli occupation halt reclamation of an agricultural land with an area of 5 dunums and belong to farmer Mohammad Radwan.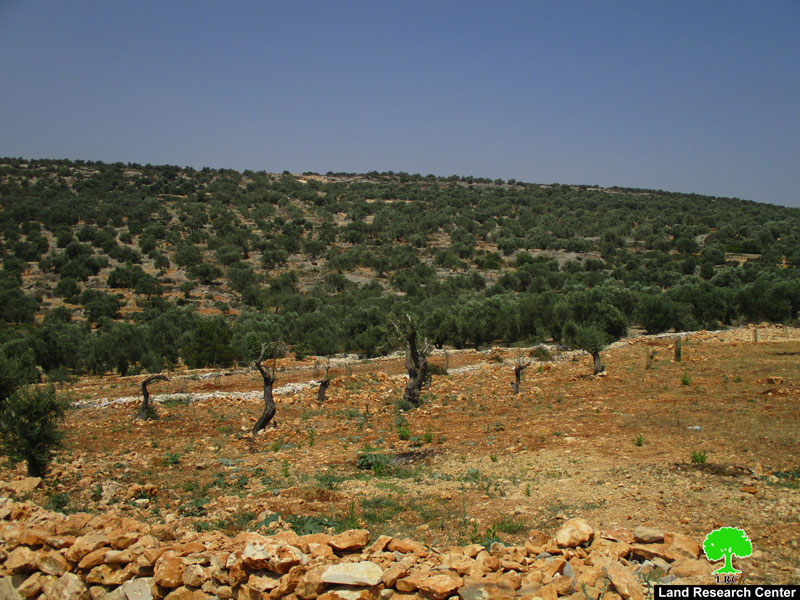 Photo 1: The targeted land.
Affected farmer Abdullah Radwan (58 years) told LRC observer:
in the beginning of May I carried out work in my (5 dunums) land . the rehabilitation came for the sake of protecting lands from any future colonial expansion plans, Monday morning June 4 the Israeli occupation broke into the area and ordered the bulldozer driver (who was working on fixing my land's soil) To immediately leave the place on the pretext of working in area C without getting a proper permission from the Israeli occupation, and ordered me to go to the Israeli occupation civil administration by "Ephraim" pass point to get a permission , In reality the occupation never give such permissions to Palestinians. 
Radwan added  I was planning to cultivate the land with olives and fruitful trees but the occupation is always against any developmental projects, my well will be stronger than the occupation
The occupation Halt rehabilitation of an agricultural road: May 27 / 2018 the officer of the so called building and planning committee broke into 'Azzun town in Qalqilya and targeted the agricultural road south of the town. The occupation's officer threatened 'Azzun municipality contractor to confiscate the equipment used in rehabilitation and belong to the Palestinian ministry of agriculture. they forced him to withdraw the equipment and immediately stop the work on the pretext of working in area C without getting a proper permission from the occupation.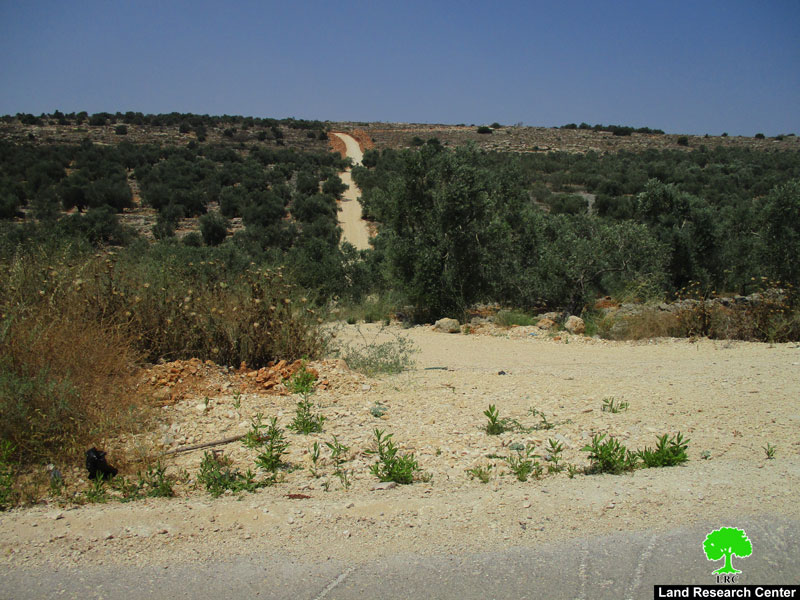 Photo 2: The targeted road.
About the occupation's violations, Hassan Shbeita told LRC observer: "The agricultural road in Wad At-Taweel area have a length of 1800 m , it is an important path for farmers in Azzun and Kafr Thulth towns as it connects the two towns with each other, other than serving hundreds of agricultural dunums cultivated with olives and citruses trees. Noteworthy, that this path is old and important to reinforce Palestinian presence in the area, As (Ma'ale Shamron) settlement is expanding on the town's lands.
Shbeita added: "In the beginning of this year, 'Azzun municipality in cooperation with the Palestinian ministry of agriculture carried out rehabilitation work on Wad At-Taweel road, by expanding the road and add Base course, but the occupation stopped the work on the pretext of working without permission in area C. "
About Azzun[1]:
Located 8km to Qalqiliya city with a total area of 9,472 dunums, of which 1,054 dunums are the village's built-up area. The occupation confiscated vast area from the village for the favor of colonization and the apartheid wall; the areas are detailed as follows:
276 dunums were confiscated for Maale Shamron colony that was established in 1980.
417 dunums were confiscated for the bypass road number 55
It should be marked that the vast majority of Azzun lands (6,927 dunums) is classified as area "C" according to Oslo accords; areas that are controlled by the Israeli occupation. The village has zero percentage of area "A" that is under the control of Palestinian Authority. As for other classifications, the village has 2,546 dunums classified as area "B". (Geographical Information System- Land Research Center)
3 colonies are built on 'Azzun lands and they are:
Maale Shomron: Built in 1980, the colony has a total area of 1903 and a built-up area of 216 dunums. 549 colonists live in it (according to a 2004 census).
Genot Shomron: Built in 1985, the colony's built-up area is 484 dunums.
Karni Shomron: Built in 1978, the colony's built-up area is 1351 dunums. 6270 colonists live in it (according to a 2005 census)
[1] GIS – LRC
Prepared by
 The Land Research Center
LRC