The Israeli occupation forces serve a demolishing order on a plants nursery in An-Nabi Elyas village / Qalqilya governorate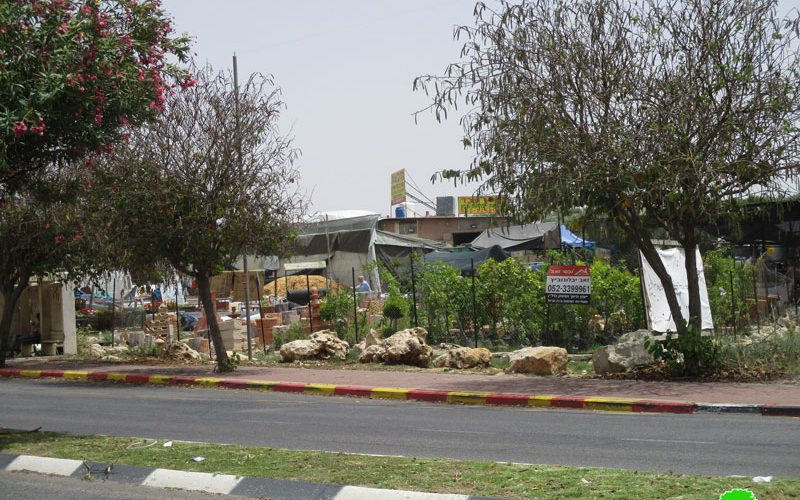 Violation:serving demolition order of a nursery
Location:  An Nabi Elyas village /Qalqilya governorate
Date:  May 8, 2018
Perpetrators: Israeli occupation forces
Victims:  family of villager Mufeed Qafeisha.
Details:
The Israeli occupation accompanied by the officer of the civil administration served a demolition order on May 8, 2018 to a nursery that is located by the bypass road number 55. It is reported that the threatened nursery belong to farmer Mufeed Qafeisha (66years) and founded on a 2800 m2 plot and is composed of a mobile steel room (12 m2) constructed over 7 years ago, on An Nabi Elyas town east of Qalqilya city and by bypass road 55, this nursery is a source of income for a family of 6 members.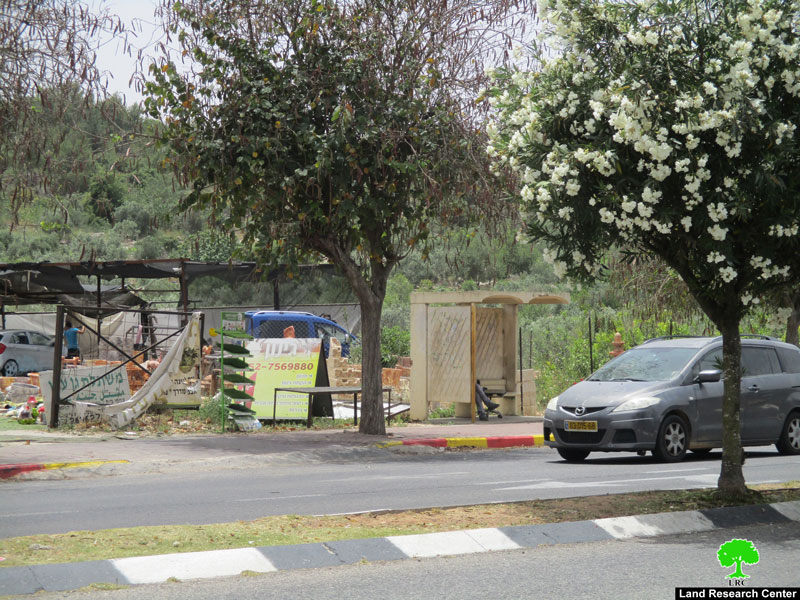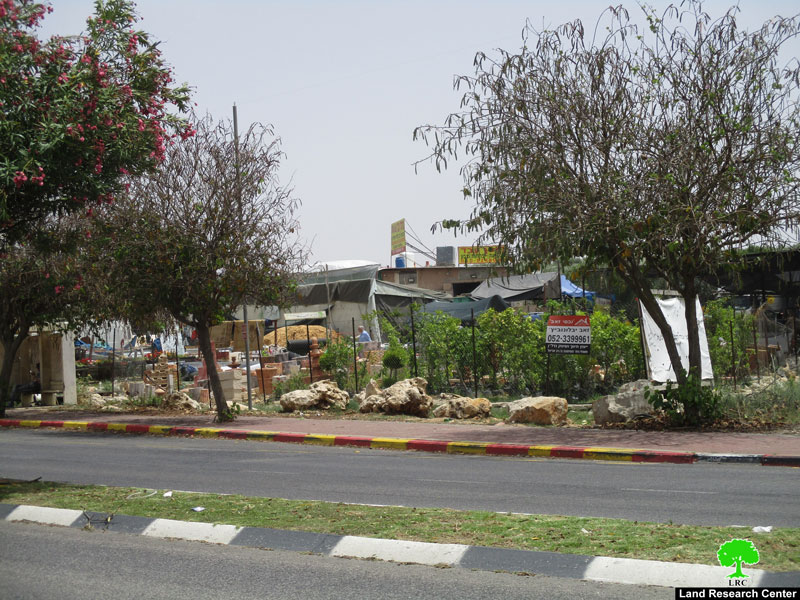 Photo 1-2: the targeted nursery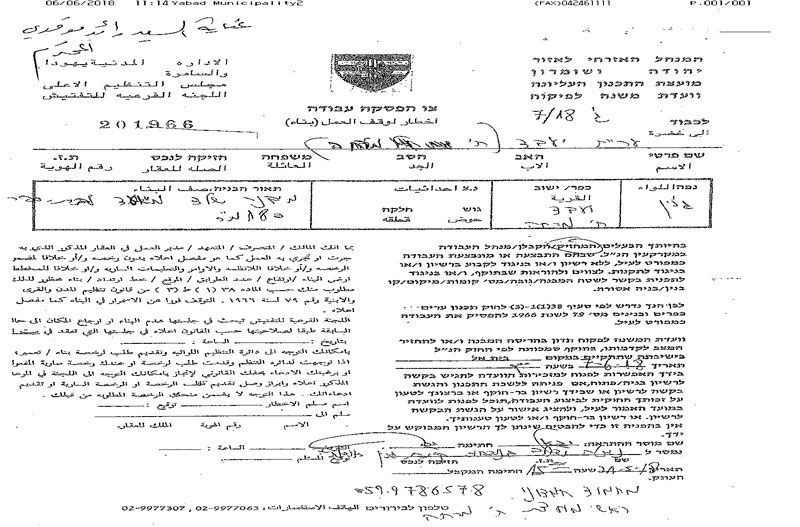 The demolition order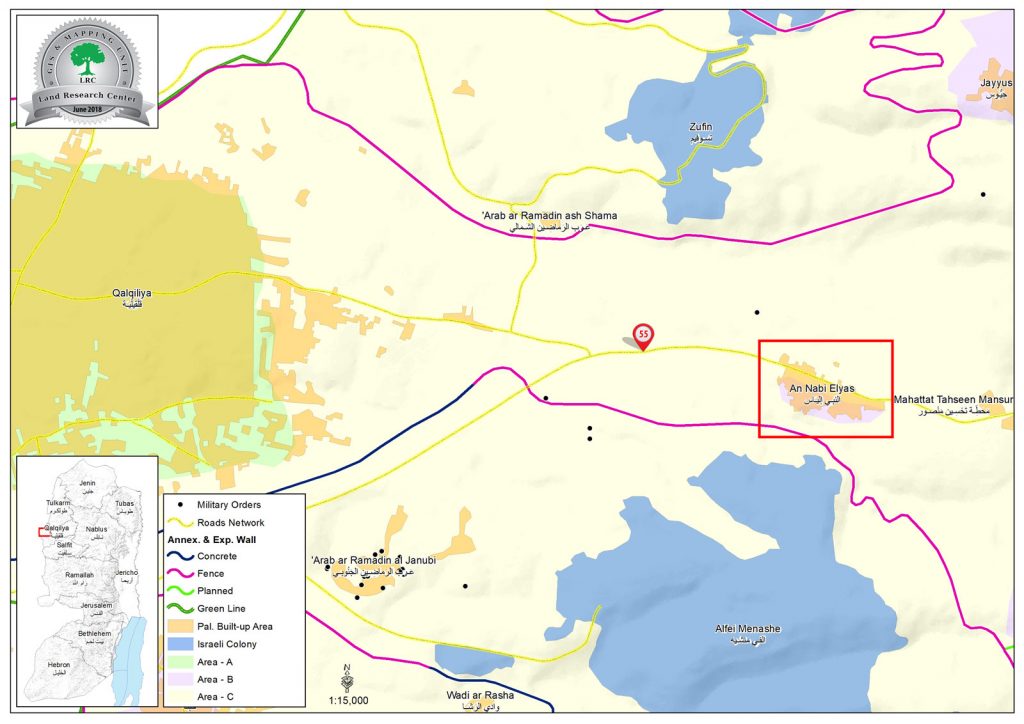 Qfeish added: "recently, the occupation's assaults have increased against people around the bypass road 55, I received a demolition order to my nursery on the pretext of violating the road's area according to the occupation" . To know more about Israeli violations on the purpose of implanting bypass 55 read LRC report in 2017 :  Israel to open colonial road east Nabi Elyas village in Qalqiliya
An-Nabi Elyas town like many Palestinian communities is targeted by Israeli attacks, due to the narrow built up area imposed by the occupation, people of An-Nabi Elyas are forced to build in area C which makes them subject to Israeli demolition , there are 14 notified facilities in  An-Nabi Elyas area on the pretext of building without permission in area C.
About Nabi Elyas[1]:
It is located 6km to the east of Qalqiliya governorate and is edged by Izbbet Al-Tabib and Aslah villages from the east, Arab Abu Fardeh area from the west, Jayyous town from the north and Ras Tayreh from the south.
The village populates 1399 inhabitants (2017 census) that are relative to three main families namely ( Hannun, Khleif and Majd)
Nabi Elyas has a total area of 4435 dunums, of which 123 dunums are considered the village's built-up area. Noteworthy, more than 2200 dunums of the area were isolated behind the apartheid wall and became subject to colonial activities of takeover and expansion.
[1] GIS – LRC
Prepared by
 The Land Research Center
LRC