Stop work orders on residences and a health clinic in the Hebron town of Yatta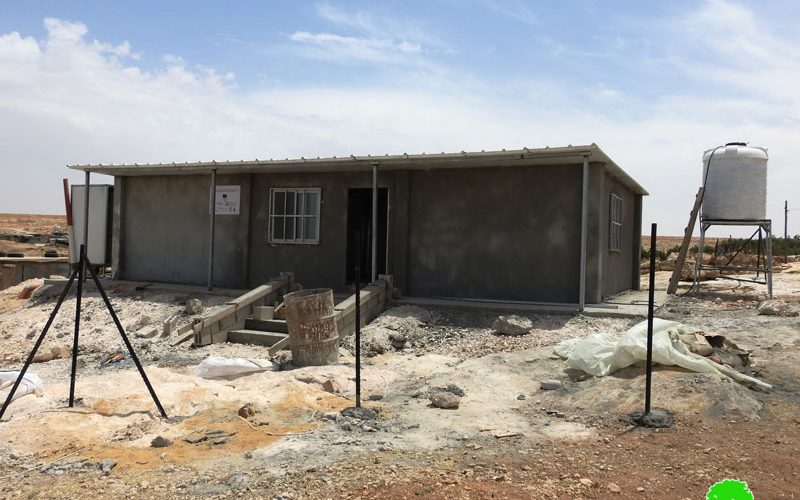 Violation: serving stop-work orders
Location: Sh'ab al Butum Yatta/ Hebron governorate
Date:  May 22, 2018
Perpetrators: The Israel occupation Civil Administration.
Victims:  residents of Sh'ab al Butum
Description:
Israeli Occupation Authorities served on May 22, 2018 stop-work orders targeting residences in Sh'ab al butum village in the Hebron town of Yatta on the claim of "unlicensed construction".
Affected citizens told Land Research Center that a vehicle relative to Israel Civil Administration accompanied by two military jeeps raided, toured around and hanged the orders on the targeted lands. Before the force had left, photos of the structures were taken.
The orders compelled a halt on all construction works on the claim of unlicensed construction. June 11, 2018 was set as the hearing session of the Inspection Sub-Committee in the Israeli Court of Beit El to consider whether to demolish the notified structures or restore their previous status.
As usual, Israeli Occupation Authorities claim that affected citizen can apply for building permits but make it clear that they don't necessarily grant such permits for them.
The orders targeted the following:
1: Mohammad Jabareen : He received notices for the following constructions:
Residential room: Built in 2005 , has an area of (40 m2) built of bricls and steel sheets , inhabited by 7 family members, 5 of them are children.
(20 m2 ) plastic tent used as a family kitchen.
Agricultural barracks built of Plastic sheets has an area of (80 m2) and built in 2006.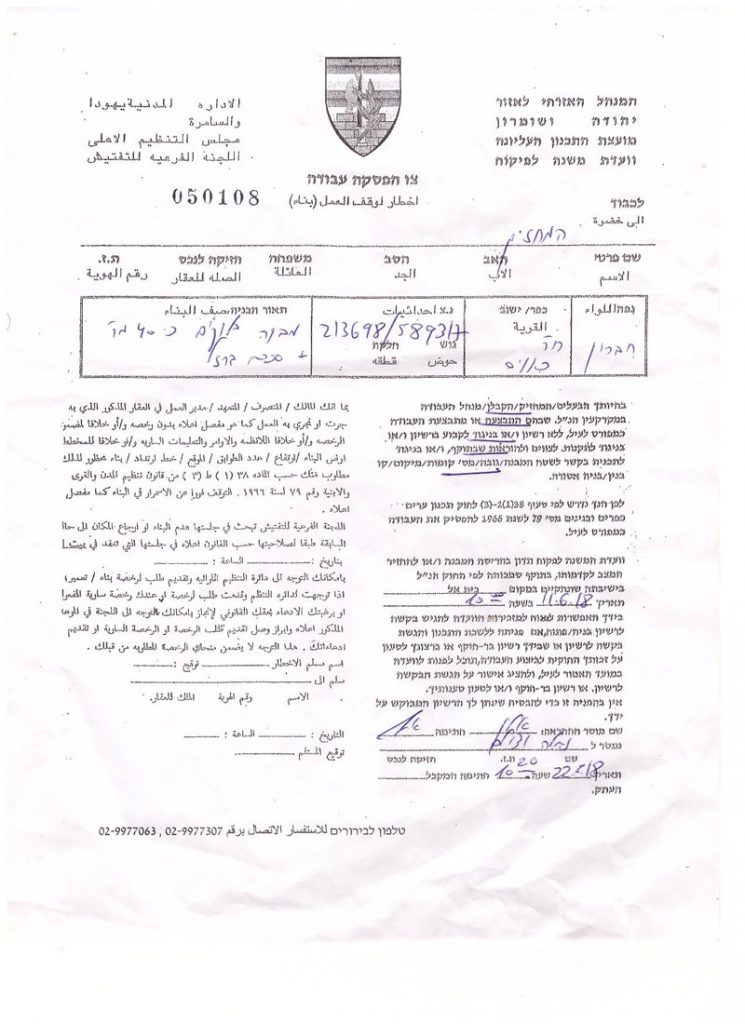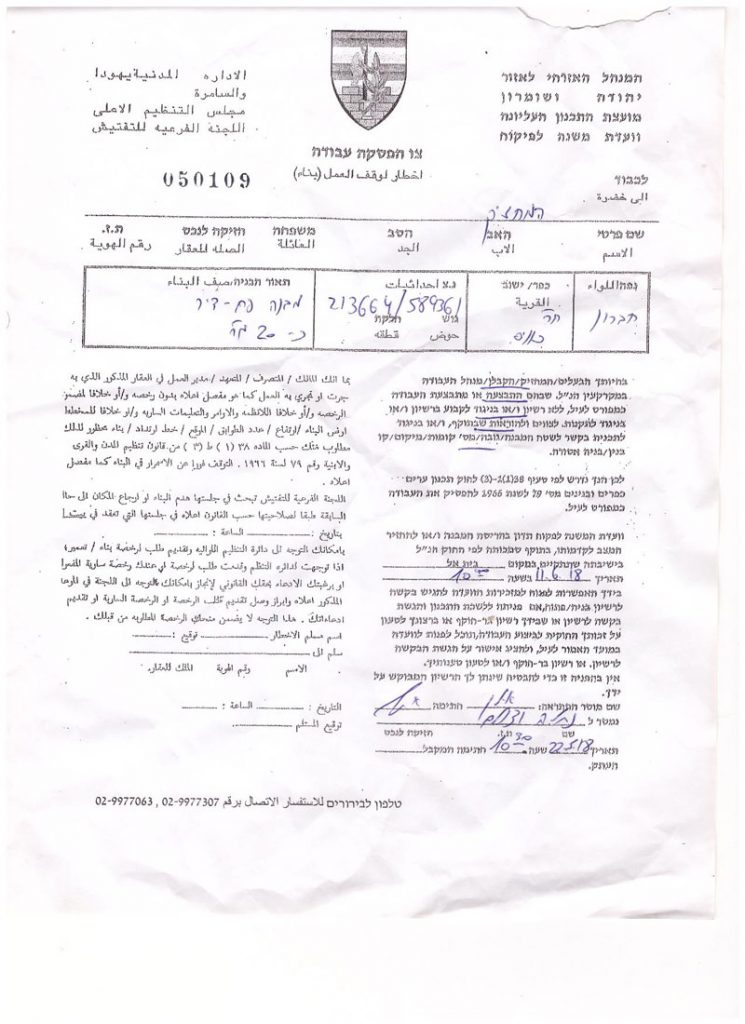 Photos 1+2 : Notices of villager Mohammad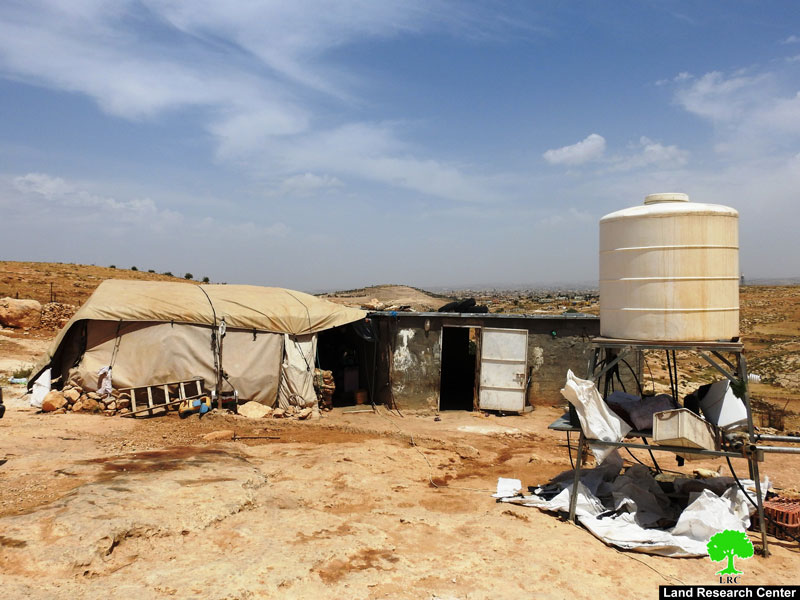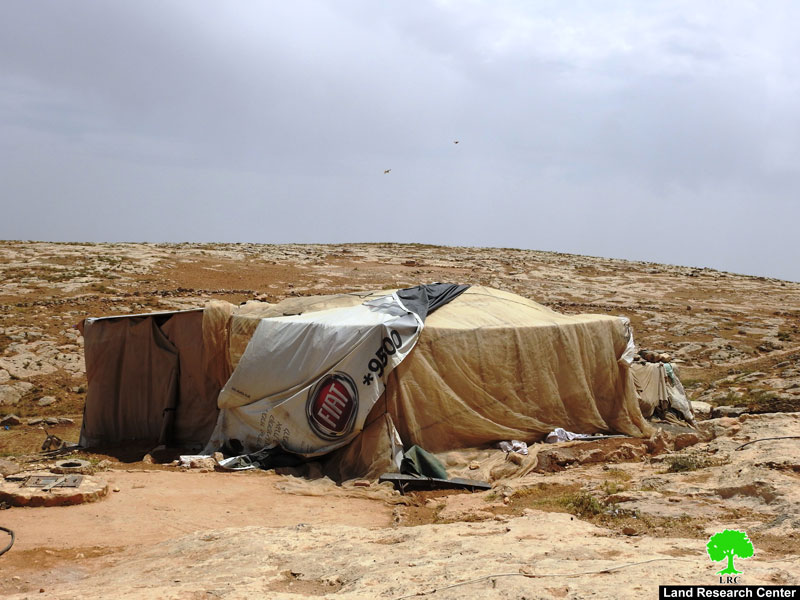 Photos 3+4: The threatened constructions
2:  Abdul Rahman Jabareen: Received an order to stop work in an agricultural rent ( 40 m2) built in April 2018 to live in the reaping season.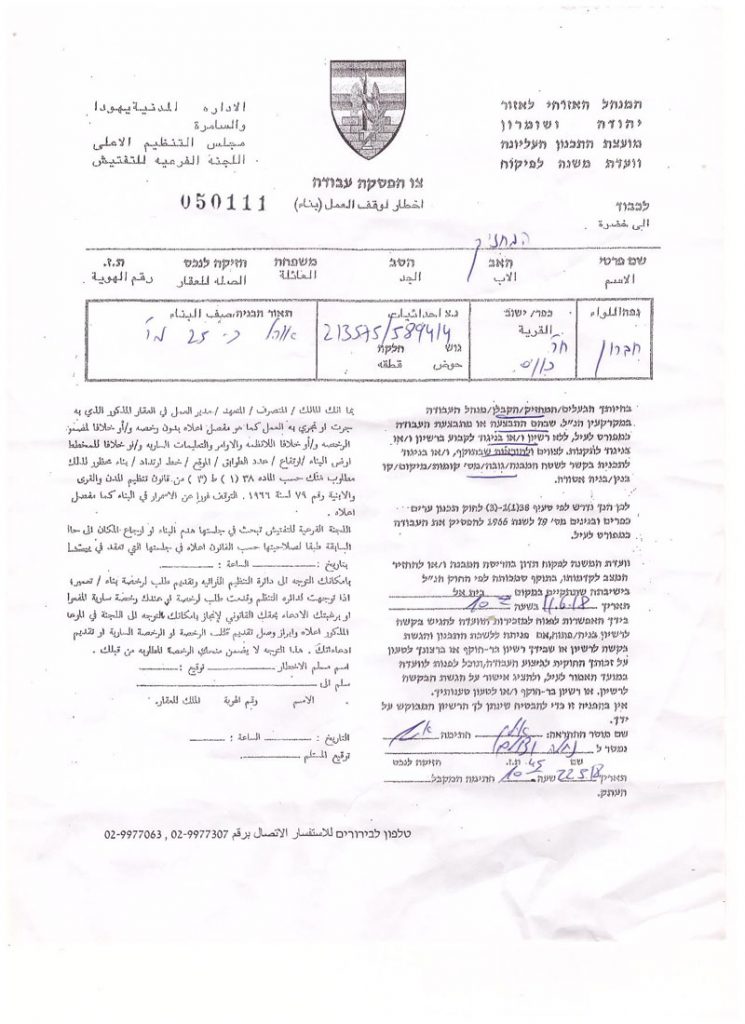 Photo 7: military order for Abdul-Rahman tent.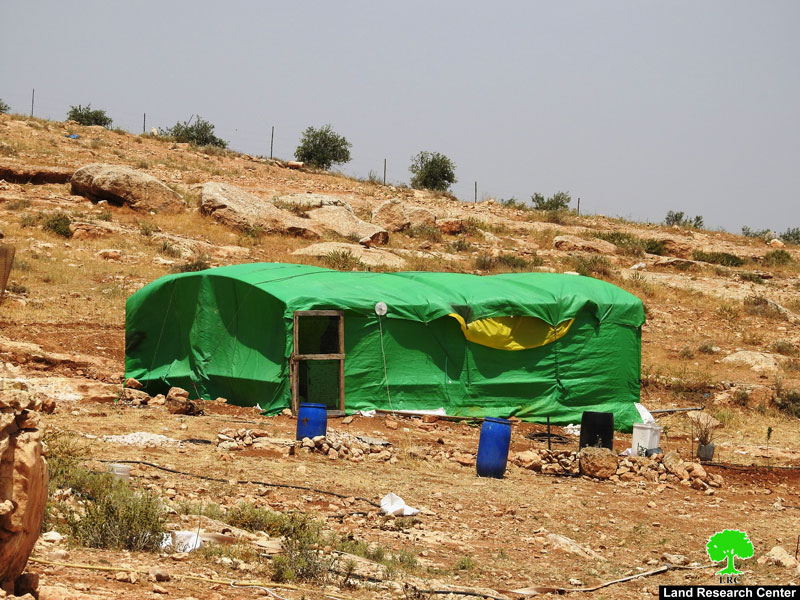 Photo 8: the threatened tent.
Clinic of Sh'uab Butum : Was notified to stop working, it is built of bricks and steel sheets ceiling and has an area of (75 m2) and was built with financial support from humanitarian European institutions to serve people of Sh'ab Butum.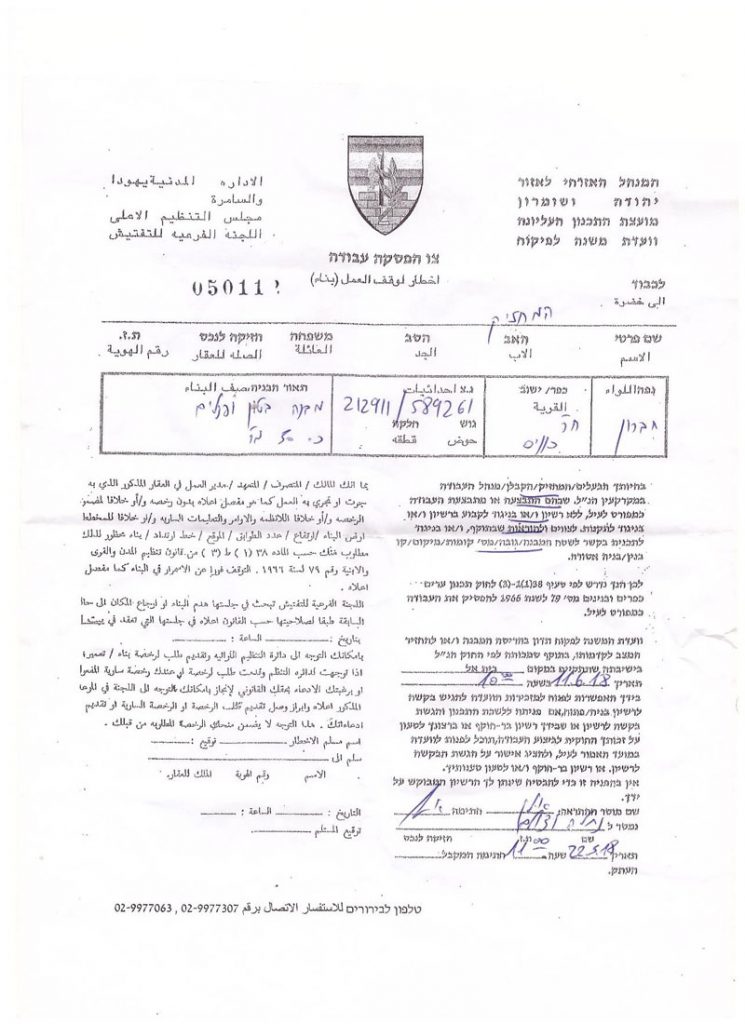 Photo 9: military order for the clinic
Photos 10 + 11: The threatened clinic
Shu'ub Al Bottum Hamlet:
The hamlet is located 15 kilometers southwest of the city of Yatta. About 100 Palestinians relative to the clans of Al Jabareen and Al Najjar reside the area. They have been living there even before the Israeli occupation of 1967. Residents of the hamlet depend on agriculture and animal husbandry as a source of living. Harvested rainwater support their drinking needs as well as their animals'. The area lacks signs of modern life; there is only one electrical generator that provides the area with electricity for few hours on daily basis. It is mostly not used due to the lack of fuel.
The hamlet is bounded by the outpost of Avigyl from the east while the outpost of Mizpe Ya'ir bounds it from the south. It is bounded by Road 60 from the north and the colony of Susiya from the west.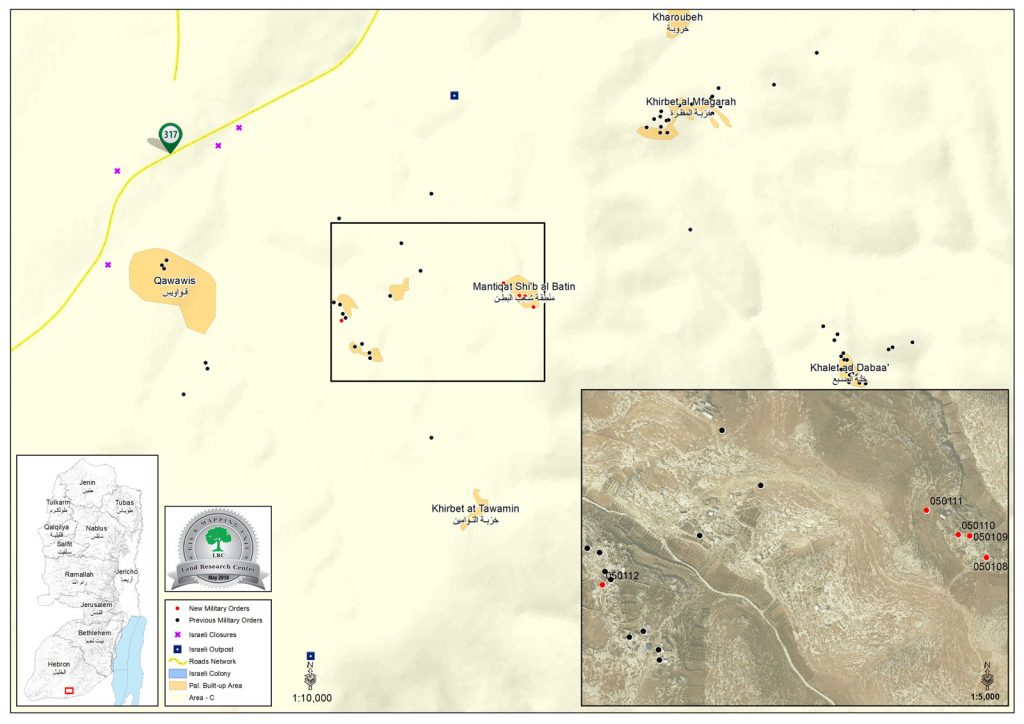 Prepared by
 The Land Research Center
LRC