Settlers torch Hay Bales in Al-Deirat town- Yatta/ Hebron governorate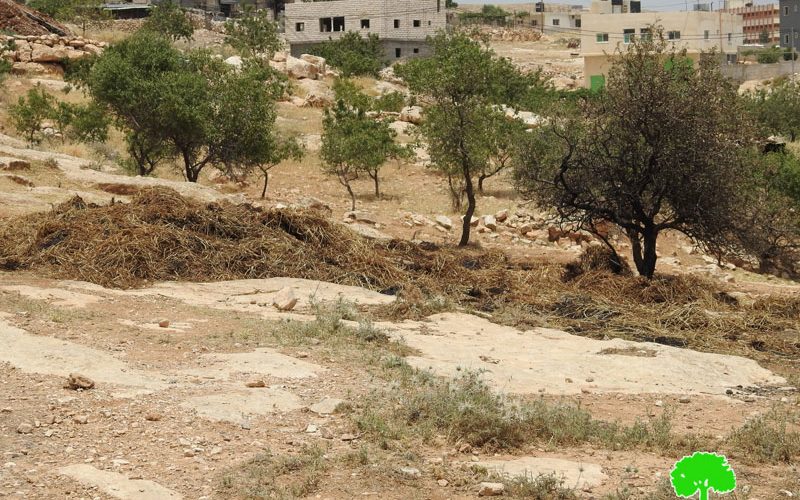 Violation: Torching hay bales.
Date: May 23 -2018.
Location: Al-Deirat – Yatta / Hebron governorate.
Perpetrators: Settlers.
Victims: Farmer Mohammad Al-Adra.
Description:
Settlers torched Hay Bales belong to farmer Mohammad Al-Adra (45 years) and wrote hatred inciting slogans in Al-Deirat / Hebron governorate.
Al-Adra told LRC reporte:
"I woke up at dawn and saw flames in my farm land.
I called my brothers and neighbors to come and help me suppress the fire, one of my brothers called the Palestinian civil defense.
in the morning we saw hatred inciting slogans on a retaining wall in the area.
The fire burnt 22 Hay Bale each one weighs 500kgm and caused 520 NIS, Now I have to buy new Hay bales to feed his Sheep."
Noteworthy, assaults against farmers and farm lands have increased recently in the suburbs of Hebron, most of them include writing hatred inciting slogans, the slogans and the writings are reported to be very similar.
About Al-Deirat [1]:
Al-Deirat village is located to the east of Yatta town and is about 6km away from it. The village is considered agricultural and is inhabited by 700 people; a village council runs the affairs of al-Deirat despite there is no headquarter for the council itself.
A number of families reside in the village namely : (al-Hamamdah, Musa'fieh , al-Adra); al-Deirat is split by the bypass road no. 60, which links all Israeli colonies in the north with those in the south.
The village is edged by Arab al-Ka'abna and al-Karmel colony from the east, Yatta town from the west, Khirbet al-Bwaib from the north and Ma'on colony and Um Lisfa village from the south .Residents of the area aspire to obtain a master-plan for the village that includes their houses in order to protect them from Israeli orders of stop-work and demolition
[1] GIS-LRC