Settlers sabotage 62 vine trees in Ein Sameya / Ramallah governorate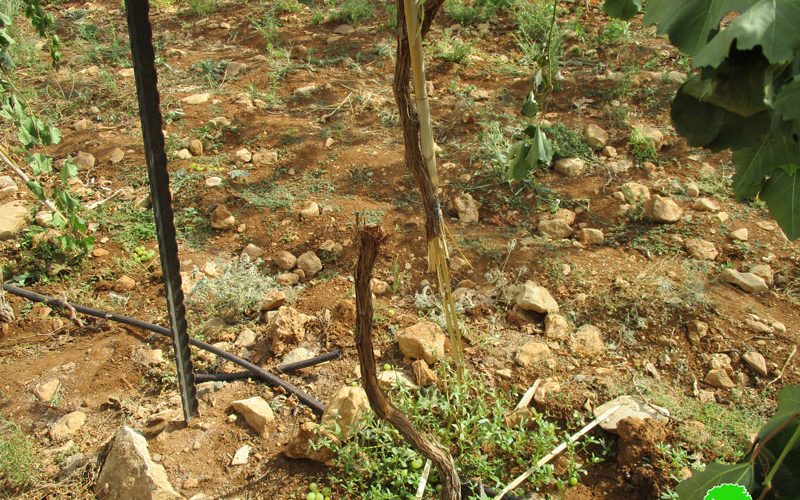 Violation: Sabotaging vine trees.
Location: Ein Sameya / Ramallah governorate.
Date: May 29 -2018.
Perpetrators: "sons of hills" gangsters.
Victims: Farmer Eyad Ma'adi's family.
Description:
In the early morning hours of Tuesday, settlers sneaked to farmer Eyad's VineYard and sabotaged 62 vine trees. The assault comes at the time of grape harvesting season which caused a great financial lost to the farmer.
Ill-Fated Farmer Eyad told LRC observer:
"I own a 7 dunums vineyard in Ein Samiya only about 60 meters from Bypass (458) which connects several colonial outposts occupied by racist settlers. In 2015, I got an agricultural loan to cultivate my 2 dunums yard, the project caused 21,500 $. I was hoping to provide a sub- source of income for my family of 9 (2 of which are children).
In May 29, while I was going to my land as usual, I was shocked when I saw that settlers using sharp tools sabotaged 62 of my trees right at the beginning of the harvesting season, the damaged trees were supposed to produce more than half a ton of grapes yearly.
I looked around and saw that they wrote hatred inciting slogans in Hebrew on a close rock featuring "Death for Arabs" and "Sons of hills""
Photos 2+3: Eyad's graveyard.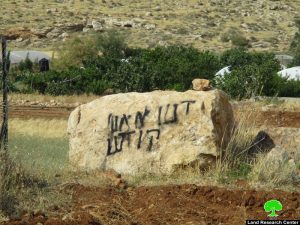 Photo 4: racist slogans on a rock in the targeted yard
Photo 5-9: sabotaged vine trees.
Noteworthy, Affected farmer filed a complaint to the Israeli occupation police but nothing was done until the day of writing this report.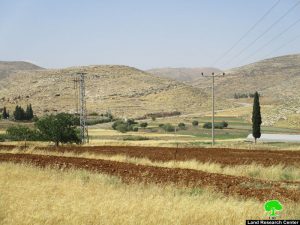 Photo 1: A view of Ein Samiya
Ein Samiya area is targeted by Israeli violations, Majdi Ma'adi, head of rural council in ein Samiya told LRC observer:
"Ein Samiya is a historical site and consists sites of archaeology from the Romanian , Ottoman and many other eras, Eis Samiya floats over number of artesian wells provide water for Ramallah , Al Bireh and surrounding Palestinian communities
After Oslo agreement, the occupation had declared Ein Samiya as area C. since then, Israelis committed several assaults against farmers and resident of Ein Samiya. Noteworthy, the area contain several outposts inhabited by radical religious illegal settlers"
Prepared by
The Land Research Center
LRC