Israeli colonists cut down 400 vine trees east Hebron governorate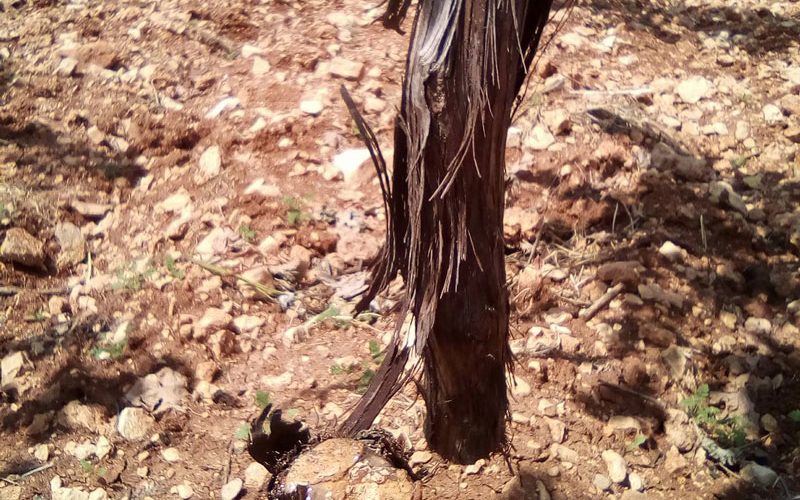 Violation: cutting down trees
Location: Um Al-Sahali-Halhul city
Date: May 16, 2018
Perpetrators: Israeli colonists
Victims: citizens from Jahshan family
Details:
Citizen Haitham Jahshan said that a group of Israeli colonists cut down vine trees in his family's land, to the east of Halhul city in Hebron governorate.
Jahshan asserted that he left the land on May 15, 2018 to come back next day to finish some works. To his surprise, he found out that about 400 vine trees were cut down.
The attacked piece of land is located in the area of Um Al-Sahali that is adjacent to the Israeli bypass road number 60. It is 29 dunums and belong to the heirs of Mustafa Jahshan. Some eight families live off of the productions of the land.
Jahashan said it is a hate a crime. He pointed out that his land is founded nearby a military watchtower that is administered by the occupation army around the clock. It is impossible for Palestinians to access the land at night and cut down trees using jigsaws without the soldiers stationed at the tower noticing them.
Reportedly, some Hebrew hate slogans were found written on rocks in the attacked location.
Israeli Police investigated the incident but no results have been rendered to the affected.
The owners of the land will have to wait at least many years for new trees to grow again. The attacked trees used to be of 30 years in age and to produce 8 tons of fruits each season.
About Halhul:
It is 3km north Hebron city and is around 36,849 dunums in area; of which 3.364 dunums are the village's built up area where the rest is planted with grapes, peach and almond trees.The town is 1050m above sea level and is considered the highest point in the West Bank. It has a total population of 27,031 people (Palestinian Central Bureau of Statistics 2017)
The Israeli Occupation Authorities confiscated 847.5 dunums from Halhul as for the following:
116 dunums for Karmi Tsur colony. It was established in 1984 and populates 623 colonists.
698 dunums for the bypass roads number 60 and 35
33.5 dunums for military encampments
According to Oslo Accords, the lands of Halhul are categorized as follows:
4165 dunums are classified as area A
21899 dunums are classified as area B
10785 dunums are classified as area C
Prepared by
The Land Research Center
LRC