The Israeli occupation delivers demolition notices on structures in the Jericho village of Fasayil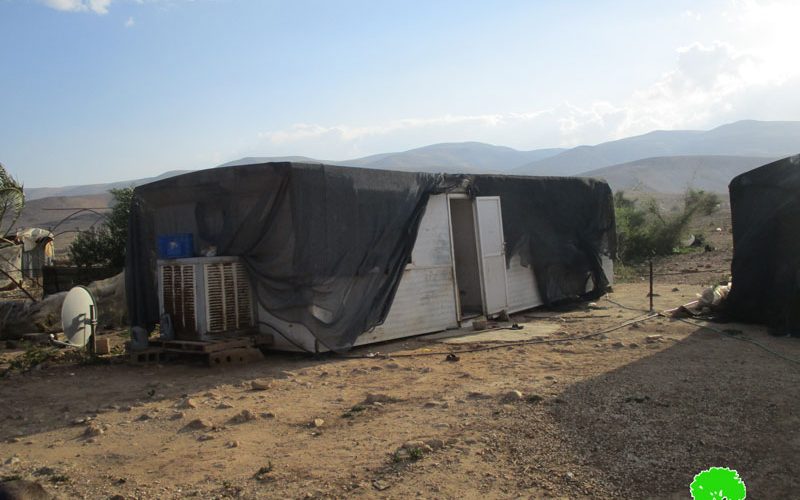 Violation: demolition orders on structures
Location: Fasayil al-Wusta
Date: April 25, 2018
Perpetrators: Planning and Construction Committee- Israel Civil Administration
Victims: 5 Palestinian families
Details:
The village of Fasayil, north Jericho governorate has been witnessing a new occupational plan that aims at displacing and deporting indigenous residents in a step to empty the Palestinian Jordan valley (al-Ghoor) for the favor of the colonial expansion.
The so-called Planning and Construction Committee- Israel Civil Administration on April 25, 2018 raided the area of Fasayil and delivered three military orders of stop-work for three families. The orders gave the targeted owners a deadline until May 14, 2018 to complete all licensing procedures. This comes in time with hearing session of the Planning and Construction Committee- Israel Civil Administration in the Israeli court of Beit El to consider the stats of the notified structures.
In addition, the force delivered three "final demolition orders" for three families with a three day deadline to object to the orders.
The following table gives details on the targeted families and structures:
Affected citizen

Family

Minors

No. of sheep

Nature of structure and area\m2

Type of military order

No. of order

Remarks

Photo

Hasan Al-Zayed

10

7

78

Residential barrack (60)

Tent (24)

Stop-work

050159

Had his structures demolished four times before

1+ 2

Zeyad Abu Khreibish

4

2

68

Tin-roofed room (45)

Mobile room

Three tents for sheep (45 each)

Three barns (40 each)

Stop-work

050160

Had his structures demolished four times before

3+4+5

Hagar Abu Khreibish

3

0

40

Residential tent (45)

Sheep tent (45)

Barn (60)

Storage (9)

Demolition order

305084

Had his structures demolished four times before

6+7

Ayman Qreinat

6

4

0

Tin-roofed room (90)

Stop-work

050158

—

8

Abdelhadi I'bayyat

6

4

0

Caravan room

Residential tent (60)

Sheep tent (60)

Barn (90)

Storage (12)

Demolition order

305083

Had his structures demolished one time before

9+10

Total

29

17

186

21
Source : Field observation- Department of Monitoring Israeli Violations- Land Research Center-2018
About Fasayil AL-Wusta:
The area of Fasayil Al-Wusta is reported to repeatedly witness raids by Israel occupation army. Noteworthy, this Bedouin community is located nearby many Bedouin communities that are not recognized by the occupation.
Over the past five years, more than nine demolitions were carried out in the community, not mentioning that the whole community is notified of demolition. It has a population of 1258 (according to Palestinian Central Bureau of Statistics in 2013). It is surrounded by a number of illegal Israeli colonies that limit the expansion of the village and deprive its inhabitants from having a normal life.
From the north, Fasayil is surrounded by colonies of Yafit and Pezael (Fezael), Tomer and Gilgal and Netiv Hagedud from the south in addition to a bypass that links the northern colonies with the southern ones.
The residents of Fasayil hail from Beersheba where they were displaced in 1948. The clans of Arab Al-Zayid , Aal-Kheirbish and Aal I'bayyat headed to south Hebron then to the Palestinian Jordan Valley to face the terror and brutality of the occupation everywhere they went.
Life of Bedouin people is characterized by simplicity where people reside in tents and live off of livestock.
Prepared by
The Land Research Center
LRC