Settlers Sabotage 320 olive trees in Bardala/ Tubas governorate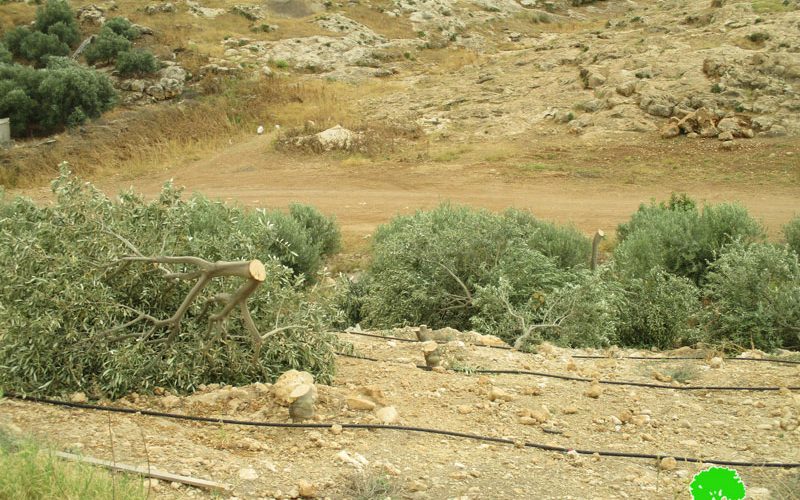 Violation: Destroying Palestinian farm lands.
Location: Bardala / Northern Jordan valley area.
Date: April 25-2018.
Violation: The Israeli civil administration and Army.
Victims: Farmers Hussein Sawafta and Moayad Sawafta.
Description: Numerous Israeli vehicles and machineries raided Bardala town , imposed a complete closure, and carried out uprooting 150 olive trees (aging 5 years old), in addition to cutting 170 olive trees (aging 7 years old) , then poured a chemical substance on the part that remained in the ground to make sure that it will never grow again. Consequently, 320 olive trees were completely damaged belong to farmer Hssein Sawafta.
Photos 1-5 : The damaged trees
In the same context, The Israeli machineries leveled a farmland (3 dunums) belong to Moayad sawfata.
Photo 6-7: Moayad's farmland after the Israeli assault
About the recent Israeli crime, affected farmer Hssein Sawafta told LRC observer: "In January 22, Israeli troops and an officer from state's properties in the Israeli civil administration raided the area and served eviction military orders to 38 dunums in 4 locations, owners were required to evict their lands within 45 days under claims that they assault Israeli State's property.
We headed to Tubas governor's office then to the Colonization and Wall resistance commission eventually Lawyer Saed Qasim was assigned to follow up the case in the Israeli court.
After 47 days, Israeli troops raided the area and uprooted 380 olive trees, of which 320 belong to me and ravaged 3 dunums of farmland belong to Moayad Sawafta"
About Bardala [1]
The village is situated 25 km to the north of Tubas. It is surrounded by the Green Line (north), Raba (west), Ain al Baeda (east) and Tubas (south).
It has a population of 1607 people according to a 2017 census. It's total area is 18329 dunum, 404 of which is built-up area.
The Israeli occupation devoured 252 dunums of its land to open the bypasses road #'90. It also confiscated 819 dunums to build the Separation Wall(8197 in length) and isolated 2100 dunums of Bardala land as a result.
According to Oslo Accords, 90% of the village is area C, i.e. under Israeli authority while only 5% is area B.
Area B (910 dunum)
Area C (16845 dunum)
[1] GIS – LRC
Prepared by
The Land Research Center
LRC