Israeli Occupation Forces demolish structures in Jericho governorate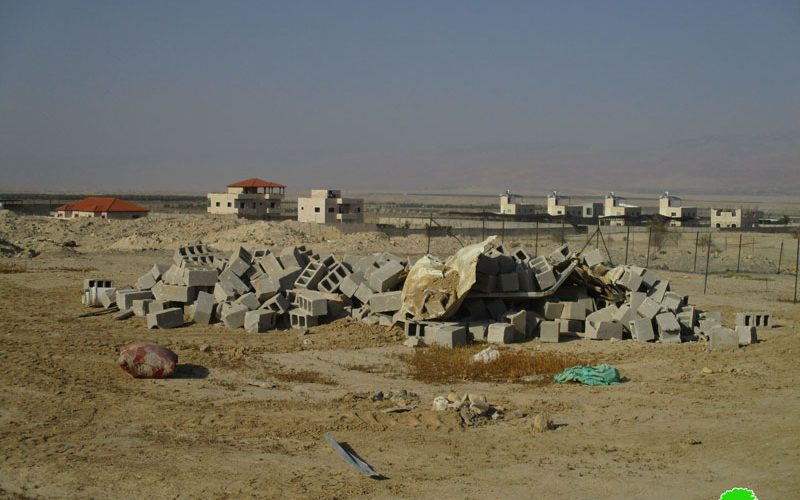 Violation: demolition of agricultural facilities
Date: April 18, 2018
Location: Al-Auja valley / Jericho
Perpetrators: Israeli Occupation Forces
Victims: family of Ishaq Shteiwy
Details:
On April 18, 2018, a massive force from the Israeli occupation army accompanied by a staff from Israel Civil Administration and some military bulldozers raided Al-Auja valley and demolished an agricultural room and a fence surrounding a one dunum plot.
Reportedly, the house was 12m2 in area where the fence was 60*1.5m. Both targeted structures belong to the Jerusalemite Ishaq Shteiwy.
The occupation justified the demolition on the claim that the structures were built without proper building permits and were founded in area classified C according to Oslo Accords, which is an area under Israeli control.
Mayor of Al-Auja, Salah Freijat, told Land Research Center that " several Jerusalemite families establish residences in the area to flee the pressures and harassment imposed on them in Jerusalem by the occupation. Despite all efforts to find a decent life, the occupation follows them and demolish their structures in the area."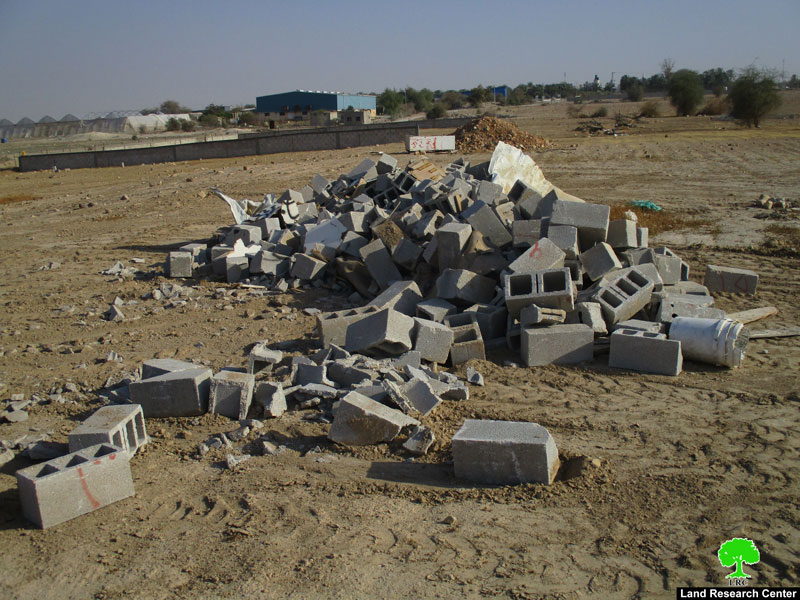 Photos 1-5: the demolished structures of Shteiwy
About Al-Auja:
Al 'Auja is located 12 km to the north east of Jericho city, adjacent to the Jordan River. It is edged by the eastern regional road that leads far north to Bisan. Its total area is 106399 dunums, 1186 of which is built up area of the village. (Source: Geographic Information System- Land Research Center)
The Israeli Occupation captured 4717 dunums of Al 'Auja for colonial expansion purposes besides having several military bases there that devoured 1600 dunums. Road no. 90 which is 8180 meters long took away more than 818 dunums of Al 'Auja.
5 colonies are founded on Al 'Auja land and they devoured 2299 dunums of the village lands. The colonies are: Gilgal, Netiv Hagedud, Niran, Yitav and Nihal Tsoori.
Land Research Center LRC sees that demolitions contradict with all the International conventions and Humanitarian laws including:
Article 17 of the (1948) Universal Declaration of Human Rights stating: "Everyone has the right to own property alone as well as in association with others. No one shall be arbitrarily deprived of his property."
Section ‹G› of article 23 of the (1907) The Hague Conventions asserting: "In addition to the prohibitions provided by special Conventions, it is especially forbidden to destroy or seize the enemy's property, unless such destruction or seizure be imperatively demanded by the necessities of war."
Article 53 of the Geneva Fourth Convention (1948) declaring: "Any destruction by the Occupying Power of real or personal property belonging individually or collectively to private persons, or to the State, or to other public authorities, or to social or cooperative organizations, is prohibited, except where such destruction is rendered absolutely necessary by military operations."
Section 1, Article 11 of the International Covenant on Economic, Social and Cultural Rights (1966): "The States Parties to the present Covenant recognize the right of everyone to an adequate standard of living for himself and his family, including adequate food, clothing and housing, and to the continuous improvement of living conditions.
Prepared by
The Land Research Center
LRC