Kfar Zion colonists pump sewage and wastewater into Beit Ummar agricultural lands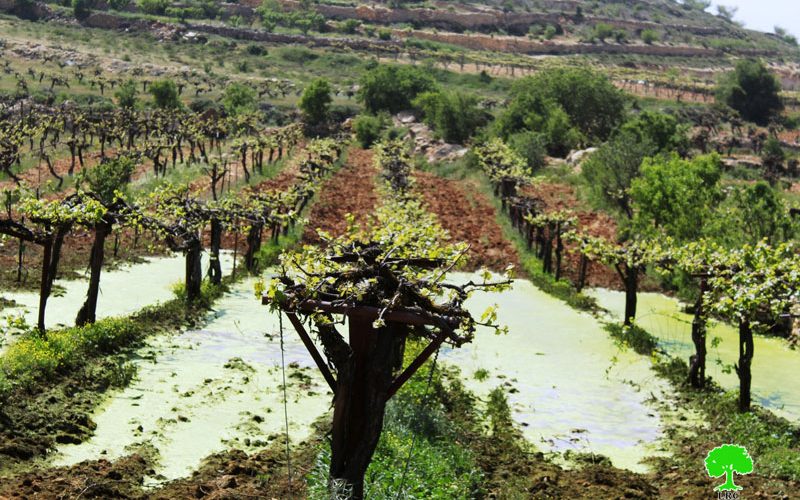 On March 31, 2018, colonist of Kfar Zion pumped wastewater into Wad Shakhit area, north Beit Ummar town. The attacked lands (40 dunums of vineyard) are owned by Bahar and Sabaraneh families.
This is not the first time such attack occurs. Similar attacks take place by the beginning of spring season to inflect greater damage on crops.
On not so far distance from Wad Shakheit area, colonists established pools to collect wastewater and opened treatment unit.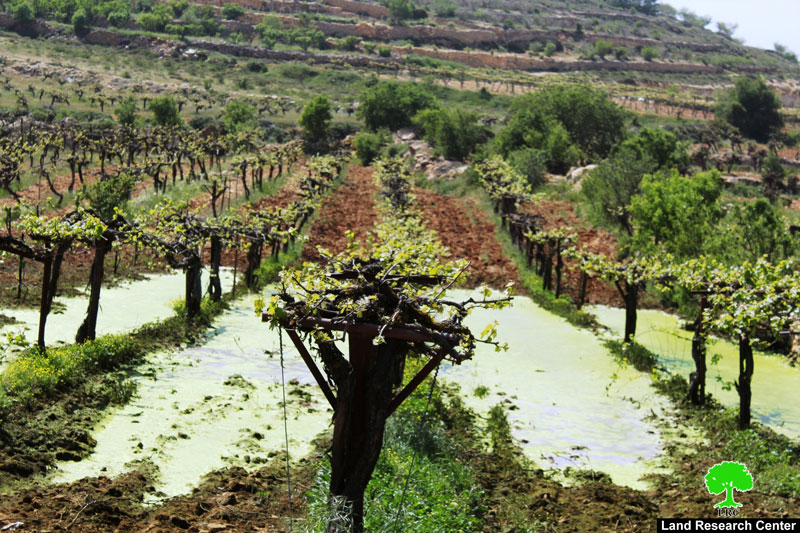 Photos 1-5: sings of the sewage and wastewater in the Palestinian lands
Noteworthy, pumping untreated wastewater and sewage into lands causes many environmental hazards including but not limited to the following:
The killing of vineyards
Pollution and contamination in the agricultural soil
Economic losses
About Was Shakheit:
The area is located to the north of Beit Ummar town, it is one of the most fertile land that is planted with fruitful trees.
About Beit Ummar:
It is located 12 km to Hebron city. The village's total area is 21,285 dunums, of which 1,375 dunums are considered the built-up area; around 13, 548 people inhabit Beit Ummar.
The Israeli occupation authorities confiscated 560 dunums from Beit Ummar for the favor of the bypass road no.60. The occupation also confiscated 1,216 dunums for the favor of the following colonies:
Colony

Year of establishment

Dunums confiscated from Beit Ummar

Built-up area\dunums

No. of colonists

Karmei Zur

1984

179

289

623

Migdal Oz

1977

682

1,076.4

298

Kfar Etzion

1976

18.6

923.5

404

Efrat

1979

98.6

2,063.6

7,037

Alon Shevut

1971

237.8

934

3,146

Total

1216

5,286.5

11,508
Source: Geographic Information System- Monitoring Israeli Violations Team- Land Research Center
Prepared by
The Land Research Center
LRC