Demolition and confiscation in the Hebron town of Yatta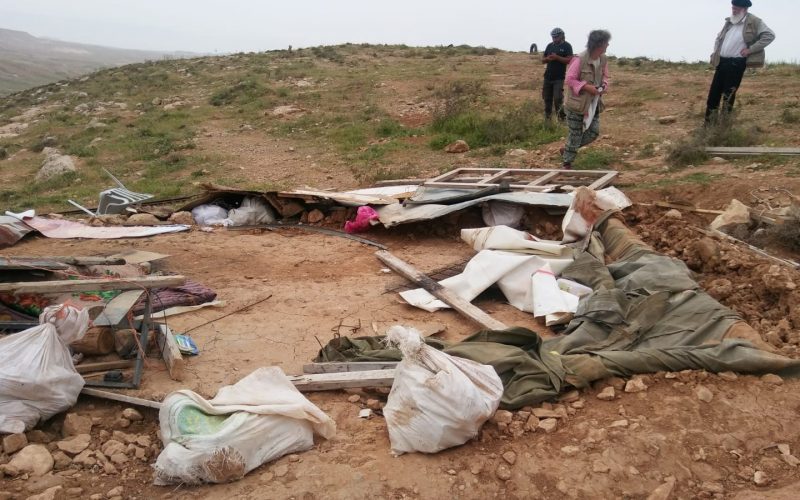 Violation: demolition and confiscation
Location: Khallet Al-Dubbae- Yatta town
Date: March 29, 2018
Perpetrators: Israel Civil Administration
Victims: citizen Jameel Li'mour
Details:
The Israeli occupation authorities demolished on March 29, 2018 an agricultural tent belonging to citizen Jameel Li'mour in Khallet Al-Dubbae , east Yatta town in Hebron governorate.
The affected citizen confirmed that a vehicle relative to Israel Civil Administration and workers from Israeli civil company raided the area, dismantled the tent, demolished the corners and confiscated the shade cloth.
The citizen pointed out the demolition occurred without receiving any previous warning or notice. Not only, no confiscation notice was delivered to the owner.
Photos 1+2: sings of the demolition act
The military order mentioned that the structures were "unlicensed" and compelled immediate termination of work. February 01, 2018 was assigned as the so-called Planning Committee hearing session in the court of Beit El to consider the legal status of the notified structures Reportedly, the tent was 32m2 in area and built a year ago to be a resting place for the citizen after he finishes working in his land.
About Khallet Al-Dubbae:
It is located to the east of Yatta town and is considered one of the communities of the Masafer Yatta area. The hamlet populates 100 residents, who live off of agriculture and livestock husbandry.
Khallet Al-Dubbae is run by Masafer Yatta village council. The hamlet is linked to Yatta town by an unpaved road.
Land Research Center LRC sees that demolitions contradict with all the International conventions and Humanitarian laws including:
Article 17 of the (1948) Universal Declaration of Human Rights stating: "Everyone has the right to own property alone as well as in association with others. No one shall be arbitrarily deprived of his property."
Section ‹G› of article 23 of the (1907) The Hague Conventions asserting: "In addition to the prohibitions provided by special Conventions, it is especially forbidden to destroy or seize the enemy's property, unless such destruction or seizure be imperatively demanded by the necessities of war."
Article 53 of the Geneva Fourth Convention (1948) declaring: "Any destruction by the Occupying Power of real or personal property belonging individually or collectively to private persons, or to the State, or to other public authorities, or to social or cooperative organizations, is prohibited, except where such destruction is rendered absolutely necessary by military operations."
Section 1, Article 11 of the International Covenant on Economic, Social and Cultural Rights (1966): "The States Parties to the present Covenant recognize the right of everyone to an adequate standard of living for himself and his family, including adequate food, clothing and housing, and to the continuous improvement of living conditions.