Settlers assault farmers in Khallet Ath-Thughra / East Hebron
Violation: Assaulting farmers and uprooting plants.
Date: February 17 -2018.
Location: Khallet Ath-Thughra / Hebron governorate.
Perpetrators: colonists.
Victims: Farmers from Eideh family.
Description:
Eideh family headed to their plot holding 50 olive seedlings attempting to cultivate their land in an attempt to protect it from colonial expansion, but that did not last for long, as Israeli settlers raided the area, assaulted them and uprooted what they had cultivated.
Mohammad Eideh (37) an eye wetniss told LRC observer:" While we were working in the plot, a white four wheel Toyota showed up and two armed settlers stepped out, we recognized one of them named Ofar, he started threatening us and used his cell phone to call other settlers. After a while , Israeli occupation army and number of settlers reached the place, they assaulted us and uprooted the plants we were working on, then the occupation army restrained me, my brothers and my cousins"
Photos 1-3: The settlers who carried out the assault.
Source: The affected farmers.
The farmers fixed a camera on their car to document the violation, but settlers smashed the vehicle front glass and confiscated the camera.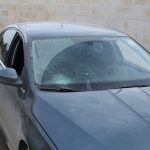 Photo 4: The car after the assault.
Eideh told LRC observer that this is not the first time they fall victims for Israeli assaults, in February 14 -2018, a fanatic settler shot one of the farmers and caused him injuries in his face.
The targeted land belong to Eideh family and have an area of 40 dunums in Khallet Al-Abed area, Israeli settlers have been targeting the area since 1983 and trying to take over it for security purposes as they claim.