Israeli colonists paint racist graffiti on Walls in Nabi Saleh village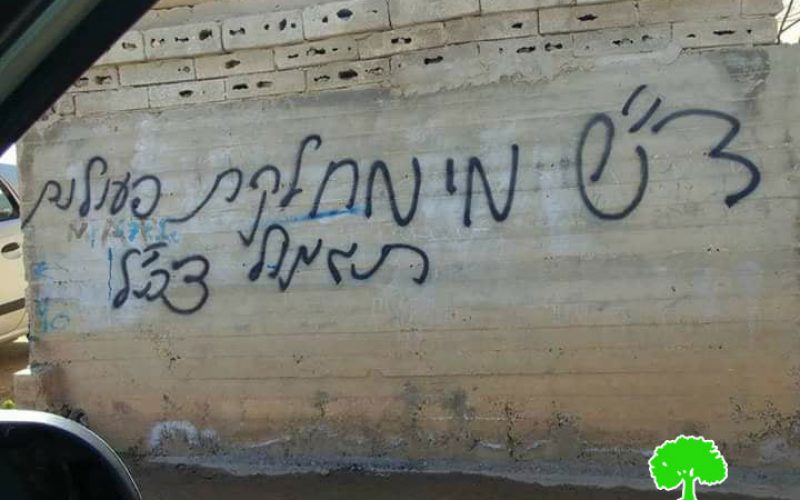 Violation: painting hate graffiti
Location: Nabi Saleh- Ramallah
Date: February 02, 2018
Perpetrators: fanatic colonists
Victims: residents of the village
Details:
Israeli colonists, early Friday, February 02, 2018 spray-painted anti-Palestinian, incitement and hatred graffiti on walls in Nabi Saleh village, northwest of Ramallah.
Reportedly, some fanatic colonists stormed the village late in the night and spray-painted graffiti calling on the Tamimi family to leave their hometown. Other graffiti entailed threats against the villagers.
Nabi Saleh, which has a population of approximately 1880 people, has been actively organizing peaceful opposition to Israeli occupation policies, and residents have being organizing protests every Friday for almost 12 years and have often been met with teargas and rubber-coated steel bullets fired by Israeli forces.
Colonists violence against Palestinians and their property is routine in the West Bank and is rarely prosecuted by Israeli authorities. It includes property and mosque arson, stone-throwing, uprooting of crops and olive trees ,and attacks on vulnerable homes, among others.
Photos 1-2: the painted graffiti
Reportedly, the attack was carried out by Price Tag colonists, who are terrorist group that is comprised of right wing activists carrying out systematic and/or 'strategic' attacks all over the West Bank, including Jerusalem, and the 1948-occupied Palestine under the protection and support of the Israeli Army. The price-tag campaign includes attacks on Palestinian-owned property like lands, crops and vehicles as well as attacks on religious sites and writing enticing and offensive slogans among others. One of its infamous slogans is "A good Arab is a dead one" which openly calls for murder and racism. Most price taggers are Yeshiva students aged between 18-23 years. They first appeared in 2008 and have been growing since.
It is noteworthy that during the past five years, such groups carried out attacks against Muslim and Christian places of worship and arson attacks that left Palestinian family burned down to death.
Also, one of the most heinous crimes Price Tag gangster ever committed is the burning of kid Mohammad Abu Khdair alive.
Prepared by
The Land Research Center
LRC