Israeli colonists paint Anti-Arab graffiti on several cars in Jit village in the West Bank.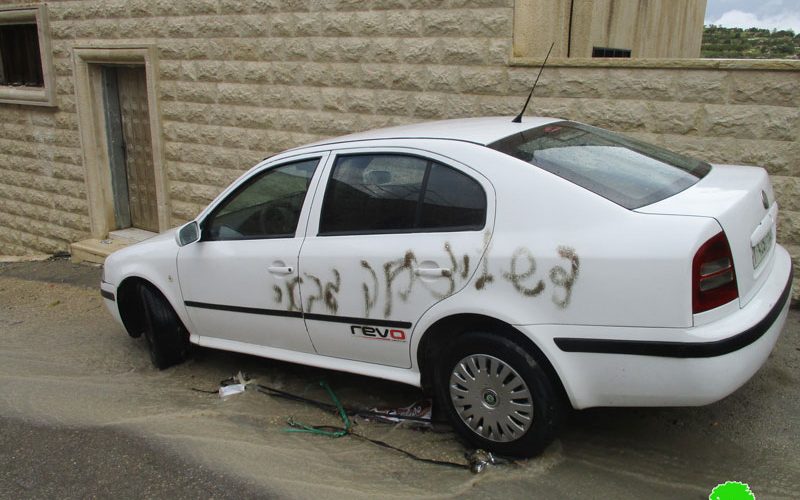 Violation: painting hatred graffiti on cars
Location: Jit village- Qalqiliya governorate
Date: February 13, 2018
Perpetrators: Price Tag colonists
Victims: three Palestinians
Details:
Three cars were vandalized in the attack in the village of Jit in the northern West Bank, east Qalqiliya governorate. Reportedly, the attack took place at late night It is when colonists of Price Tag gangs sneaked into the area and painted the graffiti on the cars, which were parked nearby the northern entrance of the village. The targeted cars belong to the following citizens:
| | | |
| --- | --- | --- |
| Affected citizen | Affected car | Model |
| Sameh Jarrar | Opel Corsa | 2012 |
| Mohammad Sakhen | Skoda Octavia | 2002 |
| Raed Yamin | Volkswagen Golf | 2011 |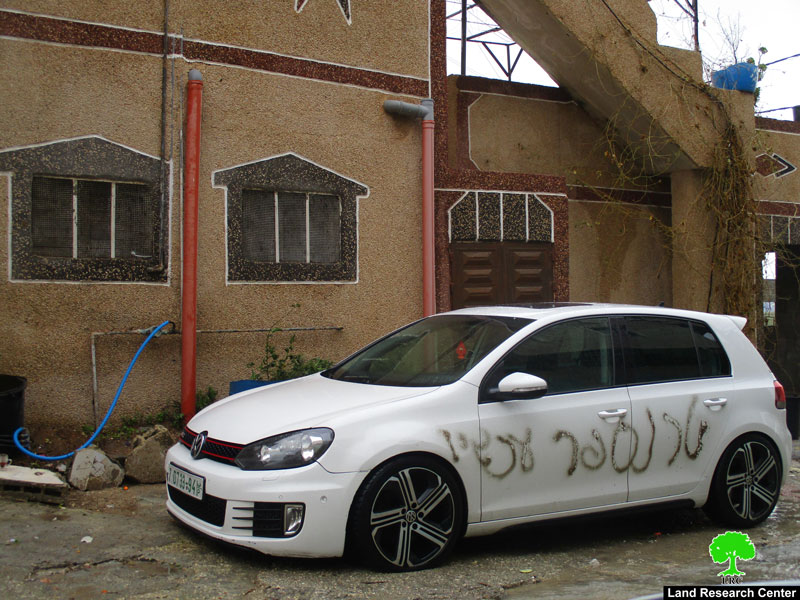 Photos 1-3: the vandalized vehicles
"Death to Arabs" and "Transfer Now," read some of the graffiti, written in Hebrew. Affected citizen Raed Yamin said that Israeli Occupation Forces were intensely present the night of the incident. He also said that it is most likely that the occupation forces protected the colonist to carry out their attack that night.
Jit – an Overview:
Jit is located 12 km to the south west of Nablus city, on An Nar Mountain. It is also 14 km to the east of Qalqiliya city and is located under the jurisdictions of Qalqiliya Governorate.
The village residences are placed over two parallel mountains overlooking the main road connecting Nablus and Qalqiliya. Jit is surrounded by various Palestinian communities including Surra and Tal (east), Far'ata. Al Funduq, Immatin, and Hijja (south), Qusin and Kafr Kaddum (north). It is also edged by the expanding Israeli colony of Kadummim.
Its total area is 6460 dunums including 243 dunums of built up area.
Prepared by
The Land Research Center
LRC