Stop-work order in Al-Arroub Refugee Camp
Violation: serving a stop work and demolition order
Date: January 08, 2018
Location: Al-Arroub Refugee Camp
Perpetrators: Israel Civil Administration
Victims: citizen Reyad Adarbeh
Details:
The authorities of the occupation served on January 08, 2018 a stop work order on agricultural room owned by citizen Reyad Adarbeh from Al-Arroub Refugee Camp, north of Hebron governorate.
Adarbeh asserted that a vehicle from the Civil Administration accompanied by an army patrol raided the area, hanged the order on the targeted room and took photos of the structure before they had left.
The Israeli authorities claim that the structure is unlicensed within area classified "C" according to Oslo Accords and compelled the citizen to immediate termination of all construction work. January 24, 2018 was set as the Inspection Sub-Committee session in the court of Beit El to consider the status of the notified structures.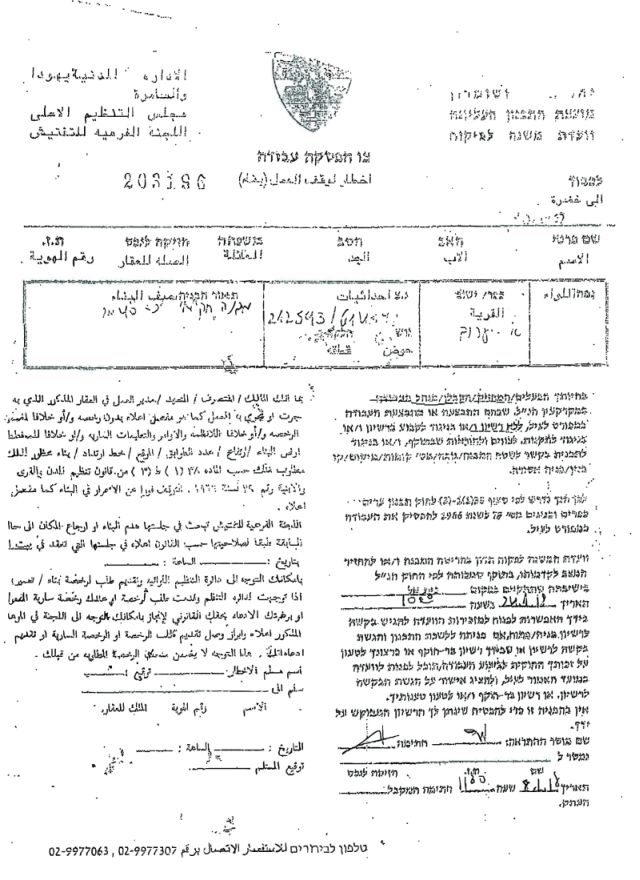 Photo1 : the stop-work order
Reportedly, the tin-roofed room is of 15m2 in area was built in 2017 to be used as tools storage.
Photos 2-3: view of the threatened room
Remark:
It is noteworthy that the Israeli Occupation Authorities use the claim of lands classified as "C" according to Oslo Accords to ban Palestinian urban expansion and demolish existing structures. Areas "C" form about 62% of the West Bank and are under Israeli administrative and military control. Despite that Palestinians have ownership documents on such lands, yet they are not allowed to use them due to the Accords. Since there are no place to build on, some build structures there but end with demolition. Israel has, since the Accords, used such lands as reserve for colonial expansion and other military activities.
Prepared by
The Land Research Center
LRC