Israeli Occupation Forces demolish residences in Jenin governorate on "Security" claims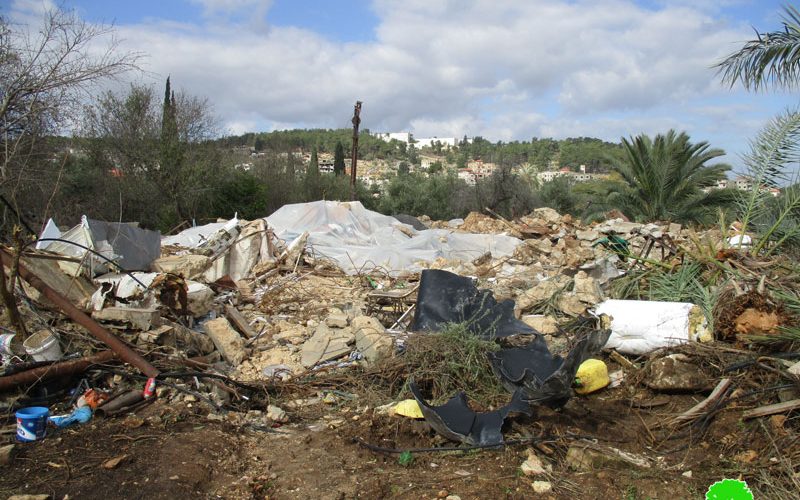 Violation: demolition of homes
Location: Jenin governorate
Date: January 18, 2018
Perpetrators: Israeli Occupation Forces
Victims: three Palestinian families
Details:
Home demolition is an illegal and inhumane policy conducted by Israel against Palestinians since the year 1948. It is part of the Israeli discriminative ideology and is considered a violation of international laws and human rights.
It should be marked that the Israeli occupation army uses the claims of "security purposes" and "unlicensed construction" to carry out home demolitions. Israel justifies all demolitions in reference to article number 119 from Britain's Emergency Law that is relative to the British mandate on Palestine 1948. Noteworthy, the law was canceled but the Israeli government would still use it to humiliate Palestinians.
At early hours of Thursday, January 18, 2018, a massive Israeli Special Force raided west Jenin, circled the house of martyr Nser Jarrar and opened fire at houses, leaving citizen Ahmad Jarrar dead. Shortly after, soldiers ordered citizen, through loudspeakers, to evacuate houses and then demolished a residence by anti-tanks bombs before bringing two military dozers to complete the demolition.
Soldiers then moved to the house of citizen Ali Khlaed Jarrar and dozers leveled it to the ground before bringing down the house o Ismael Mohmmad Jarrar in the same area.
Israeli Occupation Authorities alledged that Ahmad Jarrar killed a colonists nearby Givat Gil'ad colony last year.
The following table shows information about the affected citizens and properties:
| | | | | | |
| --- | --- | --- | --- | --- | --- |
| Affected family | Family | Minors | Area\m2 | Nature of house | Photo |
| Martyr Nser Jarrar | 5 | 0 | 400 | Two story house (200m2 each) | 1+2 |
| Ali Khaled Jarrar | 6 | 2 | 180 | One story house | 3+4 |
| Ismael Mohammad Jarrar | 6 | 2 | 190 | One story house | 5+6 |
| Total | 17 | 4 | 770 | Four apartments | |
The policy of home demolition has a very negative impact on the psychology of kids and women. Witnessing the destruction of one's residence is unbearable and traumatizing. Such acts undermine human values and rights.
Land Research Center sees the policy of home demolition as an ethnic cleansing practice and a violation of the following:
Article 17 of the (1948) Universal Declaration of Human Rights stating: "Everyone has the right to own property alone as well as in association with others. No one shall be arbitrarily deprived of his property."
Article 53 of the Geneva Fourth Convention (1948) declaring: "Any destruction by the Occupying Power of real or personal property belonging individually or collectively to private persons, or to the State, or to other public authorities, or to social or cooperative organizations, is prohibited, except where such destruction is rendered absolutely necessary by military operations."
What Israel does of demolitions in east Jerusalem and West Bank is a clear-cut violation of human rights and all of the international laws and covenants. Israel only aims at displacing Palestinians for sake of serving the colonial expansion plans.
Prepared by
The Land Research Center
LRC