اسرائيل توسع من دائرة النشاطات الاسرائيلية خلال العام 2017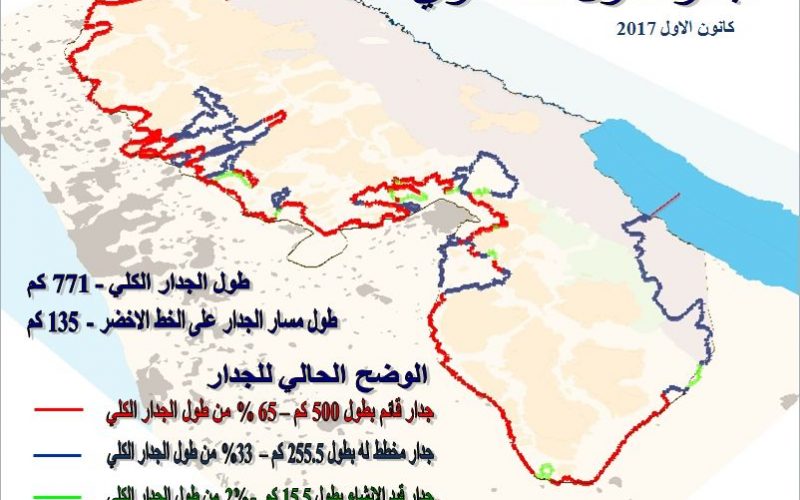 Escalation of Israeli violations and settlement activities in the occupied State of Palestine during 2017
Israel had escalated its violations and settlement activities four‑fold in 2017. The Israeli violations and associated settlement activities have severely affected the lives of Palestinian people in the occupied State of Palestine (West Bank- including East Jerusalem – and the Gaza Strip) namely the enjoyment of their human, social, economic, religious and cultural rights.
Despite the international efforts exerted in recent years to resolve the Palestinian-Israeli conflict and to achieve a just and lasting peace in the region, the state of Israel continued to escalate its violations against the Palestinian people and continued its settlement activities in the occupied Palestinian territory, namely the confiscation of Palestinian land and the expansion of settlement outposts, the demolition campaigns that targeted hundreds of Palestinian homes and structures in the occupied West Bank as well as targeting the Palestinian agricultural sector and the uprooting of Palestinian trees, especially the olive trees, which are a major source of income to thousands of Palestinian families. This is in addition to the hundreds of demolition and stop work orders and the land confiscation orders that targeted entire Palestinian communities in the occupied State of Palestine under forged pretexts.
The Israeli Government also continued to publish tenders and settlement plans to expand Israeli settlements throughout the occupied West Bank, particularly in Israeli settlements in the occupied city of Jerusalem. The following report covers the period from 1 January 2017 to 31 December 2017, and highlights the most prominent events related to Israeli violations and settlement activities in the year 2017 and related statistics.
For detailed information, click to read full report
شهد العام 2017 تصاعدا خطيرا من قبل اسرائيل بحق الشعب الفلسطيني وأرضه وممتلكاته وما زالت الانتهاكات الاسرائيلية تؤثر بشكل سلبي على حياة المواطنين الفلسطينيين اليومية. فبالرغم من المساعي الدولية الحثيثة خلال الاعوام الماضية لحل النزاع الفلسطيني-الاسرائيلي واحلال السلام الشامل والعادل في المنطقة الا أن دولة الاحتلال الاسرائيلي ما زالت تتمادى في انتهاكاتها بحق الشعب الفلسطيني ومستمرة في النشاطات الاستيطانية في الاراضي الفلسطينية المحتلة والمتمثلة بمصادرة الاراضي الفلسطينية والتوسعات الاستيطانية المختلفة وشرعنة البؤر الاستيطانية الغير القانونية وعمليات الهدم الاسرائيلية التي استهدفت مئات المنازل والمنشآت الفلسطينية في الضفة الغربية المحتلة وشردت العديد من العائلات الفلسطينية (من اطفال وكبار السن ونساء) وايضا انتهاكات المستوطنين التي باتت تشكل خطورة كبيرة على المواطنين الفلسطينيين وحياتهم اليومية هذا بالإضافة الى استهداف القطاع الزراعي الفلسطيني من اقتلاع للأشجار الفلسطينية وبخاصة اشجار الزيتون التي تعتبر مصدر دخل رئيسي وهام للعائلات الفلسطينية وتدمير المنشآت والمعدات الزراعية والمصادرات التي تبعتها من اجل شل الحركة الزراعية والاقتصادية, هذا بالإضافة الى مئات اوامر الهدم ووقف العمل الإسرائيلية التي استهدفت تجمعات فلسطينية بأكملها تحت مسميات واهية, من اجل السيطرة على الأراضي التي تقوم عليها هذه التجمعات.
واستمرت حكومة دولة الاحتلال الاسرائيلية ايضا بنشر العطاءات والمخططات الاستيطانية الرامية الى توسيع المستوطنات الاسرائيلية في جميع انحاء الضفة الغربية المحتلة وعلى وجه الخصوص المستوطنات الاسرائيلية في مدينة القدس المحتلة, تلك التي تحيط بالمدينة المقدسة, في مسعى منها الى ضمها لتصبح الحدود الجديدة للمدينة من خلال مخططها المعروف باسم "القدس الكبرى". كما طالت المخططات والعطاءات الصادرة المستوطنات الاسرائيلية الواقعة غرب الجدار , بين الخط الاخضر(خط الهدنة للعام 1949) ومسار جدار العزل العنصري, في خطوة اسرائيلية واضحة للتشبث بمسار الجدار "كحدود دائمة" لإسرائيل. في التقرير التالي, عرض لأبرز الاحداث المتعلقة بالنشاطات الاستيطانية خلال العام 2017 واحصائيات ذات صلة.
لمزيد من التفاصيل, الرجاء نقر الرابط التالي لقراءة التقرير
اعداد: معهد الابحاث التطبيقية – القدس
(أريج)