Israeli colonists sabotage and steal water pipelines in Tubas governorate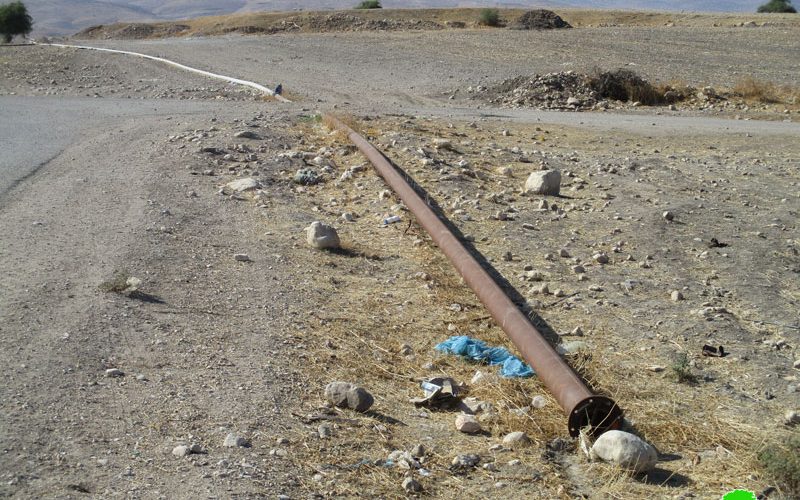 Violation: sabotaging and stealing properties
Location: AL-Sakut area
Date: November 05, 2017
Perpetrators: Mehola colonists
Victims: Palestinian owners of lands
Details:
It should be noted that Union of Agricultural Work Committees UAWC established on June September 2016 a 6 inch water pipeline. It goes from Ain Al-Deir and Ein Bleibil areas towards Al-Sakut area for the sake of reviving the area and encouraging farmers to cultivate their lands long left unused.
On Friday, November 03, 2017 a group of Mehola colonists attacked farmer Zamil Daraghmeh (56) while taking care of his land founded in AL-Sakut area. Colonists assaulted the farmer until he sustained bruises and fainted down. They also threatened him of murder in case he is back to the site again.
In the same context, a group of colonist accompanied by a dozer dismantled 400 meters of water pipelines on November 05, 2017 and another 605 meters next day. Noteworthy, the pipelines were thrown in a deep valley.
Photos 1-3: the sabotaged water pipelines in Al-Sakut area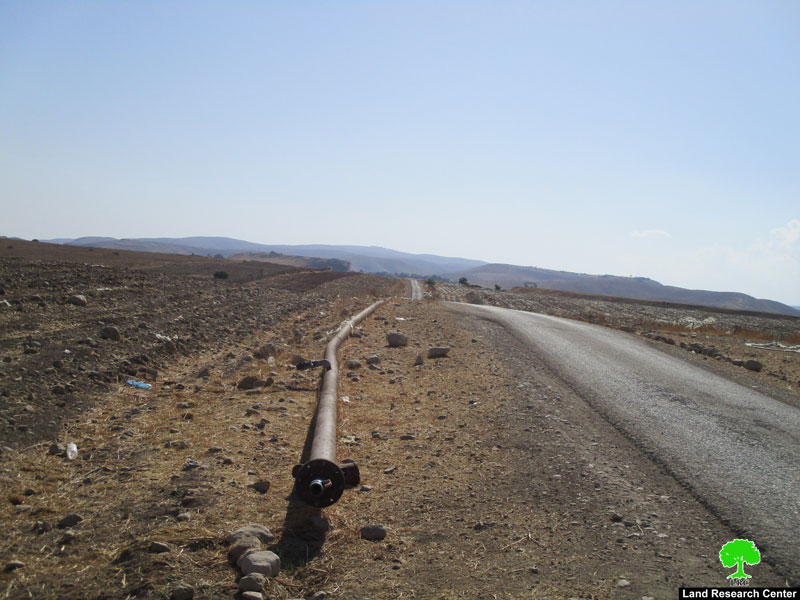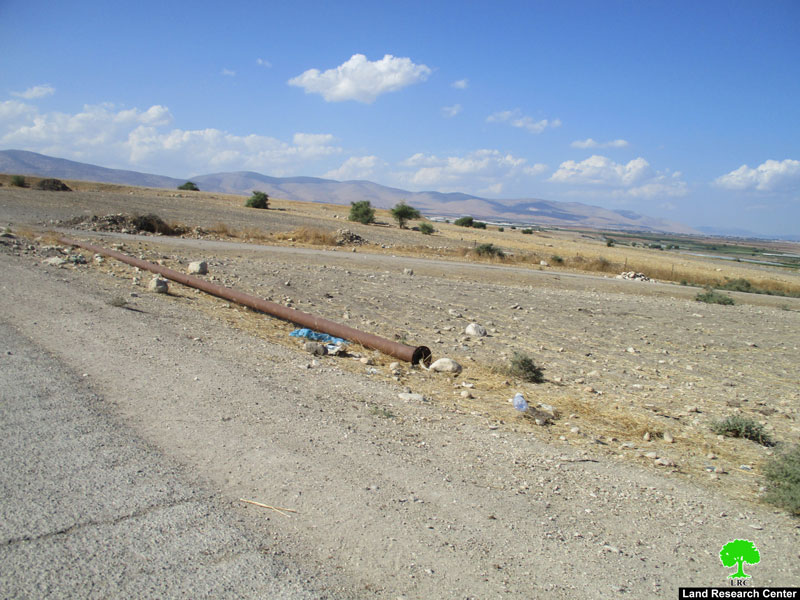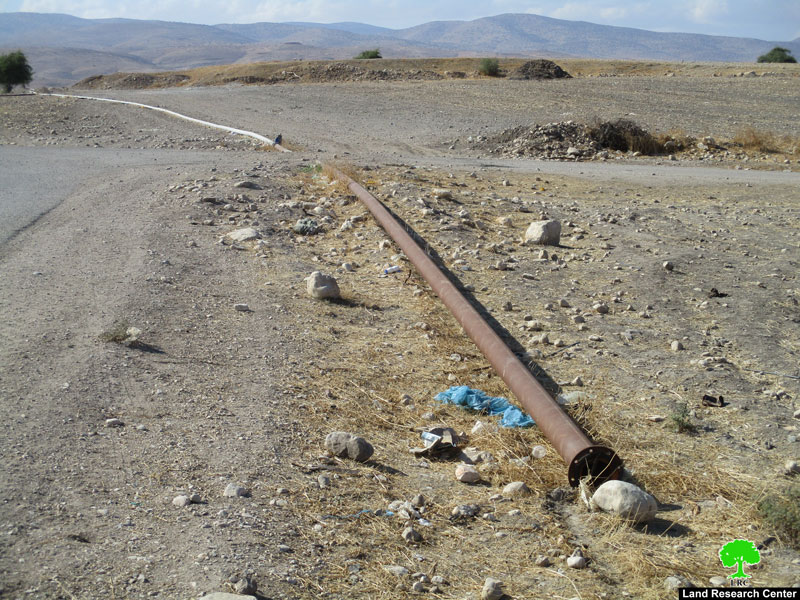 It should be noted that this attack deprived more than 5500 agricultural dunums from irrigation water.
Photo 4: Al-Sakut area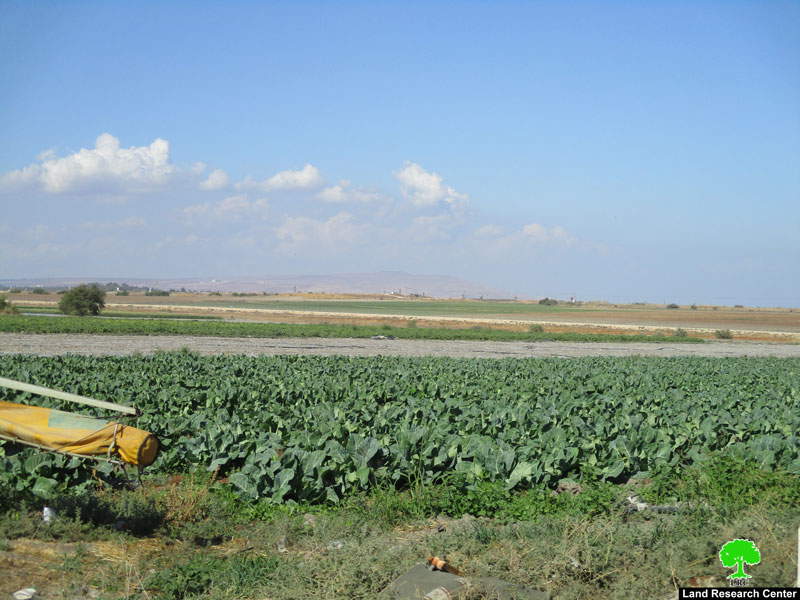 Reportedly, a big number of farmers filed a complaint to Israel Police about the incident but to no avail. In the contrary, Israeli policemen and army soldiers provide protection to colonists at time of carrying out attacks and violations against Palestinians.
Photo 5: the complaint filed to the Police
About AL-Sakut:
Khirbet al-Sakut is one of the 32 small villages located alongside the area of the Jordan river; the area was home for agricultural families who lived in there before the year of 1967. Noteworthy, all the aforementioned areas witnessed the so-called Catastrophe in the aftermath of 1967 war, which resulted in declaring the majority of land as "Buffer zone".
150 meters away from the Jordan river and 7km west of Ein al-Bida area, al-Sakut resides there with at least 20 agricultural families inhabiting the area before 1967. In synchronization with 1967 war, the occupation demolished the clay houses and pens relative to the inhabitants of the area, displaced them and declared the area a buffer zone with Jordan. As a result, the area was fenced and landmines were planted to draw boarders.
After the Peace Treaty held between Jordan and Israel, the occupation dismantled the landmines from the boarders area; the free-from-landmines areas were given to colonist to benefit from. The area of al-Sakut was within the lands given to colonists; al-Sakut was known for its water springs, which are now exploited by colonists as touristic resort named "Ein Sokot". Palestinians are restrictively allowed in the area under intense surveillance.
Prepared by
The Land Research Center
LRC