Israel's Occupation Forces  uproot 63 fruitful trees in Tulkarm governorate
Violation: uprooting trees
Location: Beit Leed village
Date: September 19, 2017
Details:
Israel's Occupation Forces accompanied by a staff from Israel's Civil Administration raided on September 19, 2017 Beit Leed village and uprooted 63 fruitful trees . The affected trees were 30 fig trees, 30 citrus trees and 3 guava trees aging five years each. The aforementioned were planted in an area of 2 dunums.
In addition to that, the occupation dozer destroyed 450 meters of irrigation pipelines and 200 meters of protection fence that was surrounding the targeted parcel of land.
It should be noted that attack site is founded at the entrance of Beit Leed village, which intersects with the bypass road that links Enav to Shavei Shomron colony. Noteworthy, the occupation justified the act on the claim of "expanding the bypass road".
The targeted land was reported owned by farmer Tareq Hasan (51). The farmer possesses ownership documents on the land.
The affected farmer said that the Israel's Occupation Forces left him an "evacuation" order targeting his land in the beginning of 2017.
It should be noted that the policy of targeting agricultural lands and trees is an Israeli distinguished method to harass Palestinians to push them out of their lands to be later available for colonial expansionist plans.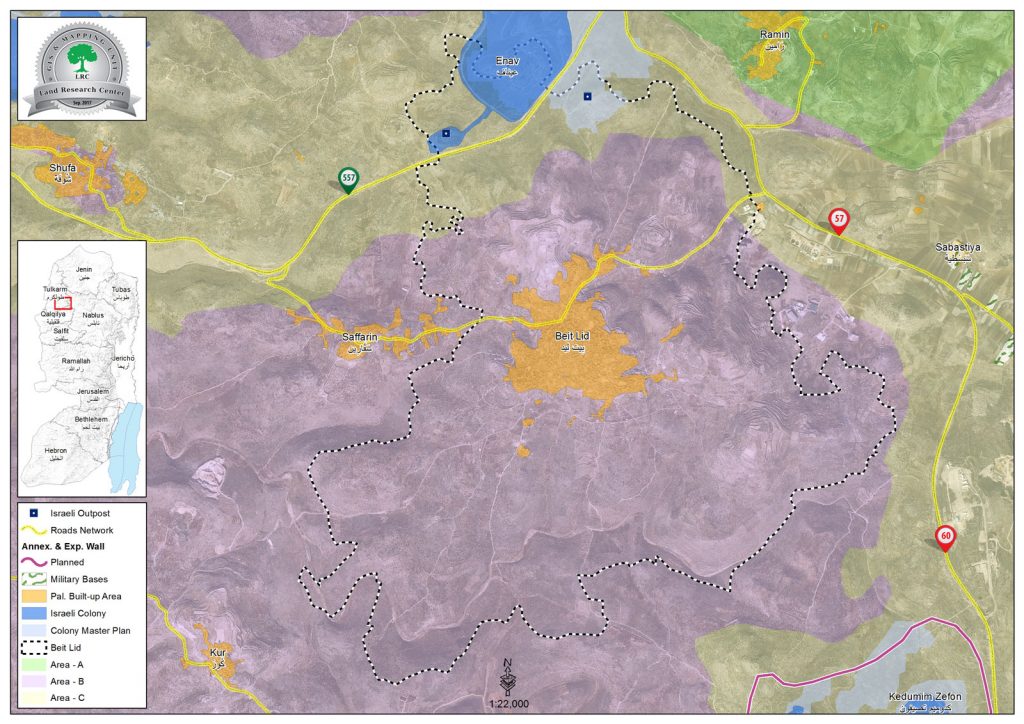 About Beit Leed:
15 km to the southeast of Tulkarm city, the village is edged by Ramin and Kfar Al-Libd from the north, Safarin village from the west, Kur village from the east and Deir Sharaf from the west.
The village has a total land area of 16, 727 dunums, 1000 dunums of which are considered built-up area. It has a total population of 6442 people until 2014.
The occupation confiscated an area of 533 dunums from the village as detailed below:
413 dunums were confiscated by Enav colony that was established in 1981 and now populates 473 people.
120 dunums were confiscated for the favor of the bypass road number 557.
Beit Leed lands are classified, according to Oslo Accords, as follows:
14472 dunums are classified as areas B
2255 dunums are classified as areas C
Prepared by
The Land Research Center
LRC