Israel's Occupation Forces demolish parts of carwash in Salfit governorate
Violation: demolishing structures
Location: Deir Ballout village
Date: September 26, 2017
Perpetrators: Israel's Occupation Forces
Victims: citizen Amer Khalil Abdallah
Details:
Israel's Occupation Forces raided on September 26, 2017 the area of Bab Al-Marj, east Deir Ballout village in Salfit governorate and demolished parts of a carwash that is located nearby the bypass road penetrating the village.
Reportedly, the occupation forces demolished about 16m2 of the carwash belonging to Amer Khalil Abdallah. Noteworthy, the structures was served a stop-work order in February on the claim of "unlicensed construction".
It should be noted that the area of Bab Al-Marj is most targeted by the occupation. More than 16 houses and mosques are already notified of stop-work. Not only, movement of inhabitants is very restricted due to the presence of colonies bloc in the area and a permanent military checkpoint as well.
It is reported that Deir Ballout's built-up area (743.5 dunums) is so limited and this is what made tens of residents build in areas classified "C" according to the occupation. Thus, the occupation target such structures with stop-work and demolitions. Since 2000, more than 45 structures have been targeted with either stop-work or demolitions.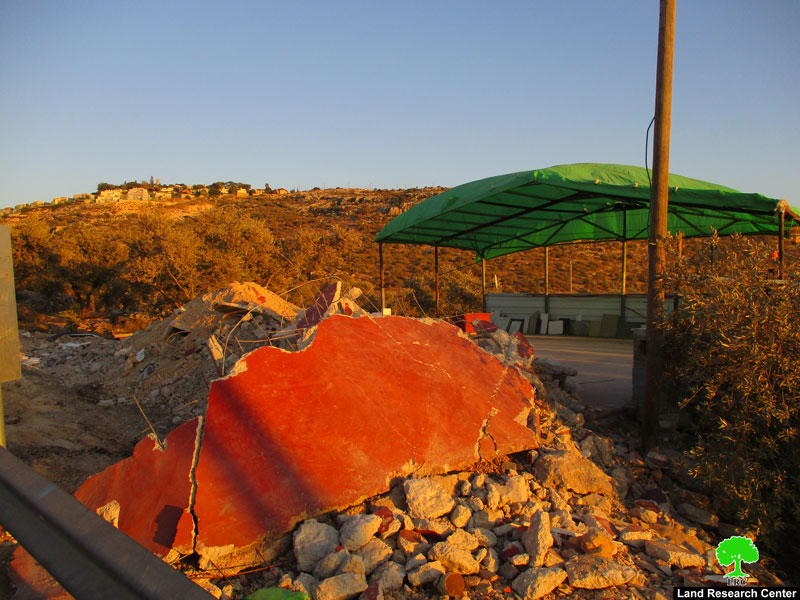 The Village of Deir Ballut:
The village is 20 kilometers to the west of Salfit governorate. The total area of the village is 13,941 dunums of which 503 dunums are its built-up area. According to Deir Ballut Municipality , the area has a total population of 4500, most of whom depend on agriculture as the main source of income.
Dependency on agriculture has risen sharply after the inception of the second Intifada due to the inability to access Israeli job market.
The main agricultural products of the village include garlic, okra, cucumbers, wheat and olives. The presence of a water spring in Wadi Al Ain in the southern parts of the village has helped the agricultural sector to prosper. Residents of the village rely on water cisterns as well as on the Israeli Water Private Company, Mekorot.
Deir Ballout has nine main clans including Tuffaha, Khair, Abdullah, Qasem, Qaroush, Mishel, Mustafa, Musa and Hadrous.
Prepared by
The Land Research Center
LRC