Israeli Authorities notify a farmland of evacuation in Qalqiliya governorate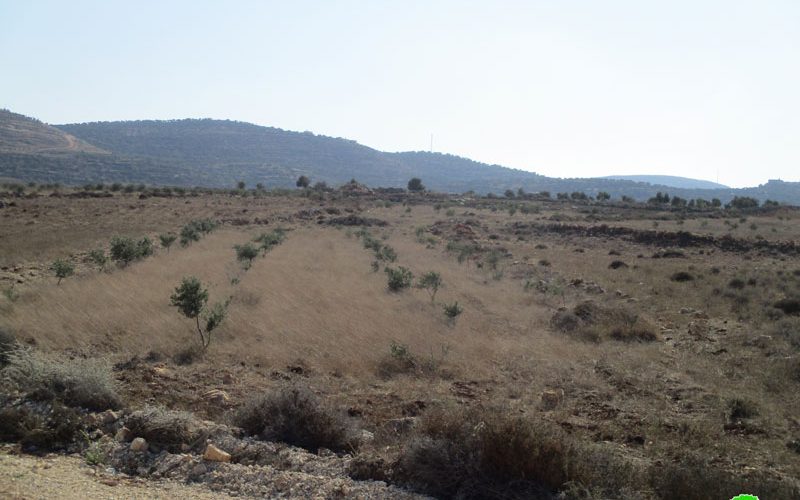 • Violation: evacuation order
• Location: Amatin village east of Qalqiliya
• Date : September 26, 2017
• Perpetrators: the so-called Higher Planning Council of the occupation authority
• Victims: farmer Fawzi Ahmed Ghanem.
• Details:
Reportedly, farmer Fawzi Ahmed Ghanem from the village of Amatin found out that the occupation authorities left an evacuation notice in his land that is 200 meters from the colony of "Emmanuel" .
According to notification No. 565141 issued on September 26, 2017, the occupation claimed that the land had already been notified of Stop-work and Construction on July 19, 2017. Noteworthy, the land is founded within the natural block number (203833) and has a total area of 4 dunums.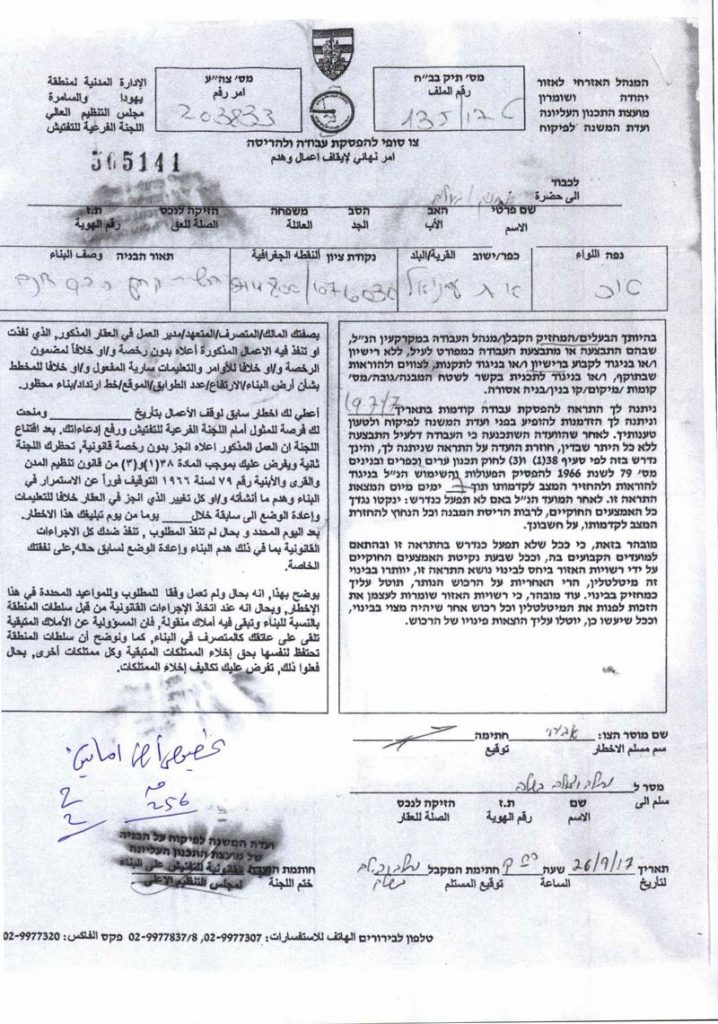 It is noteworthy that Haj Fawzi Ghanem has worked on reclaiming his land located in the area of ​​"Marah" within the natural block number "2" parcel "256" of Amatin village. He built retaining walls and planted about 90 olive trees in order to protect the land from Israeli expansionist plans.
Photo 1: the targeted land of Fawzi Ghanem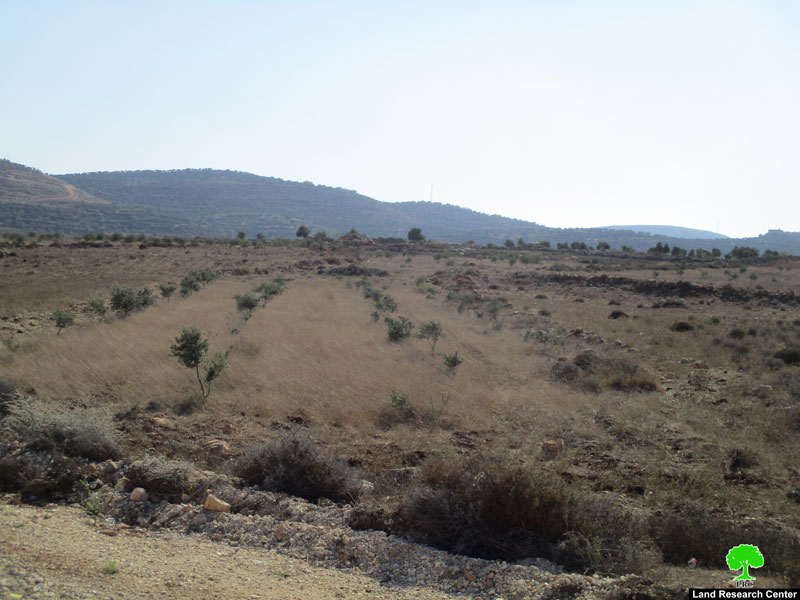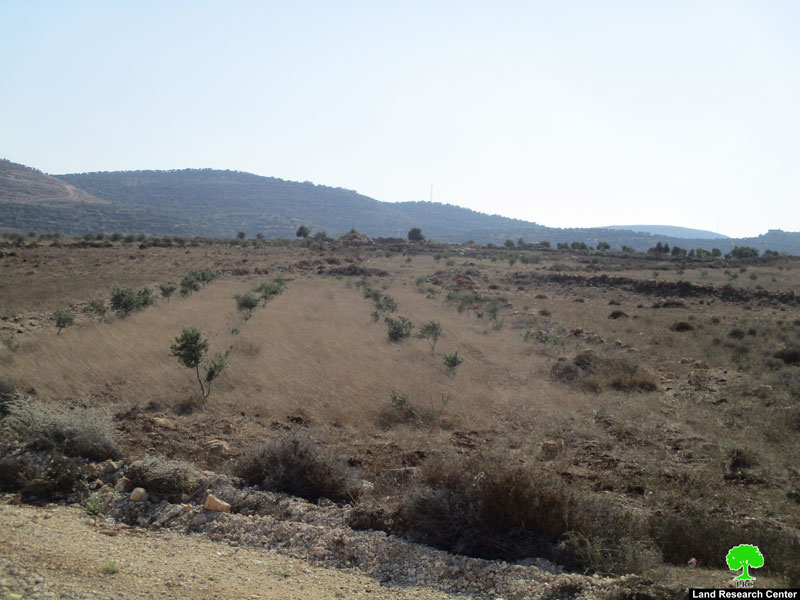 However, Haji Fawzi's precautions were met by continued harassment by the Israeli occupation army and extremist settlers, which eventually led the farmer to be notified of demolition of what he had constructed under the pretext of "unlicensed construction". This move is considered a means of seizing the area in favor of the continuous expansion of the neighboring colony at the expense of agricultural lands owned by farmers in the villages of East Qalqilya.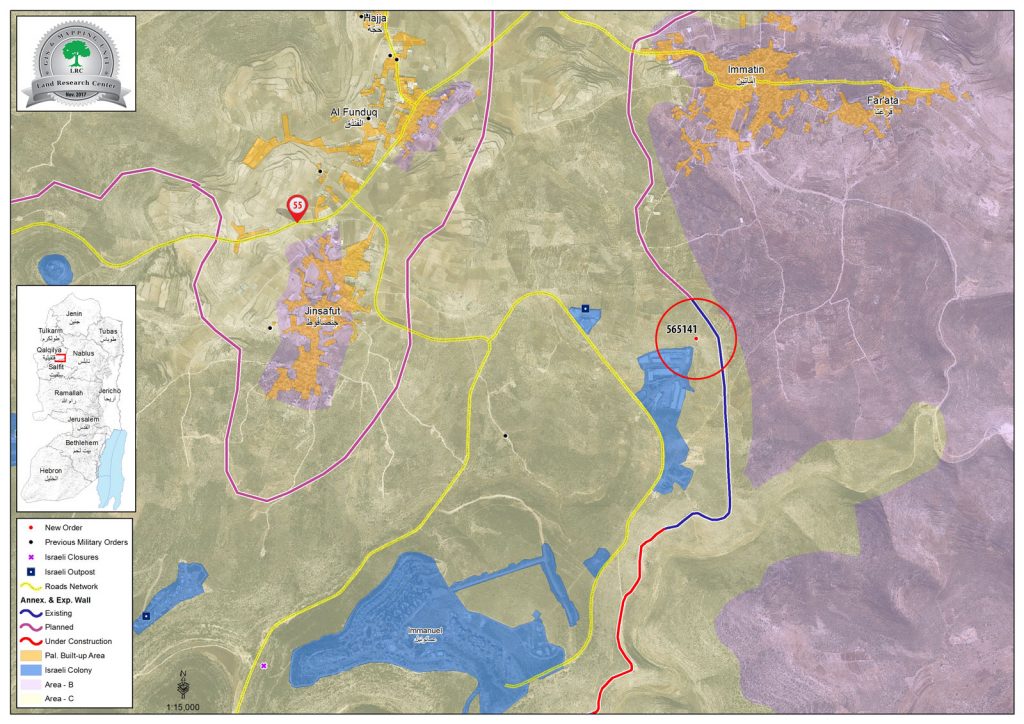 About Amatin Village
The village of Amatin is located 20 km to the east of Qalqilya. It is edged by Qalqiliya city from the east, Kfar Qaddum from the north, Al-Funduq from the west , Fartaa and Jit from the north and Deir Istiya from the south.
It has a population of 2,388 until 2007. It has a total area of ​​7,346 dunums, of which 306 dunums are built-up area.
The Israeli occupation forces confiscated 311 dunums of the village's lands as follows:
1 – Emmanuel colony looted (160) dunums from the village lands
2 – The bypass road number 55 confiscated about 30 dunums from the lands
3 – The apartheid wall seized 121 dunms for its construction
4 – Classification of land according to the Oslo agreement for the village:
– Areas classified B are (3,940) dunms.
– Areas classified areas C are (3,406) dunums.
When completed, the wall in Amatin will be 4,582 meters and will confiscate and isolate a total of 2,675 dunums.
Prepared by
The Land Research Center
LRC