Israeli colonists  take over lands from Yasuf village for the favor of Tapuah colony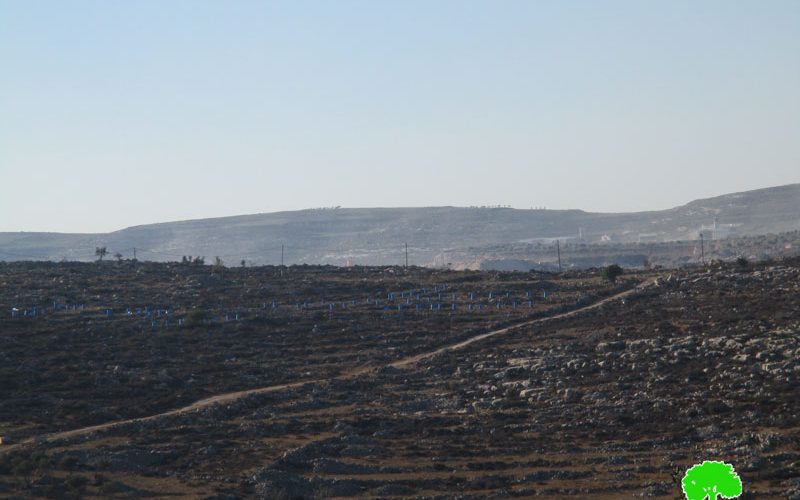 Violation: lands confiscation
Location: Yasuf village- Salfit governorate
Date: August 01, 2017
Perpetrators: Tapuah colony
Victims: farmers from Yasuf
Details:
On August 01, 2017, a group of colonists from Tapuah re-cultivated an area of 14 dunums and surrounded it with plastic barrels in attempt to take over it.
The targeted area is reported to be located in the area known as "At-Teen Al-Shami", west Yasuf village and 600 meters away from Tapuah colony, which is originally established on confiscated Palestinian lands. Noteworthy, colonists took advantage of farmers' inability to access such lands due to its proximity to the colony and attempted at confiscating them for the favor of the colony.
Cultivating the targeted area, which is founded between Tapuah colony and other outpost, is the first step to link the two entities through an expansionist plan.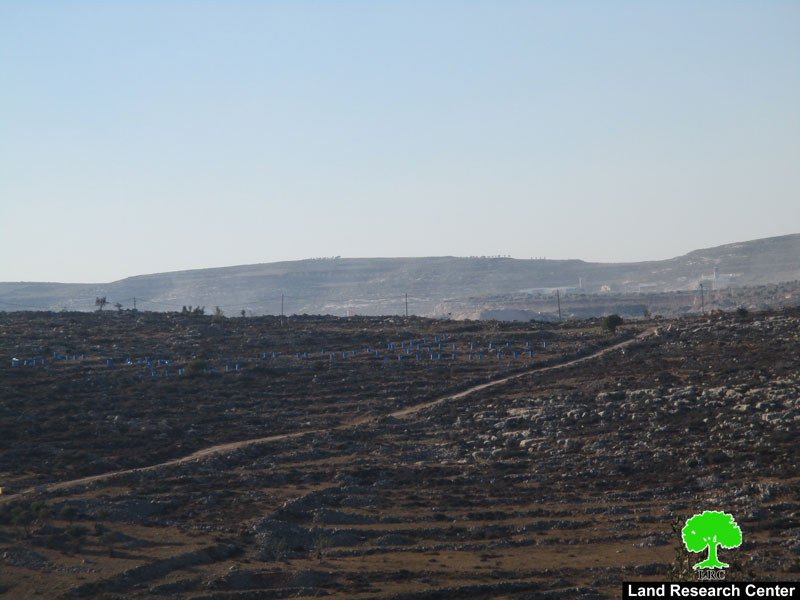 Photos 1-3: the recently cultivated lands by colonists
It should be noted that the targeted lands belong to Al-Eitani and Ebayeh families from Yasuf. The two families possess official ownership documents on the lands .
The chairman of the area's village council said that a number of farmers submitted complaint to Israel Civil Administration against colonists' constant attacks and violations but no results have been rendered in that regard.
Yasuf:
It is 16km south of Nablus. Yasuf is surrounded by Huwara and Jamma'in (north), Marda (west), Yatma (east), and Iskaka (south).
Yasuf is inhabited by 2090 people (according to 2013 projections). It has a total area of 6037 dunums, 330 of which are built-up area of the village.
The Israeli occupation confiscated 814 dunums for these two colonies: Kfar Tapuah colony which was built on Yasuf lands in 1978. The colony is inhabited by 523 colonists and Rachelim- Shvut that was built in 1991 and devoured 10 dunums.
Besides, the bypass road number 508 confiscated more than 155 dunums of the village lands.
According to Oslo Accords, only 1427 dunums of Yasuf lands are under Area B (PA is in charge of civil matters with Israel responsible for security) while most of Yasuf is under Area C (Israel maintains full security and administrative control). About of 4609 dunums of Yasuf is in area C.
Land Research Center LRC sees that land grab contradicts with all of the International conventions and Humanitarian laws including:
Article 49 of Fourth Geneva Convention: " Individual or mass forcible transfers, as well as deportations of protected persons from occupied territory to the territory of the Occupying Power or to that of any other country, occupied or not, are prohibited, regardless of their motive".
Resolution 465 (1980) Adopted by the Security Council at its 2203rd meeting on 1 March 19805:
Determines that all measures taken by Israel to change the physical character, demographic composition, institutional structure or status of the Palestinian and other Arab territories occupied since 1967, including Jerusalem, or any part thereof, have no legal validity and that Israel's policy and practices of settling parts of its population and new immigrants in those territories constitute a flagrant violation of the Fourth Geneva Convention relative to the Protection of Civilian Persons in Time of War and also constitute a serious obstruction to achieving a comprehensive, just and lasting peace in the Middle East.
Strongly deplores the continuation and persistence of Israel in pursuing those policies and practices and calls upon the Government and people of Israel to rescind those measures, to dismantle the existing settlements and in particular to cease, on an urgent basis, the establishment, construction and planning of settlements in the Arab territories occupied since 1967, including Jerusalem.
Calls upon all States not to provide Israel with any assistance to be used specifically in connexion with settlements in the occupied territories.
Requests the Commission to continue to examine the situation relating to settlements in the Arab territories occupied since 1967, including Jerusalem, to investigate the reported serious depletion of natural resources, particularly the water resources, with a view to ensuring the protection of those important natural resources of the territories under occupation, and to keep under close scrutiny the implementation of the present resolution.
Prepared by
The Land Research Center
LRC