Stop-work orders on residences and structures in the Hebron area of Masafer Yatta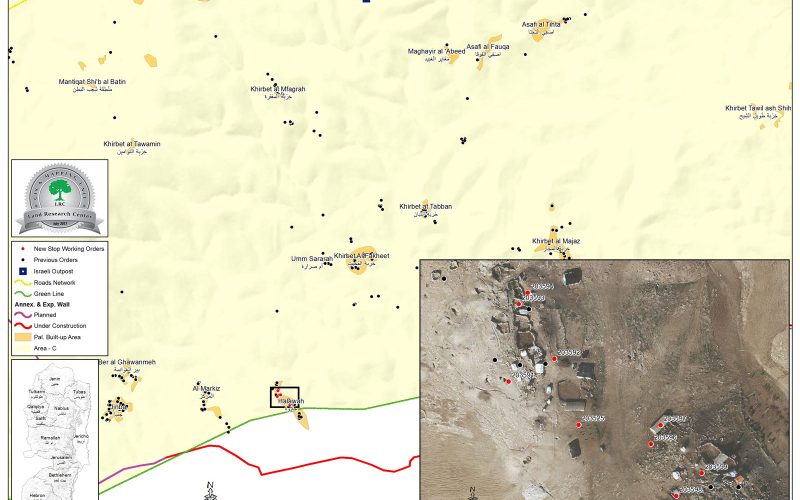 Violation: serving stop-work orders on structures
Location: Al-Halawah hamlet-Yatta town
Date: July 05, 2017
Perpetrators: Israel Civil Administration
Victims: seven Palestinian families
Details:
The Israeli occupation Authorities served on July 05, 2017 a number of stop-work orders on residences and agricultural structures owned by citizens from Al-Halawah hamlet in Yatta town, south Hebron governorate.
Masafer Yatta village council asserted that a vehicle relative to the Israeli Civil Administration accompanied by an army patrol raided the hamlet and hanged the notices on the targeted structures. Photos of the structures with notices hung on them were taken as a proof of delivery.
The orders compelled a halt on all construction works on the claim of unlicensed construction. July 31, 2017was set as the hearing session of the Inspection Sub-Committee in the Israeli Court of Beit El to consider whether to demolish the notified structures or restore their previous status.
It should be noted that the targeted structures ( metal slabs) were gifted by GVC aid organization after the targeted residents got their houses demolished in 2016.
The following table shows information about the targeted residents and their structures:
No.

Affected citizen

Family

Minors

Area\m2

Nature of structure

No. of order

Remarks

1

Jibreel Abu Iram

6

4

40

Concrete bricks residence

203598

Inhabited residence

100

Barn

203597

50 sheep

2

Ali Abu Iram

8

6

60

Concrete bricks residence

203594

Inhabited residence

3

Mohammad Abu Iram

2

0

30

Tent

203593

Inhabited

4

Jamil Abu Iram

5

3

60

Concrete bricks residence

N.A

Inhabited

5

Ahmad Abu Iram

6

4

300

Barn

203599

200 sheep

40

Concrete bricks residence

203596

Inhabited

6

Khalil Abu Iram

5

3

30

Concrete bricks residence

203525

Inhabited

70

Barn

203591

40 sheep

7

Hani Abu Iram

7

5

50

Concrete bricks residence

203592

Inhabited
Source : Field observation- Department of Monitoring Israeli Violations- Land Research Center-2017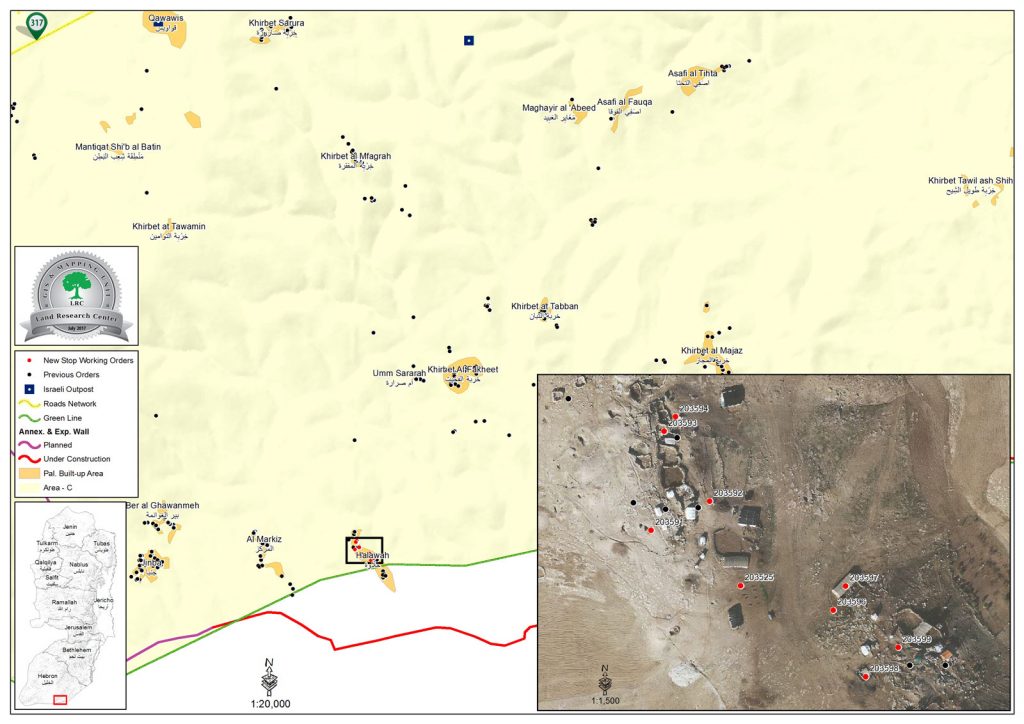 The village council pointed out that "Raghafim" settlement organization has been monitoring construction works in the villages of Masafer Yatta. They launched drones to take photos of any activity and sent them to Israel Civil Administration to take actions against Palestinians.
About Al-Halawah:
It is relative to Masafer Yatta area. The hamlet's structures are made of metals slabs and concrete bricks. Al-Halawah is edged by Al-Tawamin and Al-Mfuqara hamlets from the north, Al-Majaz, Al-Tabban and Al-Fakhit hamlets from the east, Al-Markiz , Jinba and Beir Al-Ghawanmeh hamlets from the west and the apartheid wall from the south.
The hamlet's built-up area is 12 dunums, on which nine families (120 members) reside. The area accommodates four tents and six barracks in addition to 22 residential caves.
Al-Halawah has 65 agricultural dunums that are cultivated with barley and wheat.
Kids of the area are obligated to travel 2km to reach their primary school located in the nearby Jinba hamlet where secondary school students have to take a 12km route to reach their school in Yatta town.
Prepared by
The Land Research Center
LRC