Stop-Work orders in the Palestinian Jordan Valley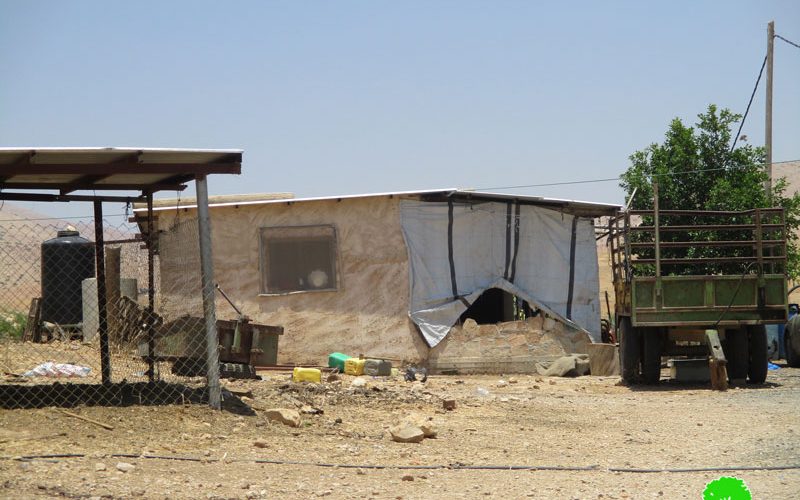 Violation: serving stop-work orders
Location: Furush Beit Dajan and Humsa Al-Tahta villages
Date: June 11, 2017
Perpetrators: Planning and Construction Committee- Israel Civil Administration
Victims: four Palestinian families
Details:
The so-called Planning and Construction Committee- Israel Civil Administration served on June 11, 20172017 stop-work orders on residences and structures in the villages of Furush Beit Dajan and Humsa Al-Tahta on the claim of "unlicensed construction" within area classified "C" according to Oslo Accords, which is under Israeli control. In Humsa Al-Tahta, the order targeted a caravan gifted by ACTED aid organization to the family of Hayel Bsharat ( five members including three children).
Bsharat said that the occupation army demolished several structures of his in 1996 and in 2006 but he insists on resisting by staying in the area and not leave it for colonial expansionist plans.
In 2015, the occupation forces carried out a third demolition operation, targeting residential tents belonging to Bsharat.
In the same context, the Inspector of Israel Civil Administration hanged stop-work orders on two residences and one agricultural barrack in Furush Beit Dajan village.
According to the order, the affected owners were given a deadline until July 2017 to complete all licensing procedures. This comes in time with the hearing session of Planning and Construction Committee- Israel Civil Administration in the Israeli court of Beit El colony to discuss the legal status of the notified structures
The following table shows information about the affected owners and properties:
Affected citizen

Location

Family

Minors

No. of order

Nature of structure

Photo

Remarks

Mahmoud Hayel Bsharat

Humsa Al-Tahta

5

3

Caravan (16m2)

Gifted by ACTED

Nash'at Hanani

Furush Beit Dajan

7

1

N/A

Residence (72m2)

Esam Hanani

Furush Beit Dajan

4

2

N/A

Residence (72m2)

Abbas Hajj Mohammad

Furush Beit Dajan

9

3

N/A

Metal slabs barrack (60m2)

Total

25

9
Source : Field observation- Department of Monitoring Israeli Violations- Land Research Center-2017
About Furush Beit Dajan:
It is located in the middle of Palestinian Jordan Valley and is considered an extension of Beit Dajan village, east of Nablus. It has a total population of 1500 people, 50% of which descend from Bedouin origins; sheep grazing and agriculture are the main sources of income for such people
The village has a total land area of 14000 dunums; the occupation confiscated 12000 dunums of it for the sake of establishing the colony of al-Hamra in the western side of the village, the colony of Mekhora in the southern part and a military camp in the eastern side of it.
The village lacks a master plan; a thing that allowed dozens of residences to be notified by the occupation in addition to other dozens that were demolished as a result.
The village has about 450 dunums of protected vegetables and 1600 dunums of citrus plantation.
Prepared by
The Land Research Center
LRC