Israeli colonists sabotage 37 olive trees in Jenin governorate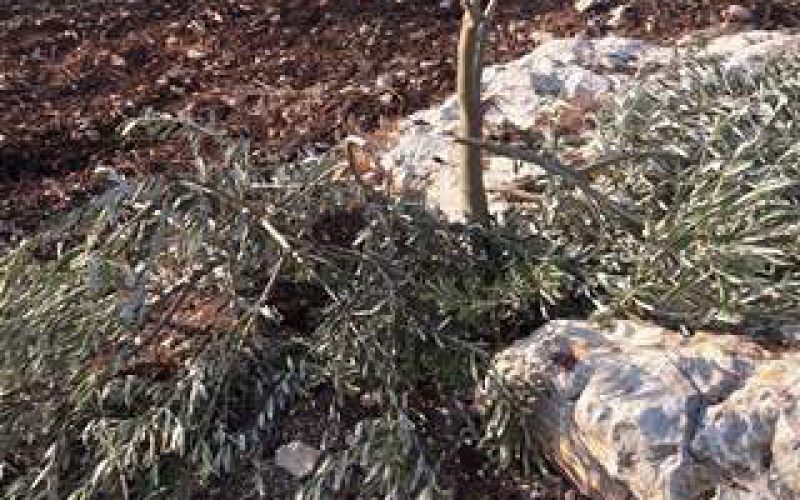 Violation: sabotaging trees
Location: Arraba town- Jenin governorate
Date: June 28, 2017
Perpetrators: Mevo Dotan colonists
Victims: farmer Mahmoud Hijjeh
Details:
At late hours of Wednesday, June 27, 2017, a group of fanatic colonists from Mevo Dotan uprooted and sabotaged 37 aging olive trees in the area of Al-Qreinat, west Arraba town in Jenin.
The affected owner of land Mahmoud Hijjeh (51) told Land Research Center the following:
" I own a 5.5 dunums parcel of land in Al-Qreinat area; it is only 700 away from Mevo Dotan colony's buffer zone. Since my land is adjacent to the colony, it was not agriculturally used due to colonists' threats. Five years ago, I decided to cultivate the land and planted 120 olive trees. I took good care of them.
He added:
"Today, I was shocked to see that colonists sabotaged 17 trees and partially damaged 20 other trees"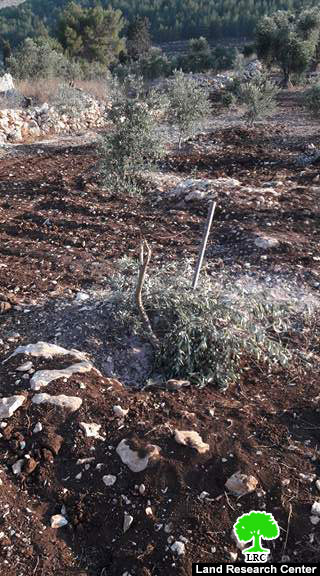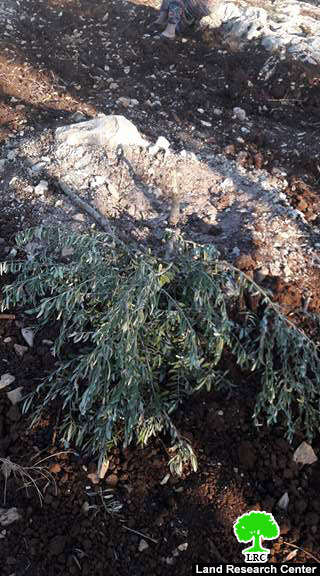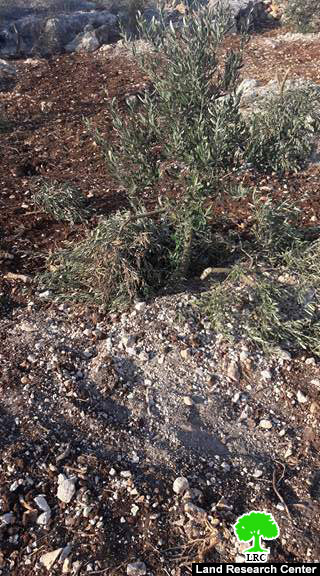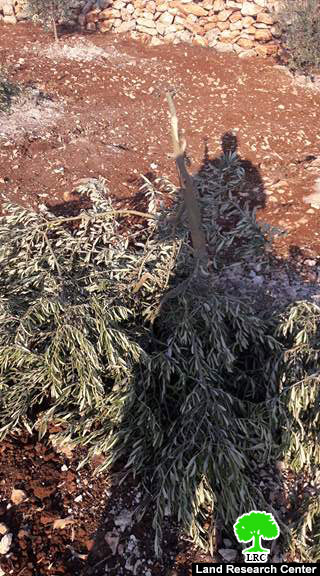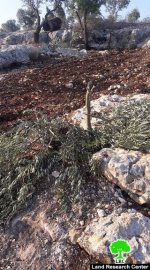 Photos 1-5: views of the sabotaged trees
About Arraba:
Arraba is located 12km to southwest of Jenin city. It is surrounded by both colonies; al-Manshiya and Kufeirit (north), Fahma, al- Hafira, and Al Damayra towns (southwest) and Fahma and Al Jadida towns (south).
It has a population of 12,792 people until 2014 and has a total area of 33,436 dunums , 1195 of which are built-up area. 1514 dunums were confiscated by the occupation as follows:
Mevo Dotan colony : it was established in 1987 and is inhabited by 289 colonists; it took over 696 dunums of the village's lands. There is also an army camp for the occupation in the southern part of the town, which is founded on an area of 129 dunums . The colonial roads also confiscated 370 dunums for the favor of the bypass road no.585.
According to Oslo Accords , the village lands are classified as :
(13869) dunums are classified as areas "A"
(3916) dunums are classified as areas "B"