Israeli colonists march in Jerusalem to celebrate the fiftieth anniversary of occupation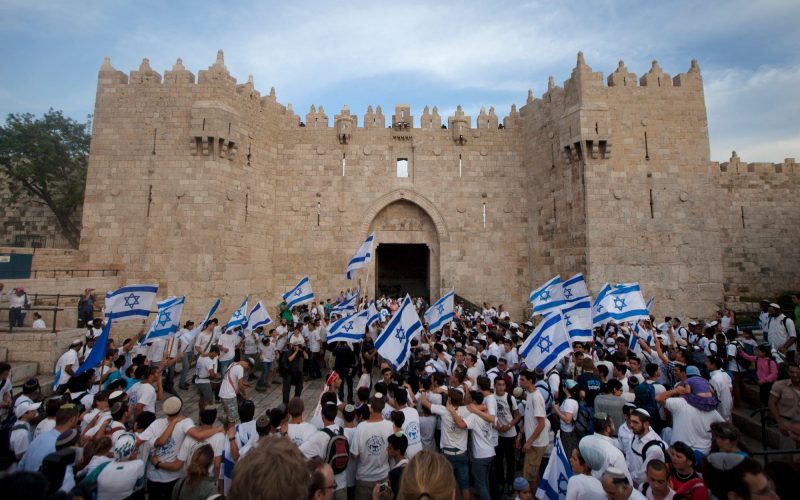 According to the Hebrew calendar and on the 50th anniversary of occupying the eastern part of the city of Jerusalem, tens of thousands of settlers arrived to the city of Jerusalem to participate in the yearly flags march which initiated from West Jerusalem and headed towards the Wailing Wall passing through the streets of the city. The march was supervised by the Israeli Police and the occupation forces.
Tens of thousands of settlers participated in a large march that started from West Jerusalem and headed towards East Jerusalem. Most of them marched through Damascus Gate and Al-Wad Street reaching the Wailing Wall while another big group was allowed for the first time to walk from Damascus Gate to Herod's Gate and then to Lions and Dung Gates until they reached the Wailing Wall.
During the Israeli flags march, settlers formed dancing and singing rings especially in the courtyard of Damascus Gate. Many wore shirts with pictures of the "Alleged Temple" in addition to racist slogans against Palestinians and Arabs.
Before the march, the occupation forces closed several junctions and streets in the city and established checkpoints and iron barriers. Dozens of policemen, Special Forces, borders control and intelligence personnel were deployed in the streets and along the path of the march specifically in the area of Damascus Gate, Nablus Road and Herod's Gate which obstructed the movement of Jerusalemites.
It should be noted that many Jerusalemites gathered in different areas and raised the Palestinians flag in protest of the march. Within minutes, the forces assaulted and beat them and forced them to leave the area; they seized the Palestinian flags. A lady was injured as a result.
Peace activists formed a human chain near Damascus Gate to protest against the flags march but were also assaulted by the occupation forces.
Prepared by
The Land Research Center
LRC