Colonists of Givat Ronen torch aging olive trees in Nablus governorate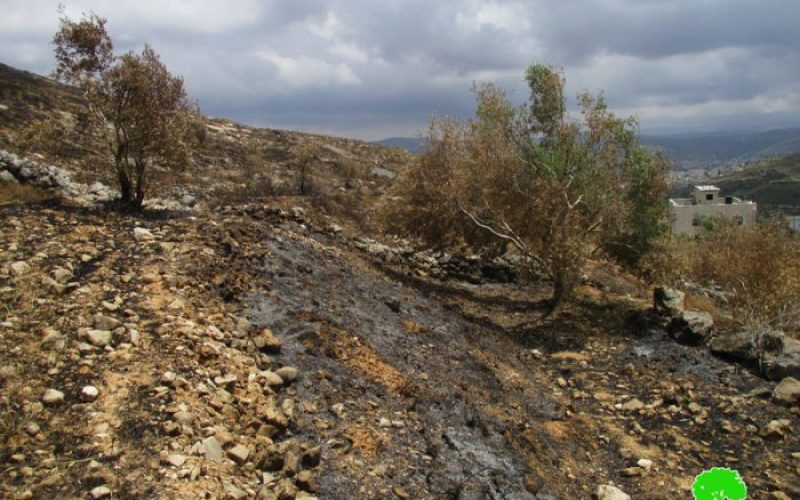 Violation: torching olive trees
Location: Burin village- Nablus
Date: May 12, 2017
Perpetrators: colonists of Givat Ronen
Victims: heirs of Mustafa Eid
Details:
On May 12, 2017, a group of fanatic colonists from Givat Ronen, which is an extension of Bracha colony sneaked into the areas known as "Qattan Abu Salem" and "Karm Eid" and set fire to the area.
It is reported that colonists poured flammable substance on the ground and set fire to it causing fire to totally kill 62 olive trees aging 30 years each. Also, the fire partially damaged 14 other olive trees.
It should be noted that the torched trees belong to the heirs of late Mustafa Eid. One of the heirs told Land Research Center that the targeted area is declared inaccessible for Palestinians by the occupation authorities but through specific permits during specific times in the year.
Noteworthy, the recently targeted area witnessed many attack by the occupation and colonists, especially during the olive picking season. Such measures are meant to harass Palestinian farmers and strike their source of income, which is olive.
Over the past couple of years, the same group of colonists carried out many arson attacks causing vast areas to totally burn down. Despite the fact that farmers constantly file complaints to Israeli police and authorities, no positive results have been rendered in this regard.
The burnt down trees in Burin village
About Givat Ronen :
In 1999, the army of Israeli occupation grabbed around 4.5 dunums from some lands from the eastern side of Burin village, which is adjacent to Bracha colony. The occupation justified the land grab under the pretext of "Security reasons" to build a watchpost in the area. In the after math of the second intifada, colonists set up caravans in the periphery of the watchpost, which later became an outpost under the name of Givat Ronen.
The outpost is considered an imminent danger on the lands of Burin; a number violations and attacks by colonists from the nearby colony were documented. The attacks varied between home raids, lands torch, trees cut down
About Burin:
It is located 8km to the south of Nablus city and is of 10,416 dunums in area, of which 335 dunums are the village's built-up area. Burin has a total population of 3500 people. Two Israeli colonies are founded on the lands of Burin which are:
Bracha: it confiscated 205 dunums from Burin's lands
Yizhar: it confiscated 150 dunums from Burin's lands
Prepared by
The Land Research Center
LRC