Stop work orders on agricultural facilities in Ramallah governorate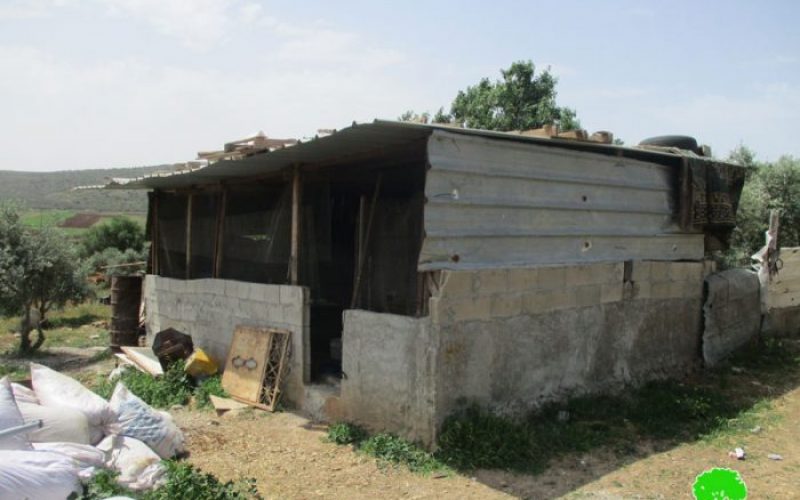 Violation: issuing stop-work order
Location: Turmus'ayya town
Date: April 19, 2017
Perpetrators: Planning and Construction Committee- Israel Civil Administration
Details:
The Palestinian family of Abu Awwad, located in the heart of the area known as "Al-Sh'ab Al-Gharbi" in Turmus'ayya town, west Ramallah governorate, is standing in the face of Shilo colony expansion. The presence of the family in the area halted many expansionist plans and lands takeover. Noteworthy, the family has been residing the area since 1969, which is before the establishment of the colony. Ever since the colony was established, people of the area were harassed and a member of Abu Awwad family was killed in 1988 by colonists.
In 1988, the structures of Abu Awwad family were targeted with demolition. Today, the Israeli occupation targeted the same area with demolition orders served on agricultural structures belonging to Abu Awwad family.
According to the orders, the affected owners were given a deadline until May 10, 2017 to complete all licensing procedures. This comes in time with the hearing session of the Planning and Construction Committee- Israel Civil Administration in the court of Beit El colony to consider the legal status of the notified structures. Noteworthy, Israel doesn't grant building permits\licenses for Palestinians in area classified "C" according to Oslo accords.
Photos 1-5: the targeted structures

The following table shows information about the affected people and structures:
Affected citizen

Family

Minors

No. of order

Nature of structure

Awwad Abu Awwad

10

2

Chicken farm (350m2 barrack) that includes accommodates2000 chicks
150m2 green house
120m2 storage
80m2 storage
150m2 Sheep barrack (45 sheep)

Abdallah Abu Awwad

4

2

Oudeh Abu Awwad

8

1

Mohammad Abu Awwad

3

1

Total

25

6
Source : Field observation- Department of Monitoring Israeli Violations- Land Research Center-2017

About Turmus'ayya:
It is located 25 km to the north east of Ramallah city. With a total land area of 18139 dunums, 1350 of which are built-up area, the town is home for 3736 people (2007 census). About 11218 dunums of the town's lands are under classified as area "B" (PA is in charge of civil matters with Israel responsible for security) and 6921 dunums are under Area C (Israel maintains full security and administrative control).
The Israeli occupation confiscated vast areas from the village for the benefit of the following colonies:
1. Shilo and Mizpe Rahel devoured 1023 dunums
2. Mizpe Rahel devoured 706 dunums
3. The bypass road number 60 stole 12.5 dunums
Prepared by
The Land Research Center
LRC