Israeli colonists establish illegal outpost on Ramallah lands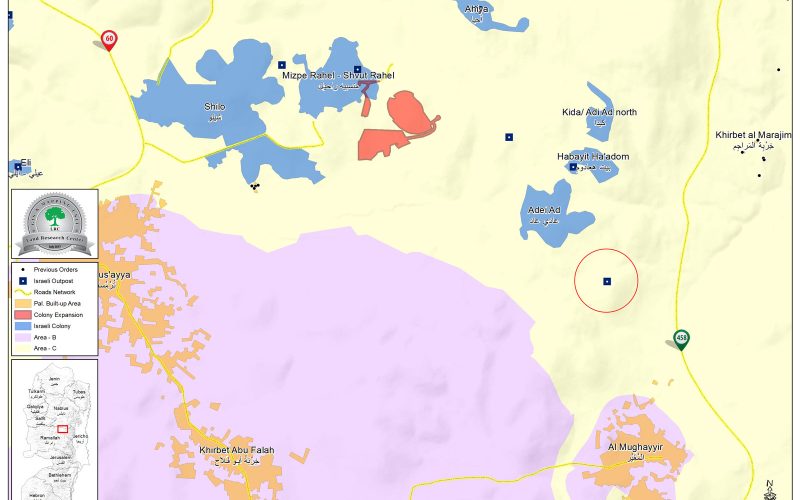 Violation: establishing illegal outpost
Location: Al-Mughayyir village
Date: March 09, 2017
Perpetrators: Adi Ad colonists
Victims: residents of the village
Details:
Colonists of Adi Ad embarked on seizing lands from Al-Mughayyir village, northeast Ramallah city; more specifically in the area known as "Al'Qabbun".
Reportedly, colonists set up two agricultural tents, a barrack and a green house on an area of 4 dunums, which is only 300 meters away from Adi Ad colony.
Noteworthy, the targeted lands are private Palestinian lands, whose owners possess ownership documents and proofs of property. The targeted owner was identified to be from Al-N'san family from the village.
Such step is believed to create a de facto in the area and a move to take over more land and expand the colony at the expense of Palestinian lands.
Lately, Al-Mughayyir witnessed vicious targeting by the occupation's authorities aiming at seizing vast areas through military orders.
Photos 1-2: the new outpost with a view of the structures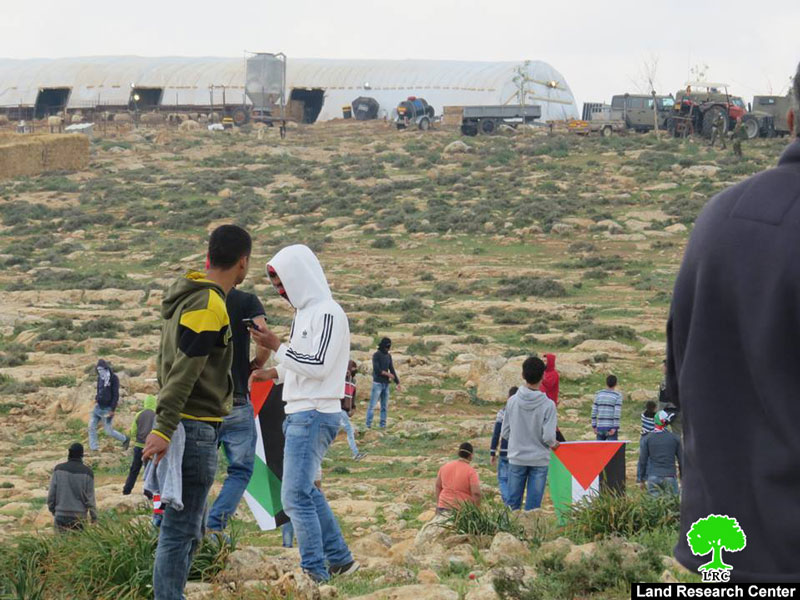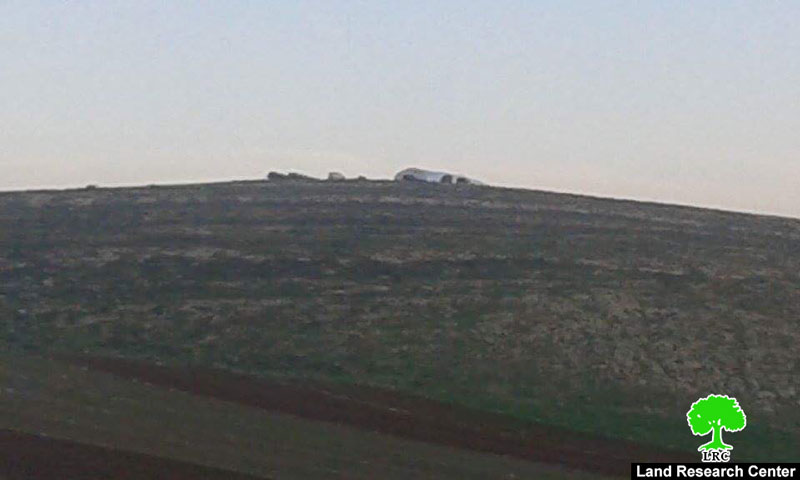 About Al Mughayyir:
Al Mughayyir is located 30 km to the north east of Ramallah; it is inhabited by around 3054 people according to 2014 PBS population projections.
Most of the village agricultural farmlands are located in its eastern parts; its total area is 33055 dunums, 501 of which are built-up area.
The Israeli occupation confiscated 37 dunums of Al Mughayyir lands for bypass #458.
According to Oslo Accords, about 95% of the village is under Area C (Israel maintains full security and administrative control) while only 5% is under Area B (PA is in charge of civil matters with Israel responsible for security). Here are the areas in dunums:
Area B (1, 695) dunums.
Area C (360, 31) dunums.
Al Mughayyir is strangled by Israeli colonies from all sides which makes the village a place to covet for colonists. From the eastern part of al Mughayyir, there are Tomer, Gilgal, Pezael, and Netiv Hagedud colonies while from the west, there are Shvut Rachel and its outposts as well as Shilo. Colonies of Niran, Yitav, and Kokhav Hashahar are located to the north of the village while Maale Efrayim and Migdalim to the south.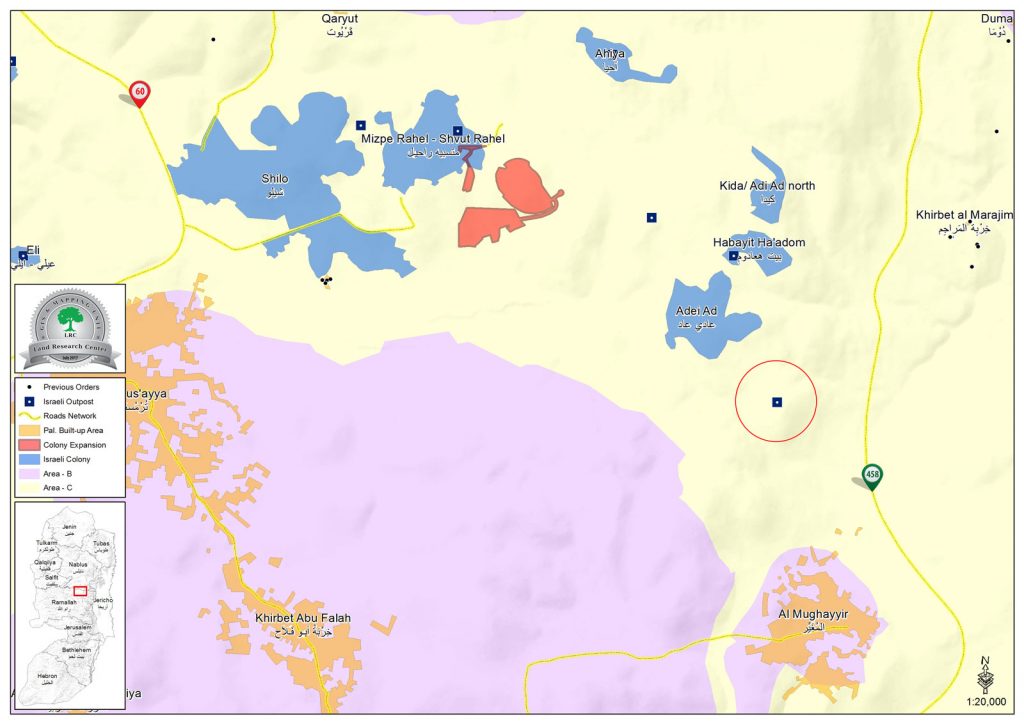 Land Research Center sees Israel continuous expansion on colonies in the West Bank and Jerusalem at the expense of Palestinian and lands a flagrant violation of Human Rights and all international laws and conventions, which prohibit disposition of public properties in occupied countries.
UN Security Council resolutions in regard to Israeli colonies:
UN Security Council resolution 446, article 3 " Calls once more upon Israel, as the occupying Power, to abide scrupulously by the 1949 Fourth Geneva Convention, to rescind its previous measures and to desist from taking any action which would result in changing the legal status and geographical nature and materially affecting the demographic composition of the Arab territories occupied since 1967, including Jerusalem, and, in particular, not to transfer parts of its own civilian population into the occupied Arab territories;"
Un Security Council resolution 452, article 3"Calls upon the Government and people of Israel to cease, on an urgent basis, the establishment, construction and planning of settlements in the Arab territories occupied since 1967, including Jerusalem;"
Un Security Council resolution 465, Strongly deplores the continuation and persistence of Israel in pursuing those policies and practices and calls upon the Government and people of Israel to rescind those measures, to dismantle the existing settlements and in particular to cease, on an urgent basis, the establishment, construction and planning of settlements in the Arab territories occupied since 1967, including Jerusalem;

Calls upon all States not to provide Israel with any assistance to be used specifically in connexion with settlements in the occupied territories;
Prepared by:
The Land Research Center
LRC