The occupation authorities demolish a house in the Jerusalem neighborhood of Beit Hanina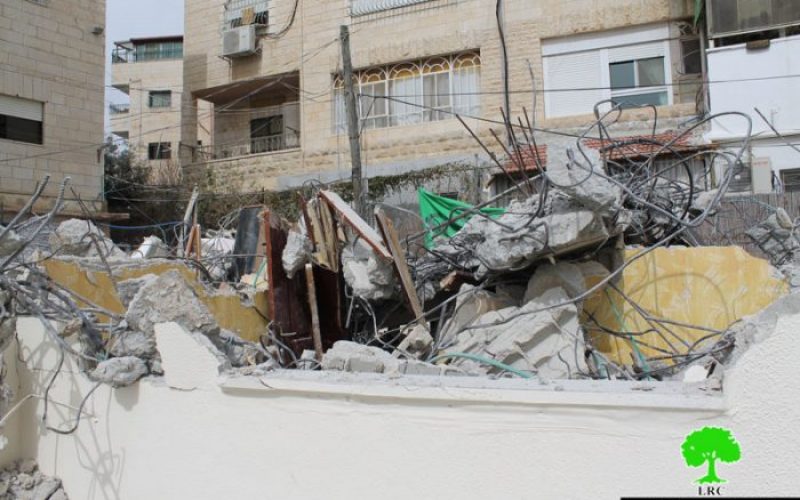 The dozers of occupation municipality demolished on February 22, 2017 the house of Louai Awni Abu Rammouz in the neighborhood of Beit Hanina on the claim of "unlicensed construction".
Abu Rammouz explained that the soldiers surrounded their house from all directions and were deployed in the roads. He said: "Immediately after storming into our house, they evacuated us by force and prevented us from taking out personal items; they did not even allow us to drink water. The soldiers threatened me with their weapons and pointed them to my stomach; I was not allowed to move inside my house. Two female soldiers stormed into the girls' bedroom and evacuated them."
The soldiers prevented the family from taking the school books and bags of their children and municipality crews started emptying the house of some of its contents while the rest were left behind only to be buried after the demolition was executed.
Louai Abu Rammouz explained that the house was built 7 years ago and the municipality had issued several demolition orders that were postponed every time. They also imposed building violation fines on the family twice which Louai was committed to paying. He said: "I tried to obtain a building permit but the costs were too high and procedures were complicated. Two week ago, the municipality held a session and decided to demolish the house. I was intending to appeal the decision today through my lawyer but was surprised by the demolition process taking place."
Seven individuals live in the house of Louai Abu Rammouz (parents and five children; oldest is 17 and youngest is 3).
Land Research Center LRC sees that demolitions contradict with all the International conventions and Humanitarian laws including:
Article 17 of the (1948) Universal Declaration of Human Rights stating: "Everyone has the right to own property alone as well as in association with others. No one shall be arbitrarily deprived of his property."
Section ‹G› of article 23 of the (1907) The Hague Conventions asserting: "In addition to the prohibitions provided by special Conventions, it is especially forbidden to destroy or seize the enemy's property, unless such destruction or seizure be imperatively demanded by the necessities of war."
Article 53 of the Geneva Fourth Convention (1948) declaring: "Any destruction by the Occupying Power of real or personal property belonging individually or collectively to private persons, or to the State, or to other public authorities, or to social or cooperative organizations, is prohibited, except where such destruction is rendered absolutely necessary by military operations."
Section 1, Article 11 of the International Covenant on Economic, Social and Cultural Rights (1966): "The States Parties to the present Covenant recognize the right of everyone to an adequate standard of living for himself and his family, including adequate food, clothing and housing, and to the continuous improvement of living conditions.
Prepared by
The Land Research Center
LRC