Israeli colonists gang "Sons of Hills" destroys 320 olive trees in Nablus governorate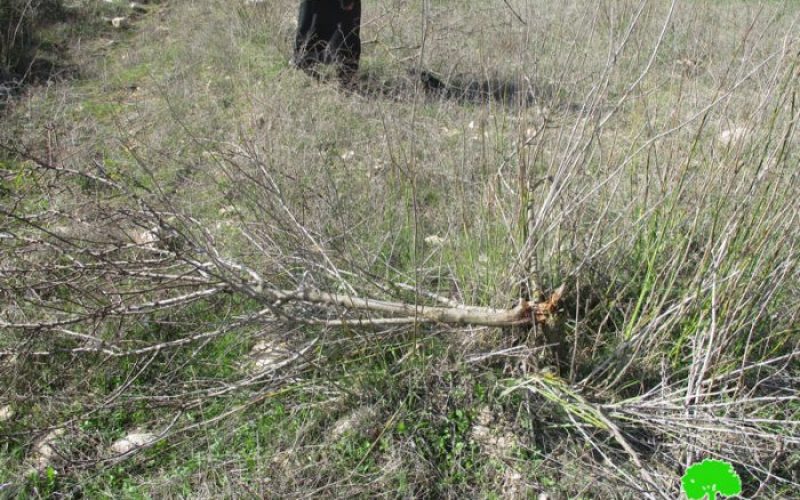 Violation: cutting down and destroying trees
Location: Burqa village- Nablus governorate
Date: February 09, 2017
Perpetrators: "Sons of Hills" gangsters
Victims: four Palestinian families
Details:
At late hour of Thursday, February 09, 2017, a group of fanatic colonists belonging to "Sons of Hills" gang sneaked into northeastern lands of Burqa village, north Nablus city and carried out an attack on olive trees. The attacked lands were reported to be located within the natural block number 8 of the village's lands; more specifically in the area known as Bab Al-Wad, which is adjacent to Homesh colony that is claimed evicted by the occupation.
Gangsters cut down and destroyed 270 olive trees (7 years) and 50 almond trees (12 years). The trees belong to the following farmers:
Kheirallah Hejjeh: 150 olive trees and 50 almond trees
Mahmoud Daghlas: 40 olive trees
Basim Barkr Daghlas: 55 olive trees
Khaled Salah: 25 olive trees
Photos 1-4: the abandoned lands of Burqa village due to colonists' attacks
Photos 5-8: views of the cut down trees
Farmer Kheirallah Hejjeh told Land Research Center the following :
" I own a 12 dunum land that is founded to the north of Burqa village; also the location of the evicted colony of Homesh. I planted 200 almond trees in my land in 2009 to protect it from colonial expansionist plans. Next year, colonists attacked my parcel and cut down 150 seedlings. Colonists' attacks and violations escalated until farmers were denied access to their lands. In 2012, I planted another 150 olive trees to prove my steadfastness and resilience on my land. But colonists came back this time and cut down 150 olive trees and 50 almond trees"
A member of Burqa village council, Derar Abu Omar, told Land Research Center the following:
"Despite that the occupation claims Homesh colony evicted, there is still a constant desire for colonists to re-build their colony . That area has 200 dunums that the Ministry of Agriculture implemented reclamation activities on in 2008 and are now unused since colonists are always present in the area under protection of Israeli Occupation Forces"
He also added:
"We tried — through Human Rights organizations and the Civil Coordination Office– to submit complaints against those colonists but no results have been rendered so far. On the contrary, colonists attacks were reported to escalate".
About Homesh:
The colony was established in 1980 on the boundary between the Nablus and Jenin governorates on the expense of the village of Burqa. It was built atop Parcel 6 of Jabal Al Dohoor on land pieces number 1 through 22. Until 2005, the colony had confiscated 1050 dunums of which 157 were its built-up area. Upon its eviction, there were 181 colonists living in the colony's houses and 10 mobile caravans. In addition, there were around 4,000 dunums surrounding the colony that were considered to be a buffer zone to which Palestinians were prevented from entering or using for any purposes.
About Burqa:
It is located 17km to the northwest of Nablus city and is linked to it through the 3.5km Nablus-Jenin road. The village is 450m above sea level and has a total area of 18,500 dunums, of which 480 are considered the built-up are. Administratively, the village follows Nablus Municipality and is run by a village council.
Burqa is edged by Yasid and Beit Imrin villages from the east, Sabastiya from the south, Bizzariya and Ramin from the west and Atara from the north. According to the census of 2007, Burqa populates 4300 residents.
The village witnessed the establishment of Homesh colony on confiscated lands in 1980. The colony was evacuated in 2004 but 4000 dunums are still considered as "closed military zone" by the occupation.
Prepared by
The Land Research Center
LRC