Israeli Occupation Forces uproot more than 800 olive trees in Qalqiliya governorate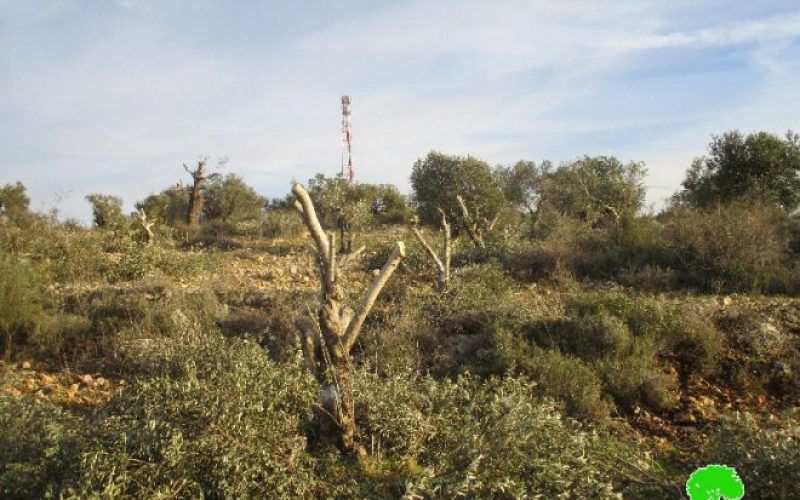 Violation: uprooting hundreds of olive trees
Location: villages and towns of Qalqiliya
Date: January 16, 2017
Perpetrators: Israeli Occupation Forces
Victims: more than 25 families
Details:
On January 16, 2017, machineries of Israeli Occupation Forces embarked on wide-range ravaging activities on the lands of Nabi Elyas, Izbat Al-Tabib and Azzun town and villages, east Qalqiliya governorate. According to the data of Qalqiliya Directorate of Agriculture, Israeli Occupation Forces uprooted more than 800 olive trees aging 15 years from a total area of 104 dunums.
It should be noted that this measure is the biggest of a type since the beginning of 2017. The main reason behind the operation is reported to be for the opening of a new colonial road (2.7*36 km) .
At time of conducting the opening works, Israeli Occupation soldiers cut down trees founded in the location, which is north Nabi Elyas village and parallel to the bypass road number 55 that travels through the village.
The occupation is believed, by this move, to isolate Nabi Elyas village via installing a metal gate at its entrance. This will restrict the commercial activity in the area and thus cause financial crisis in the area.
Farmer Hussni Abu Hanyyeh, who got 41 olive trees of his uprooted told Land Research Center the following:
"It has been over 20 years that I am taking care of my land and moving water in there to irrigate the trees. My love to trees is equal to the love I give to my children. Today, what Israeli Occupation Forces done is absolute oppression, I will never forget what happened as long as I live".
Views of the uprooting and ravaging operation

Noteworthy, Abu Hannyeh explained that he has ownership documents of the attacked lands and that there is not even one justification for such an Israeli measure. It should be noted that the opening of the new road is based on a military order issued in 2016. At time, the order stated a land grab on 93 dunums on the claim of "Public Benefit". Farmers, with help from local commissions in Qalqiliya, submitted an objection in Israel Supreme Court; the plea was rejected in 2017 and the road was approved.
Prepared by
The Land Research Center
LRC