Israeli Occupation Forces uproot aging olive trees in Qalqiliya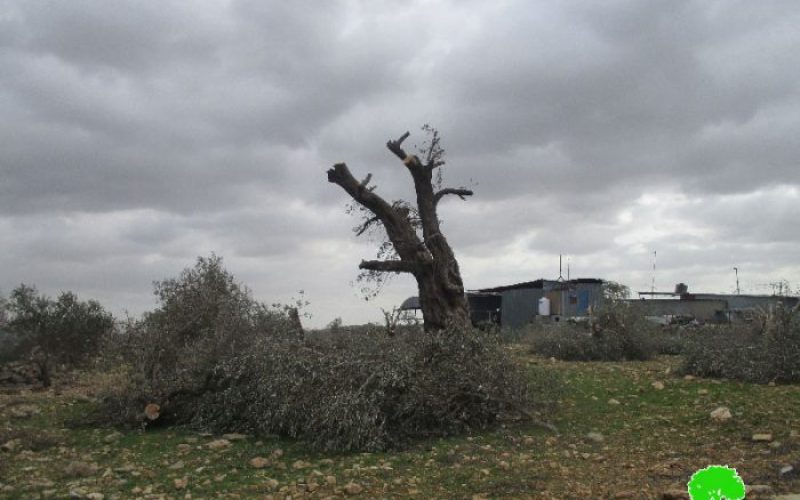 Violation: uprooting trees and notifying workshops
Location: Azzun town- Qalqiliya governorate
Date: January 08, 2017
Perpetrators: Israeli Occupation Forces
Victims: residents of the town
Details:
On January 08, 2017, Israeli Occupation Forces cut down aging olive trees in AL-Manateer area, northwest Azzun town in Qalqiliya governorate.
According to the data of field research , Israeli Occupation Forces damaged more than 123 aging olive trees from Al-Manateer area by electric saws. This is believed to be the first step before uprooting the trees and embarking on the road plan.
The main reason behind the operation is reported to be for the opening of a new colonial road (2.7*36 km), which will travel through the lands of Nabi Elyas village, Izzbet At-Tayeb and Azzun town. This new segment of the road will be a substitute to the bypass road number 55, which also travels through Nabi Elyas village.
The implementation of these works are based on an Israeli military order issued in 2016 to grab 93 dunums from the areas of Al-Manateer, Hareqat Al-Alam, Al-Sahleh, Manzil Al-Qamh, Al-Bader and Manzalit Hamoudeh. The following table shows information about the affected owners of trees:
| | | | | | |
| --- | --- | --- | --- | --- | --- |
| Affected farmer | Family | Minors | No. of affected trees | Tree | Nature of damage |
| Hussnu Abu Hanyyeh | 8 | 3 | 38 | Aging olive trees | Total |
| Ihsan Abu Hanyyeh | 8 | 4 | 30 | Olive | Total |
| Bassam Abu Hanyyeh | 3 | 0 | 20 | Olive | Total |
| Tahseen Abu Hanyyeh | 7 | 4 | 35 | Olive | Total |
| Total | 26 | 11 | 123 | Olive | |
Source : Field observation- Department of Monitoring Israeli Violations- Land Research Center-2017
The attacked trees
Verbal order to evacuate a workshop
It should be noted that Israeli Occupation Forces verbally notified citizen Samer Khudryeh to evacuate his workshop for car painting. The structure is of composed of two facilities that are 60m2 and 22m2 in area. The occupation marked the structures with red color as to be demolished soon.
If demolished, nine families living off of the targeted structures will get their source of income cut off.
The notified structures

About Azzun Atma:
Located 8km to Qalqiliya city with a total area of 9,472 dunums, of which 1,054 dunums are the village's built-up area, Azzun is inhabited by 7,821 people (2007). The occupation confiscated vast area from the village for the favor of colonization and the apartheid wall; the areas are detailed as follows:
276 dunums were confiscated for Maale Shamron colony that was established in 1980.
417 dunums were confiscated for the bypass road number 55
It should be marked that the vast majority of Azzun lands (6,927 dunums) is classified as area "C" according to Oslo accords; areas that are controlled by the Israeli occupation. The village has zero percentage of area "A" that is under the control of Palestinian Authority. As for other classifications, the village has 2,546 dunums classified as area "B". (Geographical Information System- Land Research Center)
3 colonies are built on 'Azzun lands and they are:
Maale Shomron: Built in 1980, the colony has a total area of 1903 and a built-up area of 216 dunums. 549 colonists live in it (according to a 2004 census).
Genot Shomron: Built in 1985, the colony's built-up area is 484 dunums.
Karni Shomron: Built in 1978, the colony's built-up area is 1351 dunums. 6270 colonists live in it (according to a 2005 census).
Prepared by
The Land Research Center
LRC