Israeli Occupation Forces notify structures of stop-work on Bethlehem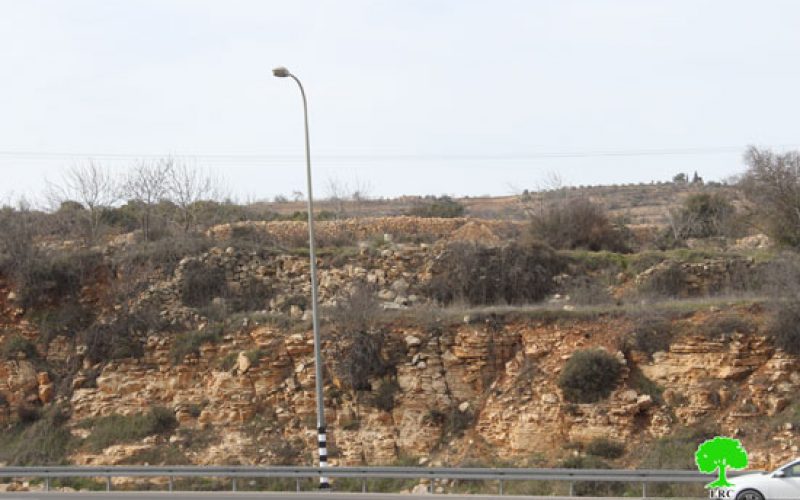 Violation: serving stop-work orders
Location: Wad Al-Shami and Al-Walajia – Al- Khader areas
Date: January 02, 2017
Perpetrators: Israel Civil Administration
Victims: residents of the towns
Details:
A staff from Israel Civil Administration backed by a force from the occupation army raided on January 02, 2017 Wad Al-Shami and Al-Walajia areas and served stop-work orders on seven water wells and two houses on the claim of "unlicensed construction".
The orders mentioned that the Inspection Sub-Committee will discuss, in court session on January 19, 2017, the legal status of the notified structures and whether to demolish them or restore their previous status.
It should be noted that one of the water well is an ancient Turkish one that was used to irrigate crops in the area. Noteworthy, the well was rehabilitated in addition to a house that is now inhabited by citizen Issa Salah in order to protect the land from colonial plans.
Mr. Hasan Breijyeh from Anti Wall Commission told Land Research Center the following: "We pursue to rehabilitate all ancient structures in the area to preserve our heritage and protect it from being stolen".
It should be noted that the rehabilitation activities on houses were implemented by JVC organization and Anti-Wall Commission. The wells were rehabilitated by Land Research Center and Union of Agricultural Work Committees through Juthour project. The following table shows information about the affected citizens and their properties:
| | | | |
| --- | --- | --- | --- |
| Affected citizen | No. of order | Structure | Area\ volume |
| Imad Rsheid | | Agricultural well | 70 m3 |
| Ibrahim Mousa | | Agricultural well | 70 m3 |
| Imad Da'dou' | | Agricultural well | 70 m3 |
| Hasan Abu Surra | | Agricultural well | 70 m3 |
| Mustafa Issa | | Agricultural well | 70 m3 |
| Mohammad Salah | | Agricultural well | 70 m3 |
| Issa Salah | | Ancient house | 40 m2 |
| Abdallah Abu Surra | | Ancient house | 80m2 |
Source : Field observation- Department of Monitoring Israeli Violations- Land Research Center-2017
Photos of the notified structures and map of their location
Located 4 kilometer west of Bethlehem, Al Khadr village is surrounded by Beit Jala and Battir (north), Husan and Nahhalin (west), Ad Doha, Wadi Rahall, and Beit Jala (east), Wadi An Nais (south). Al Khadr has a population of 9774 according to statistics conducted in 2007. It has a total area of 8279 dunums, 184 of which are built-up area.
The Israeli occupation confiscated 29 dunums of Al Khadr lands for Efrat and Daniel colonies. Efrat was built in 1979 and devoured 5.8 dunums of Al Khadr. It is inhabited by 7037 colonists. Daniel was built in 1982 and confiscated 23 dunums. 1073 colonists live in the colony.
Bypasses number 60 and 375 devoured more than 487 dunums. Not to mention the Apartheid Wall that destroyed 280 dunums and isolated 5638 dunums of the village. The Wall in Al Khadr is 2805 meters long.
According to Oslo Accords, 10% of Al Khadr is under Area A (PA has full civil and security control) while 6% is under Area B (PA is in charge of civil matters with Israel responsible for security). However, most of the village lands (84%) is under Area C (Israel maintains full security and administrative control). Here are the area in dunums:
Area A (808) dunums
Area B (475) dunums
Area C (6996) dunums
Prepared by
The Land Research Center
LRC