Israeli Occupation Forces demolish agricultural structures in Bethlehem governorate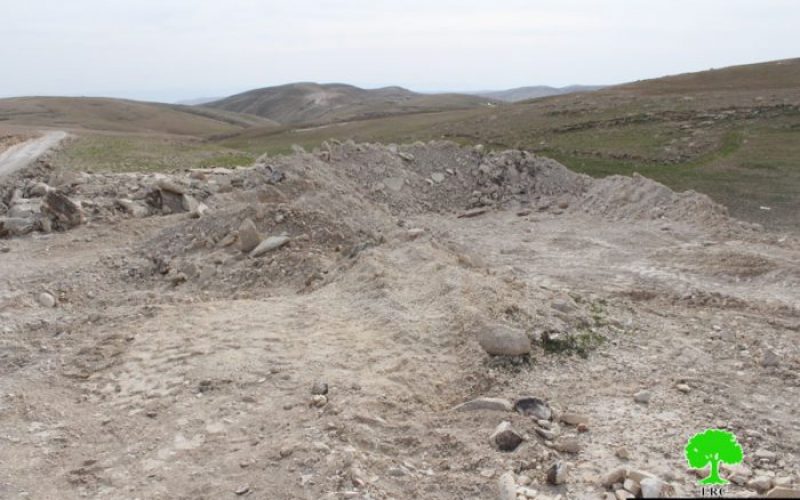 Violation: demolition of barracks and water wells
Location: Tuqu' town- Bethlehem
Date: January 04, 2017
Perpetrators: Israeli Occupation Forces
Victims: farmers from the area
Details:
A massive force from Israeli Occupation Army backed by four military dozers raided the area of Tuqu' and demolished seven agricultural water wells and four livestock barracks on the claim of "unlicensed construction". It should be noted that the farmers rehabilitated the targeted wells to be used for irrigating their lands and animals. Farmers of Tuqu' are reported to use the targeted area to graze their livestock there since the it is fertile and suitable for herding.
The mayor of Tuqu', Tayseer Abu Mifrih, told Land Research Center the following: "The dozers of the occupation demolished the well of citizen Ali Al-Khatib; it was built twenty years ago. Note that the occupation targets ancient properties for the sake of emptying the area from indigenous inhabitants and to be used for colonial expansionist plans"
Noteworthy, the rehabilitation activities on the wells were implemented by YMCA, UAWC and Agricultural Relief. The following table shows information about the owners of the demolished structures:
| | | | |
| --- | --- | --- | --- |
| Affected citizen | Type of structure | No. of structures | Area\volume of structures m2\m3 |
| HamzehJibreen | Agricultural well | 1 | 80 m3 |
| Ahmad Al-I'mour | Agricultural well | 1 | 80 m3 |
| Ali Al-Khatib | Agricultural well | 1 | 80 m3 |
| Osama Abu Mifrih | Agricultural well | 1 | 80 m3 |
| Attyeh Jibreen | Agricultural well and barrack | 2 | 80 m3 |
| Khalil Mifrih | Agricultural well | 1 | 80 m3 |
| Ibrahim Jibreen | Agricultural well | 1 | 80 m3 |
| Dawoud Jibreen | Livestock barrack | 1 | 40 m2 |
| Ali Abu Mifrih | Livestock barrack | 1 | 40 m2 |
| Hafedh Li'rouj | Livestock barrack | 1 | 40 m2 |
Source : Field observation- Department of Monitoring Israeli Violations- Land Research Center-2017
Photos 1-9: the demolition operation in Tuqu' area
About Tuqu':
Tuqu' is an old Canaanite name which meant "placing of tents"; the crusaders called it "Thecua" as it was one of their strongholds in Bethlehem area.
Tuqu' has a great deal of Roman, Greek, and Mamluke ruins considering its strategic location. One of the most significant ruins is the "baptism basin" which is a stony artifact that has been cut and formed. It represents a number of Christian sects.
It is believed that the artifact has been made around the 1750s; it is also believed that this is one part of a two-part artifact; the second part's location is unknown.
Tuqu' is surrounded by 5 Israeli colonies including Tquah, AlDavid, Nokdim, in addition to two other colonies to the south, Mizpe Shalim and Mushki Dar Got.
Tuqu' total area is 10 km2. Therefore it is considered the largest rural community in Palestine. The village is 12km to the west of Bethlehem governorate and is covered by evergreen trees, making it an attractions to many visitors and tourists. It is inhabited by 13000 people by 2014 including all its four parts namely: Tuqu' , Khirbet Tuqu', Khirbet al-Dair, and al-Halqum .
Prepared by
The Land Research Center
LRC