Israeli Occupation Forces demolish agricultural road Tubas governorate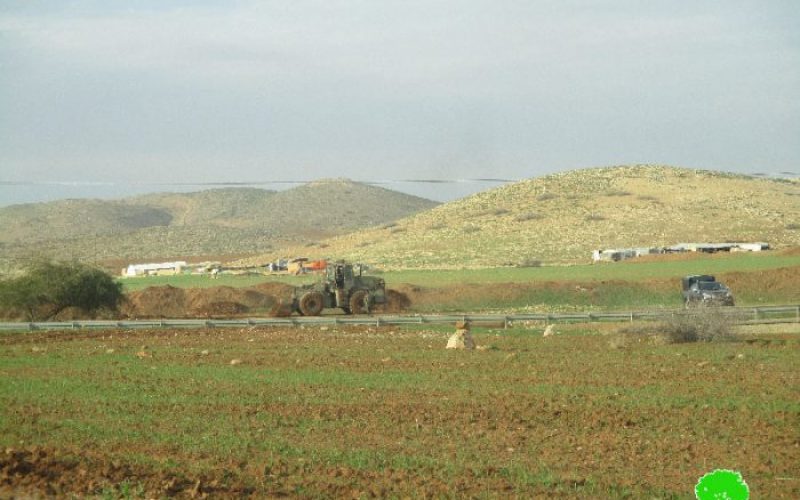 Violation: demolishing agricultural road
Location: Khirbet Al-Hadidiya
Date: January 10, 2017
Perpetrators: Israeli Occupation Forces
Victims: residents of mallet
Details:
Israeli Occupation Forces ravaged on January 10, 2017 the agricultural road leading to Khirbet Al-Hadidiya in the heart of Palestinian-Jordan Valley. It should be noted that the field research team of Land Research Center documented the incident at time. A dozer of the occupation ravaged and leveled the agricultural road, rendering it unsuitable for use.
According to the data of Land Research Center, the ravaged segment of the road was reported to be of 1800 meters in length. Noteworthy, the road was opened with funds from the Italian organization GVC in 2016 to serve the people of the area.
In the beginning of October 2016, Israeli Occupation Forces partially demolished the road under the pretext of it being located in area classified "closed military zone". The road was previously notified of demolition but residents of the area challenged the occupation and rehabilitated the road. Eventually, Israeli Occupation Forces targeted the road and demolished it.
Photos 1-6: the targeted road at time of the ravaging act
About Al-Hadidiya hamlet:
It is considered part of Dhaher Al Malih area and is located 33 km to the east of Tubas governorate. Moreover, it populates about 94 people who depend on agriculture and livestock in their living. Most of the residents are nomads descending from Bisharat and Odeh families from Tammun town; they resided in the area for the sake of planting and growing cattle just like any other nomad assemblage in the area that used to belong to Palestinians.
The hamlet underwent many demolitions by the Israeli occupation authorities, which do not recognize and acknowledge this area to be Palestinian.
The redundant demolitions, which reached out almost every structure in the hamlet, aim at displacing the residents of the area to become under the military control of the Israeli occupation. This is to serve the Zionist Plan in the area of Palestinian Jordan Valley.
International conventions and laws regarding freedom of movement which Israel unabatedly violates:
Article 13: Everyone has the right to freedom of movement and residence within the borders of each state. Everyone has the right to leave any country, including his own, and to return to his country.
Article 12of the International Covenant on Civil and Political Rights:
1. Everyone lawfully within the territory of a State shall, within that territory, have the right to liberty of movement and freedom to choose his residence.
2. Everyone shall be free to leave any country, including his own.
Prepared by
The Land Research Center
LRC