Israel Municipality demolishes a barn in Jabal Al-Mukabbir area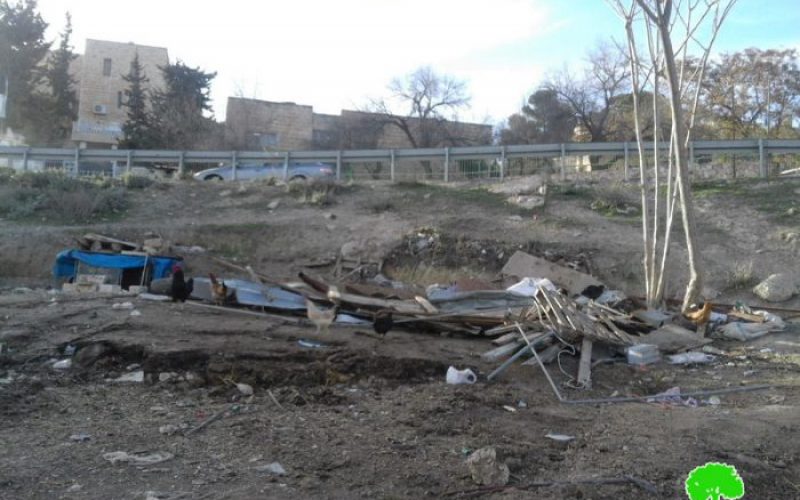 On January 16, 2017, dozers of Israel Municipality in Jerusalem demolished a barn that is founded in the area of Jabal AL-Mukabir. Noteworthy, the barn is located on the street adjacent to Armon Hantsif colony. The barn (50m2) is reported to be owned by citizen Ali Zahaykih. Built by metal slaps and wood, the barn has been there since ten years ago.
It should be noted that a staff from Israel Municipality raided the area one day before the demolition operation and hanged a demolition order on the barn on the claim that the government bans livestock husbandry without obtaining proper license. In the morning of next day, dozers of the municipality arrived at the location, evacuated the barn and brought it down to the ground.
All animals were left without a shelter, a thing that make them vulnerable due to cold and weather conditions.
It should be also noted that the demolition operations carried out in Jabal Al-Muakbbir are being implemented as a collective punishment on the area's residents after one resident conducted an attack on Israeli soldiers.
Land Research Center LRC sees that demolitions contradict with all the International conventions and Humanitarian laws including:
Article 17 of the (1948) Universal Declaration of Human Rights stating: "Everyone has the right to own property alone as well as in association with others. No one shall be arbitrarily deprived of his property."
Section ‹G› of article 23 of the (1907) The Hague Conventions asserting: "In addition to the prohibitions provided by special Conventions, it is especially forbidden to destroy or seize the enemy's property, unless such destruction or seizure be imperatively demanded by the necessities of war."
Article 53 of the Geneva Fourth Convention (1948) declaring: "Any destruction by the Occupying Power of real or personal property belonging individually or collectively to private persons, or to the State, or to other public authorities, or to social or cooperative organizations, is prohibited, except where such destruction is rendered absolutely necessary by military operations."
Section 1, Article 11 of the International Covenant on Economic, Social and Cultural Rights (1966): "The States Parties to the present Covenant recognize the right of everyone to an adequate standard of living for himself and his family, including adequate food, clothing and housing, and to the continuous improvement of living conditions.
Prepared by
The Land Research Center
LRC