Israel issues an extension order on a 4 dunum land grab in Nablus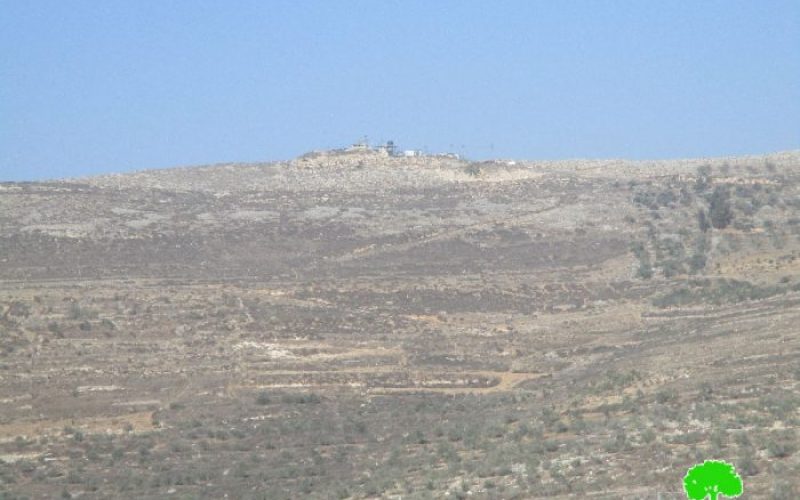 Violation: extending the validity of a land grab order
Location: Asira Al-Qibliya village -Nablus city
Date: January, 2016
Perpetrators: Israeli Occupation Forces
Victims: residents of the village
Details:
The so-called Israel Commander of Army in the West Bank, Roni ALov, a military order under the number (T/25/12) to extend the validity of confiscation on 3.9 dunum from the lands of Asira Al-Qibliya village, which is adjacent to Yizhar colony. Noteworthy, the targeted area was confiscated in 2012 under the claim of "security reasons".
The reason behind the extension is to open a road to link an Israeli outpost established in 2016 to Yizhar colony. The targeted lands were identified in the natural bloc no. 1 from the locations of Suliman and Al-Ouqda, natural block no.2 from the locations of Al-Brais, Al-Shaqiq, Khallet Al-Nuqur and Al-Kurum, and natural block no.3 from the location of Al-Silhayleh.
According to the field follow-up on the location, the targeted lands are founded within the so-called "buffer zone" of Yizhar colony .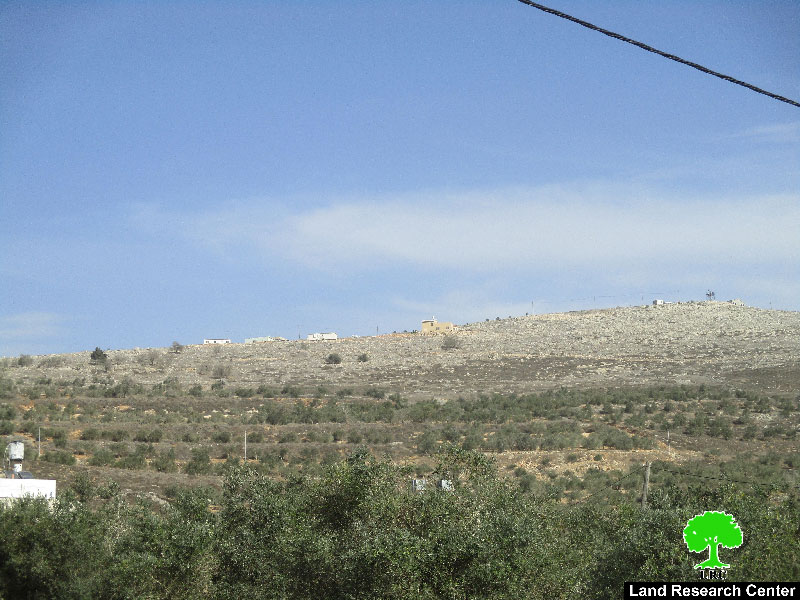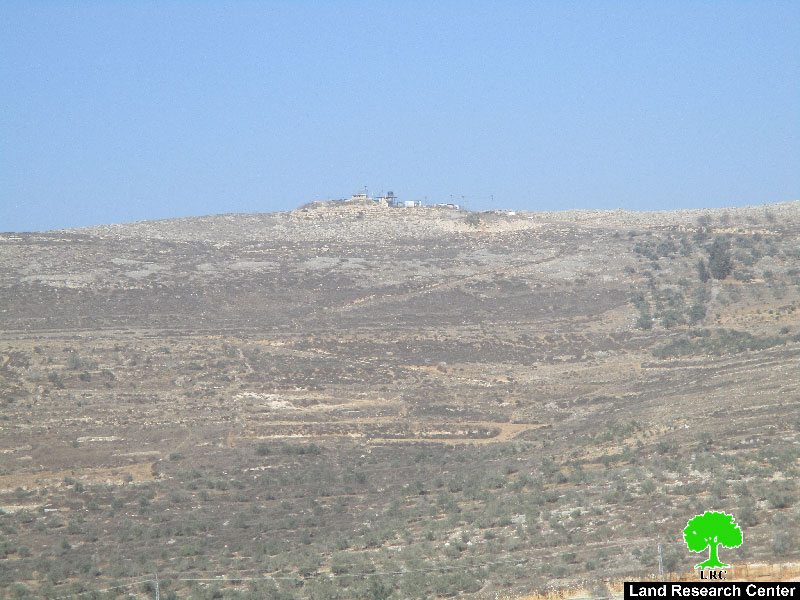 Photos 1-2: the targeted location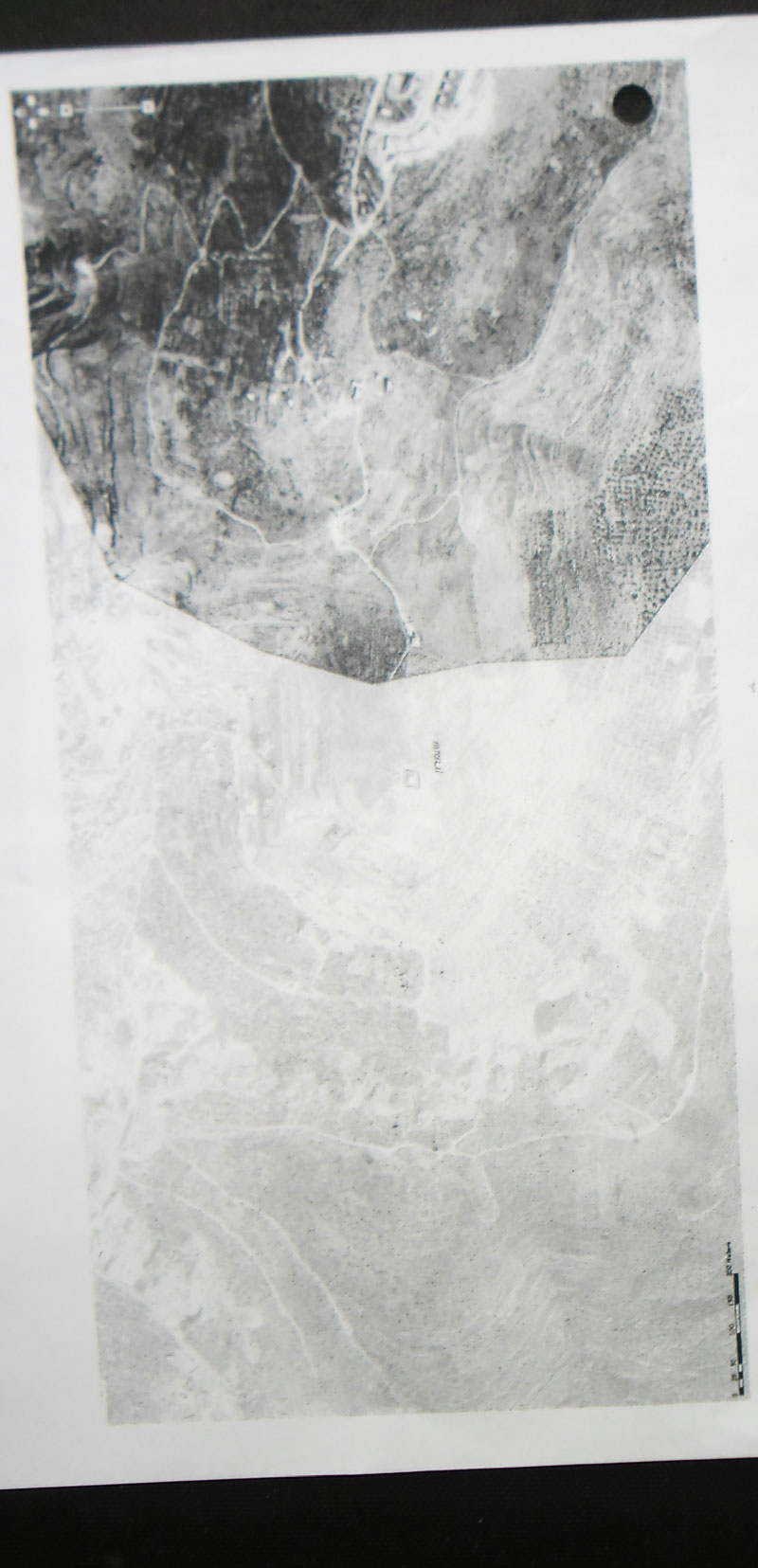 The order targeting Asira Al-Qibliya's lands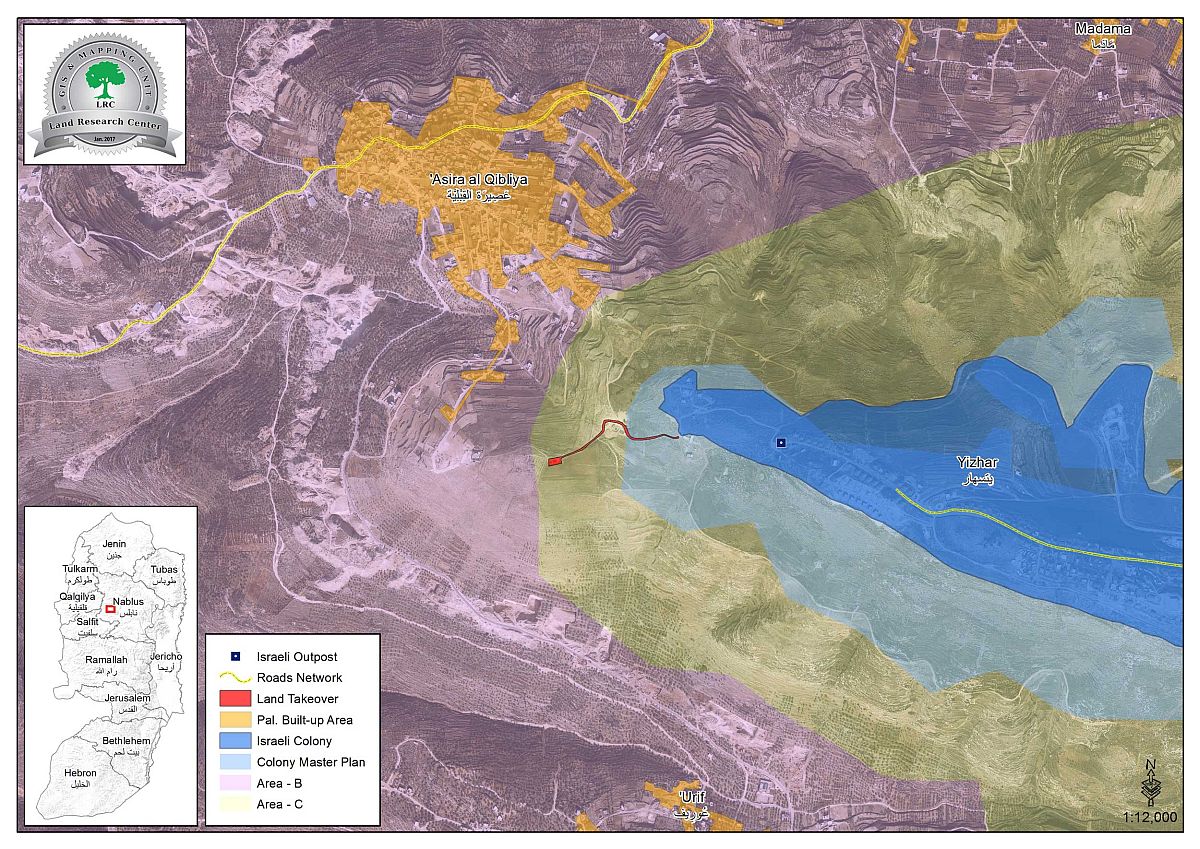 Aerial photo illustrating the location of the new outpost and road
About 'Asira al Qibliya:
13 km west south of Nablus, 'Asira al Qibliya is surrounded by Tell village from the north/ Zeta and Jama'in from the west/ Madama and Yitzhar colony from the east/ 'Urif from the south. 'Asira al Qibliya has a population of 2366 people according to a 2007 census. It has a total area of 6440 dunums, 322 of which are built-up area.
Yitzhar colony and its outposts devoured 530 dunums of the village lands. Yitzhar was built in 1983 on a land which is 469 dunums in area. 440 colonists live in it.
The outpost of Yitzhar is located east of the colony and devoured 61 dunums of the village lands.
According to Oslo Accords, 71% of the village is classified C (full Israeli civil and security control)while 29% of the village is classified B (Palestinian civil control and joint Israeli-Palestinian security control).
-1856 dunums are in area B
– 4584 dunums are in area C
About Yizhar2:
It was established in 1983 with a total built-up area of 788 dunums. The colony populates 440 colonists and is founded on confiscated lands from the Palestinian villages of Burin, Huwwara, Einabus, Urif, Asira Al-Qibliya and Madama.
Prepared by
The Land Research Center
LRC