Final demolition order on a farm and under construction residence in Qalqiliya governorate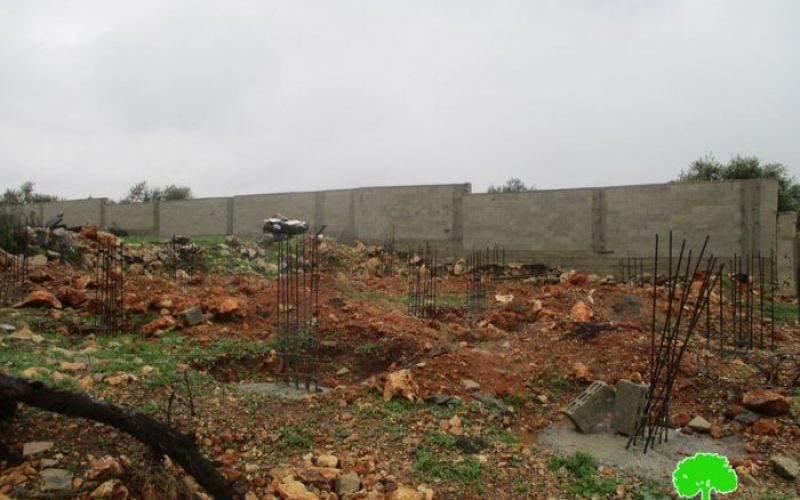 Violation: serving final demolition order on structures
Location: Azzun town- Qalqiliya governorate
Date: January 16, 2017
Perpetrators: Israel Civil Administration
Victims: AL-Akharas and Salim families
Details:
Israeli Occupation forces accompanied by Civil Administration raided on January 16, 2017 the eastern area of Azzun town, east Qalqiliya governorate and delivered final demolition order for two families. The orders targeted a cows farm that was established nine years ago and under construction house on the claim of "unlicensed construction".
It should be noted that the notified structures were given a seven day deadline to restore the previous status of the area, meaning to demolish what has been so far built. Otherwise the occupation carries out the demolition and all costs get billed to the Palestinian owners. It is reported that the owners received previous orders on March 2016 stating stop-work. The following table shows information about the affected and their properties:
Affected citizen

Family

Minors

Order

Notified structure

Photo

Eyad AL-Akhras

8

6

90m2 metal slaps barrack

Cement room roofed with slaps (45m2)

Toilet

Barn (250m2)

Adham Salim

3

1

Under construction house 120m2

Total

11

7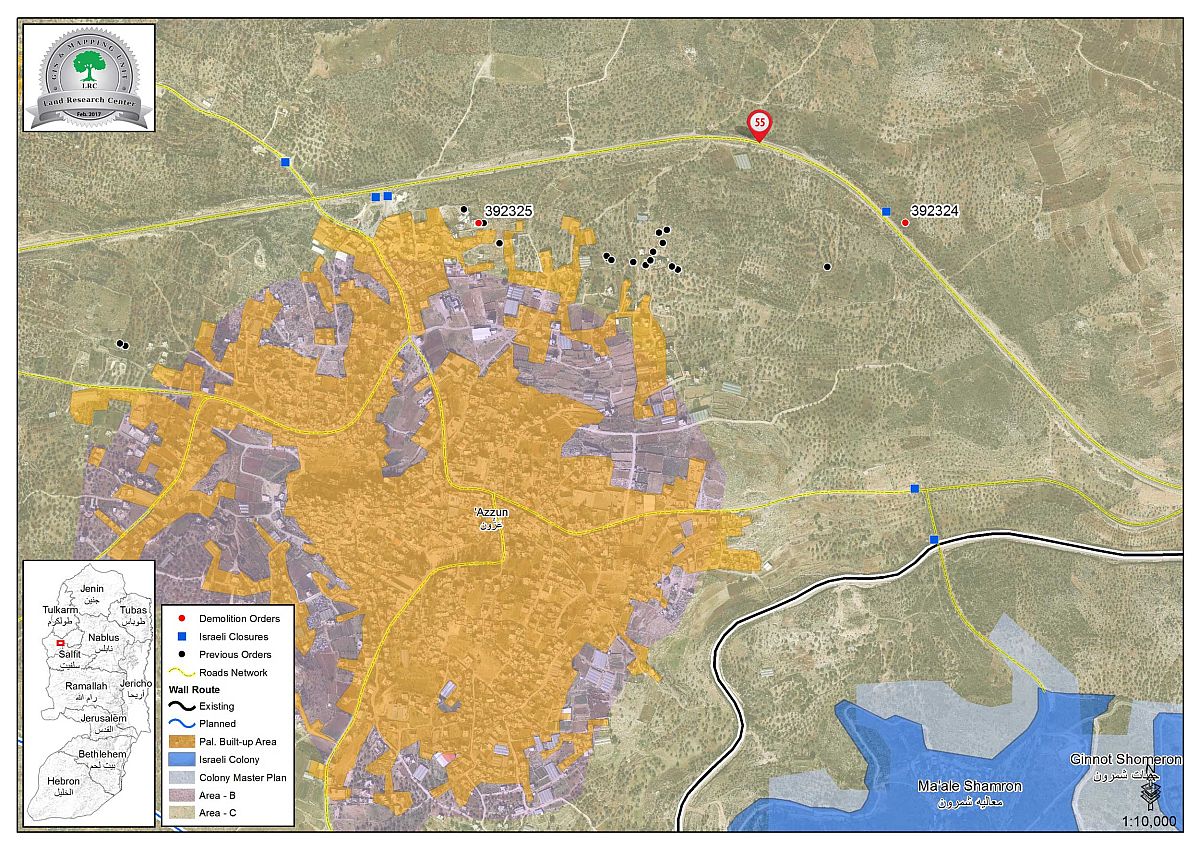 About Azzun Atma:
Located 8km to Qalqiliya city with a total area of 9,472 dunums, of which 1,054 dunums are the village's built-up area, Azzun is inhabited by 7,821 people (2007).
The occupation confiscated vast area from the village for the favor of colonization and the apartheid wall; the areas are detailed as follows:
276 dunums were confiscated for Maale Shamron colony that was established in 1980.
417 dunums were confiscated for the bypass road number 55
It should be marked that the vast majority of Azzun lands (6,927 dunums) is classified as area "C" according to Oslo accords; areas that are controlled by the Israeli occupation. The village has zero percentage of area "A" that is under the control of Palestinian Authority. As for other classifications, the village has 2,546 dunums classified as area "B". (Geographical Information System- Land Research Center)
3 colonies are built on 'Azzun lands and they are:
Maale Shomron: Built in 1980, the colony has a total area of 1903 and a built-up area of 216 dunums. 549 colonists live in it (according to a 2004 census).
Genot Shomron: Built in 1985, the colony's built-up area is 484 dunums.
Karni Shomron: Built in 1978, the colony's built-up area is 1351 dunums. 6270 colonists live in it (according to a 2005 census).
Prepared by
The Land Research Center
LRC