Dozers of Israel Municipality demolish a residential building in Shuafat, north of Jerusalem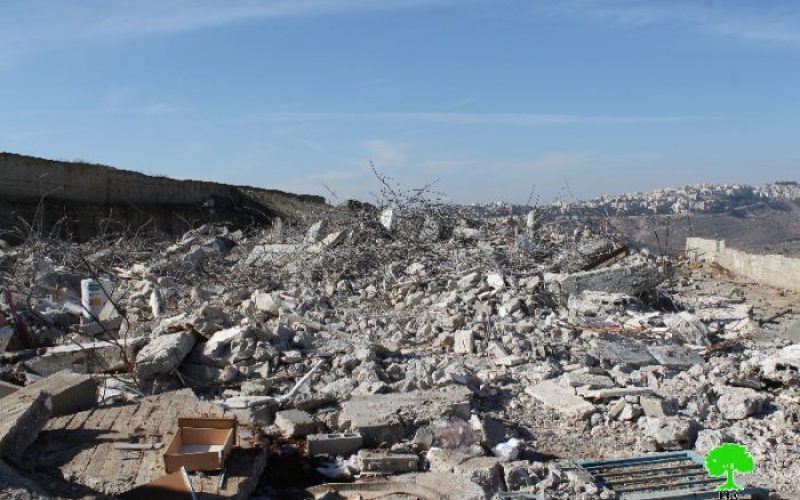 Bulldozers of Israel Municipality of Jerusalem demolished on January 04, 2017 a residential building in Shuafat neighborhood, north of the city of Jerusalem under the pretext of building without a permit. The building belongs to citizen Adnan Shweiki. The following people live in the building:
| | | | |
| --- | --- | --- | --- |
| # | Affected citizen | Family | Children |
| 1 | Yasser Masalmeh | 11 | 5 |
| 2 | Fadi Faqeeh | 7 | 5 |
| 3 | Adnan Shweuki | 7 | 2 |
Shweiki explained that the building was built 15 years ago, and he tried to authorize them and provided the municipality with the necessary paperwork by engineers and lawyers. He was able to postpone the demolition several times; he also paid building fines and penalties to keep them from being demolished. However, he was surprised by today's demolition process, pointing out that the last postponement was for the beginning of this year, he tried to extend it but the municipality demolished the building quickly after it was done.
Shweiki added that the municipality dozers arrived at the location, secured the area and embarked on bringing down the residence without allowing any one to approach it and save the interior. Demolition started at dawn and ended at 8:00 in the morning.
It should be marked that Israel Municipality has been demolishing lots of residences in Shu'fat; especially after opening the colonial road number 21m which devoured huge areas of Shu'fat lands and Beit Hanina. The road links Pisgat Zev colony to the bypass road number 433.
Land Research Center LRC sees that demolitions contradict with all the International conventions and Humanitarian laws including:
Article 17 of the (1948) Universal Declaration of Human Rights stating: "Everyone has the right to own property alone as well as in association with others. No one shall be arbitrarily deprived of his property."
Section ‹G› of article 23 of the (1907) The Hague Conventions asserting: "In addition to the prohibitions provided by special Conventions, it is especially forbidden to destroy or seize the enemy's property, unless such destruction or seizure be imperatively demanded by the necessities of war."
Article 53 of the Geneva Fourth Convention (1948) declaring: "Any destruction by the Occupying Power of real or personal property belonging individually or collectively to private persons, or to the State, or to other public authorities, or to social or cooperative organizations, is prohibited, except where such destruction is rendered absolutely necessary by military operations."
Section 1, Article 11 of the International Covenant on Economic, Social and Cultural Rights (1966): "The States Parties to the present Covenant recognize the right of everyone to an adequate standard of living for himself and his family, including adequate food, clothing and housing, and to the continuous improvement of living conditions.
Prepared by
The Land Research Center
LRC