Adi Ad colonists destroy olive trees in the Ramallah village of Turmus'ayya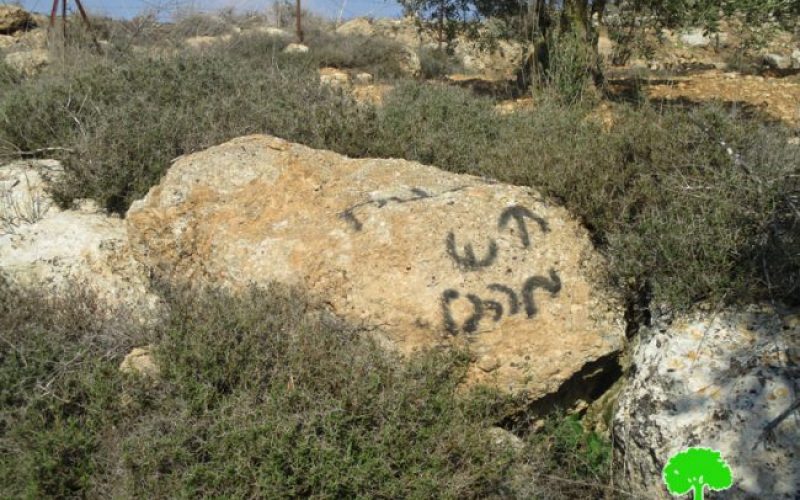 Violation: cutting down and destroying olive trees
Date: January 17, 2017
Location: Turmus'ayya- Ramallah city
Perpetrators: Adi Ad colonists
Victims: farmer Mahmoud Jibarah
Details:
On January 17, 2017, a group of Adi Ad colonists sneaked into the area known as " Al-Bir Al-Huwwarr" that is only 200 meters away from the colony and destroyed eight olive trees aging twenty years. The attack carried out by sharp tools caused three trees to be totally destroyed where five others were partially damaged.
Moreover, the attacking colonists wrote discriminative and hatred inciting slogans in the area. The sentences had the names of the attacking outposts and the name of the attacking cult "Sons of the Hills".
It should be marked that the trees belong to famer Mahmoud Jibarah (74) from Turmus'ayya. The farmer is reported to have an unstable health condition, yet he insists on taking good care of his land and trees in an attempt to resist and protect the land from takeover and theft plan of the Israeli occupation. Noteworthy, the farmer informed Israel Police of the incident but unfortunately no actions were taken in that regard.
It should be noted that Turmus'ayya is a hot spot for colonists' attacks that are represented in cutting down olive trees and attempts to take over lands to serve the colonial plan. During the past two years, 8000 olive saplings were cut down in the area of Al-Dahrat by Adi Ad colonists. Each time farmers plant trees, colonists come and destroy them. Despite all that, farmers' will is still strong against expansion plans of destruction and takeover. New areas are being rehabilitated and other agricultural roads are being opened to stop the occupation's progress and plans"
Photos 1-2: the discriminative and hatred inciting slogans
Photos 3-5: the attacked olive trees
About Turmus'ayya:
25 km to the north east of Ramallah city, Turmus'ayya has a population of 3736 people (2007 census). Its total land area is 18139 dunums, of which 1350 dunums are considered built-up area. About 11218 dunums of Turmus'ayya lands are classified as Area B (PA is in charge of civil matters with Israel responsible of security) where 6921 dunums are classified as Area C (Israel maintains full security and administrative control).
The Israeli occupation confiscated vast areas from the village for the benefit of the following colonies:
1. Shilo and Mizpe Rahel devoured 1023 dunums
2. Mizpe Rahel devoured 706 dunums
3. The bypass road number 60 stole 12.5 dunums
Prepared by
The Land Research Center
LRC