Israeli Occupation Forces ravage lands in Bethlehem governorate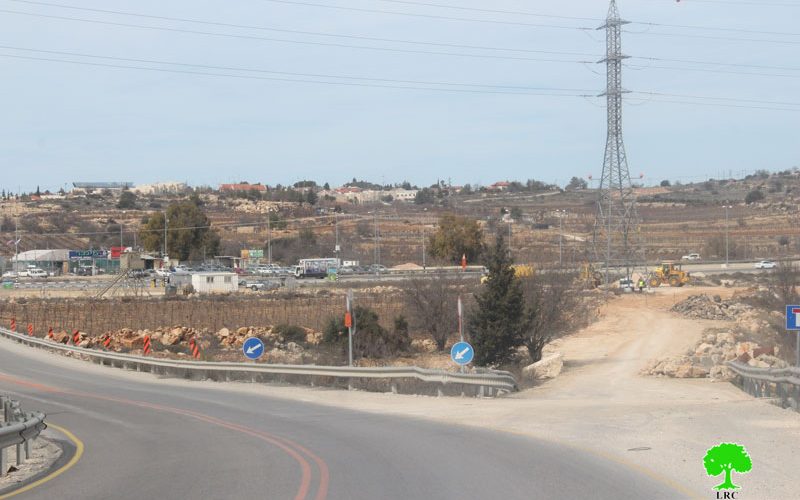 Violation: ravaging Palestinian lands
Location: Jurat Al-Sham'a and Al-Ma'sara villages
Date: December 07, 2016Perpetrators: Israeli Occupation Forces
Victims: residents of the villages
Details:
Israeli Occupation Forces ravaged on December 07, 2016 eight dunums in the periphery of Hebron-Jerusalem road that is founded nearby the settlements bloc of Gosh Etzion. It is reported that the ravaging act aims at installing a water pipeline to serve colonists of the area. At time, the attacking force destroyed a large number of fruitful trees and rendered the lands unsuitable for cultivation. As a result, many farmers and lands owners lost their source of income.
An eyewitness of the attack told Land Research Center the following:
" It was hard to see an old man sitting by the road and crying over his trees that were getting uprooted by the occupation's dozers. The cold of December and pain the dozers caused traumatized the old farmer and left him melancholically speechless"
It should be noted that the targeted lands are vineyards that have been there for hundreds of years. Farmers took very good care of them before the occupation targeted them for the favor of colonial expansion.
Photos 1-2: side of the ravaging acts by the occupation dozers
A previous military seizure order on the recently targeted lands:
On May 10, 2016, Israeli Occupation Forces issued the military order T/3/16 to seize an area of 8.85 dunums from the lands of Beit Ummar for security purposes. The order mentioned that the seizure came for the purpose of opening a new lane Gosh in Etzion junction for cars coming from Hebron area and heading north.
In the same context, the deputy minister of Israel's army visited the area and confirmed that all procedures have been taken to complete the new lane project in Gosh Etzion.
The military Order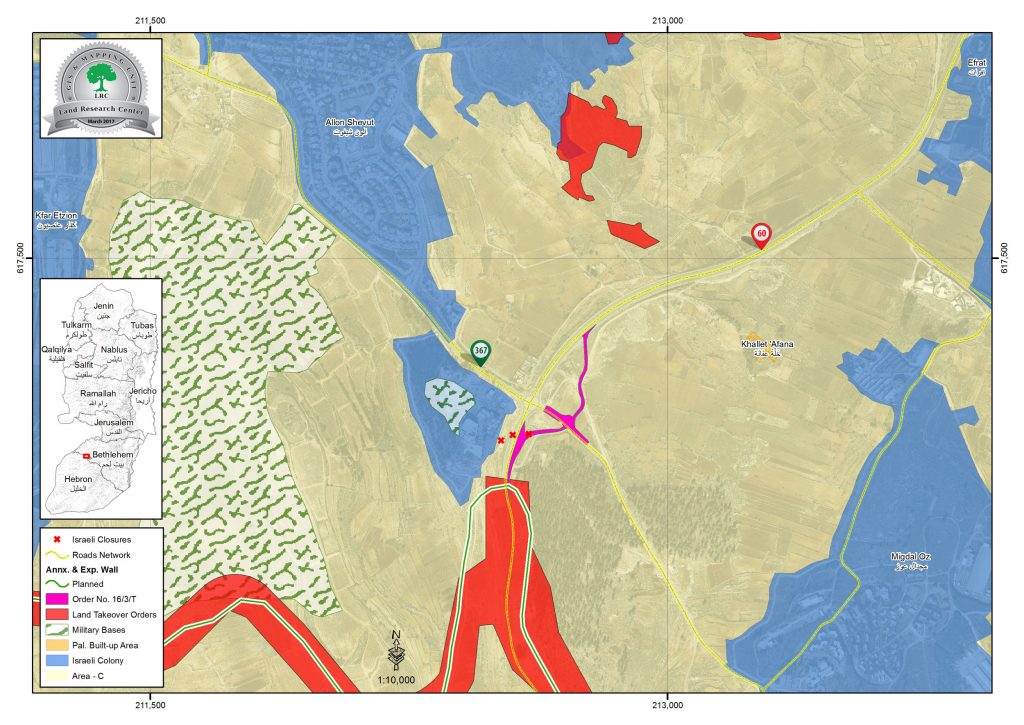 An aerial photo illustrating the ravaging location
Some International conventions and Humanitarian laws pertaining to attacks on land and natural resources are:
Article 17 of the Universal Declaration of Human Rights states:
Everyone has the right to own property alone as well as in association with others.
No one shall be arbitrarily deprived of his property.
Article 1 of the International Covenant on Civil and Political Rights States:
"All peoples may, for their own ends, freely dispose of their natural wealth and resources without prejudice to any obligations arising out of international economic co-operation, based upon the principle of mutual benefit, and international law. In no case may a people be deprived of its own means of subsistence."
Prepared by
The Land Research Center
LRC