Israeli Occupation Forces notify several structures of stop-work in Al-Muntar Bedouin Community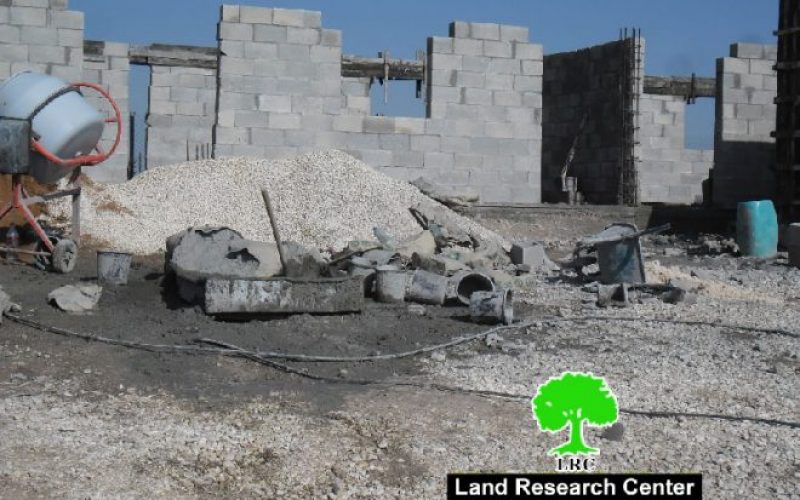 Violation: serving stop-work orders
Location: December 20, 2016
Date: Al-Sawahra Al-Sharqiya- Jerusalem governorate
Perpetrators: Inspection Sub-Committee- Israel Civil Administration
Victims: residents of the community
Details:
Israeli occupation authorities issued on December 20, 2016 stop-work orders that targeted a medical clinic and a school under the pretext of unlicensed construction. The chieftain of Al-Muntar Bedouin community, Mohammad Hadhaleen, said that a vehicle relative to Israel Civil Administration arrived at the community, issued the orders and hanged them on the targeted structures. Noteworthy, the field research team of Land Research Center was present at the location at time the under construction structures were notified.
Photos 1-2: Israel Civil Administration while raiding the location
Photos 3+4: the targeted structures
The following table shows information about the targeted structures:
| | | | | | |
| --- | --- | --- | --- | --- | --- |
| No. | Structure | Family | Minors | No. of order | Remarks |
| 1 | School | 20 | 20 | | Consists of 5 classrooms |
| 2 | Medical clinic | 420 | 210 | | Two rooms |
It should be noted that the school and the clinic were funded by EU through Action Against Hunger association ACF.
Currently, the project " Integrated Protection in Area C: Enhancing the Resilience of Communities to Violations of International Humanitarian and Human Rights Law" is being implemented by Land Research Center in partnership with OXFAM and funds by the Belgium government. While work to establish a 300 dunum natural reserve was ongoing, Israeli Occupation Forces confiscated pastoral seedlings and agricultural tools. Not only, worker at the site were chased and assaulted by the occupation forces.
The following violations on the site were documented:
No.

Type of violation

Description

Date

1

Confiscation of vehicles

A pickup truck owned by Husam Hamayel. The vehicle is still confiscated.

20.12.2016

2

4WD car used to transport workers from and to the workplace. The car was held and a ground fine of 2774 NIS was imposed on the vehicle. The attorney's fees totaled 2000 NIS. The car is owned by Sulayman Hadhaleen

20.12.2016

3

Pastoral seedlings

Confiscation of 2500 Akasia seedlings

29.12.2016

4

Agricultural tools

Pickaxes and other digging tools

5

Metal wires

Two packages of metal wires that are used to fix fences.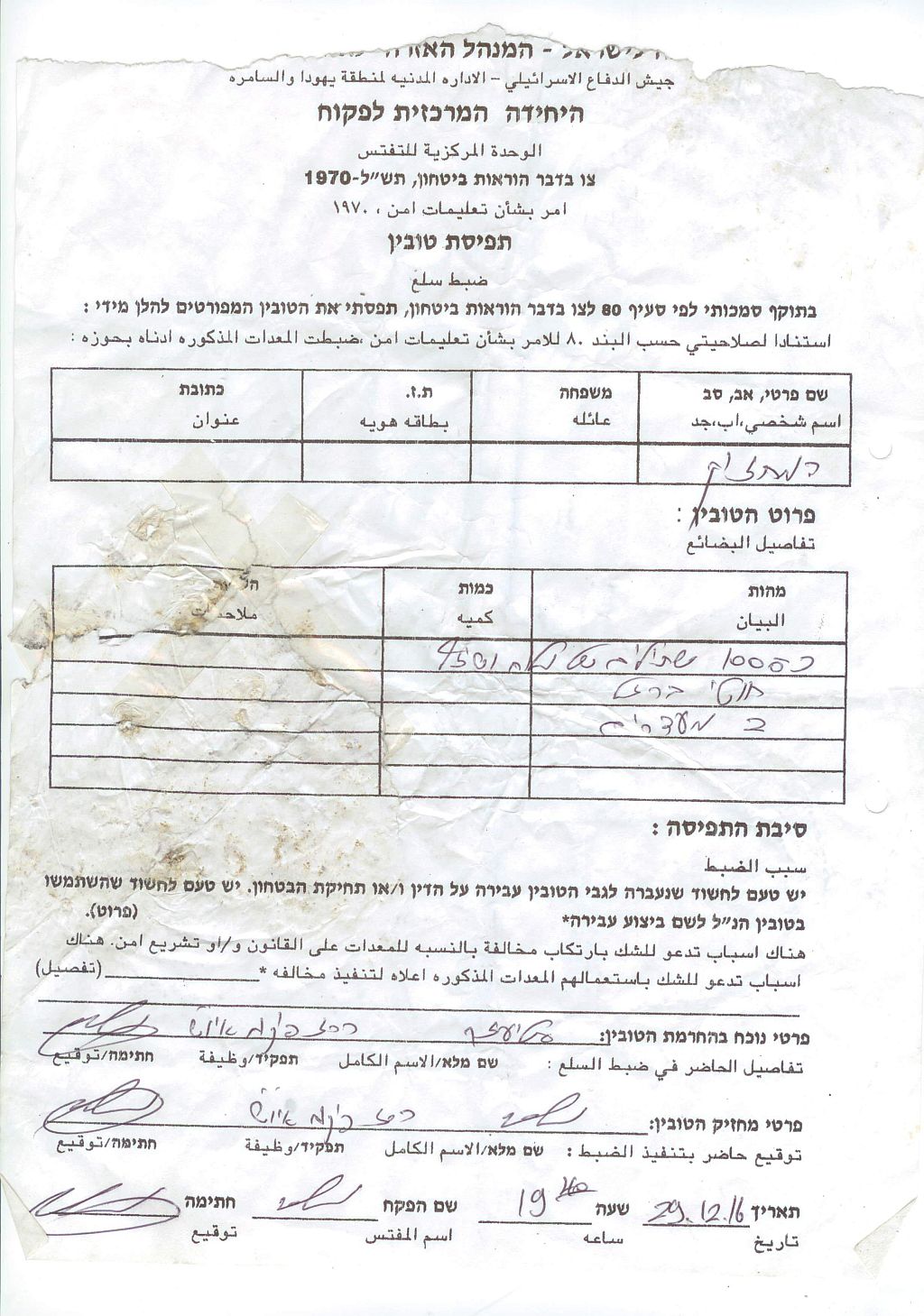 Photo 5: the minutes of confiscation
Al-Muntar Bedouin community:
It is one of the Bedouin communities located in East Jerusalem; it has a total built-up area of 36 dunums. The community is inhabited by 68 families (470 members) who hail from the Bir Al-Saba' area, from which they were displaced in 1948. Residents of the area belong to four main clans namely (Hadhaleen, Hamadi, Krushan and Sawahrah). Metal slaps and barracks barracks are the common material of the people's residences. Residents of the community depend on livestock and poultry husbandry; they have 200 agricultural dunums where they plant wheat and barley.
Borders of the community:
Al-Muntar is edged by Arab Al-Jahaleen community from the east, Al-Sawahrah Al-Sharqiya village from the southwest and Abu Nuwwar community from the north.
Noteworthy, the community lacks basic needs and services such like roads networks, transportation, electricity and access to health and education.
Prepared by
The Land Research Center
LRC