Israeli Occupation Forces confiscate health clinic in Yatta town
Violation: confiscating caravan clinic
Location: Khirbet Al-Mirkiz- Masafer Yatta
Date: December 10, 2016
Perpetrators: Israel Civil Administration
Victims: residents of the area
Details:
Israeli Occupation Forces accompanied by a staff from Israel Civil Administration confiscated on December 10, 2016 a caravan clinic from Al-Mirkiz hamlet in Hebron governorate and photographed another two clinics in the hamlets of Safi and Al-Majaz on the claim of them "violating the law".
The chairman of Masafer Yatta village council told Land Research Center that the occupation forces loaded the caravan on a military truck, issued a minutes of confiscation and left it in the location.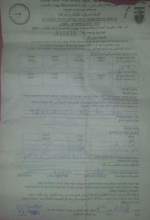 Photo 1: the minutes of confiscation
Noteworthy, Italian Cooperation gifted three clinics to three Palestinian hamlets namely (Safi, Al-Majaz and Al-Mirkiz). The clinics were supposed to contract with a doctor, a laboratory expert and nurse to work one day each clinic over the week.
The targeted clinics were also supposed to join two clinics established by Ministry of Health in Jinba and Al-Fakhit hamlets in order to meet people's needs.
Photos 2-4: at time of the confiscation operation
It is reported that Israeli occupation authorities notified Jinba's clinic of demolition three years ago. Also, the occupation threatened the clinics of Al-Majaz and Safi of stop-work and demolition. Reportedly, the clinics are 30-36 m2 in area.
It should be also noted that Israeli occupation authorities are targeting the residences and structures of Masafer Yatta communities via stop-work and demolition order for the sake of displacing people and taking over their lands for the favor of colonial expansion reasons.
Prepared by
The Land Research Center
LRC